Unmanned Aerial Systems (UAS) – which consist of an Unmanned Aerial Vehicle (UAV) plus sensors, command & control, and launch elements – have become indispensable assets for military Intelligence, Reconnaissance and Surveillance (ISR) missions.
While different nations have different classification systems, UAS are generally categorised according to their size and performance parameters, whereby large UAV naturally feature higher endurance, operating altitude and payload than smaller aircraft. They can additionally be classified as either fixed-wing, rotary or tiltrotor aircraft. While some UAS are generalists, many are tailored to very specific mission profiles. Performance parameters in general are improving through ongoing developments in the fields of Artificial Intelligence (AI), Command, Control and Communications (C3), battery capacity, motor efficiency, and sensors.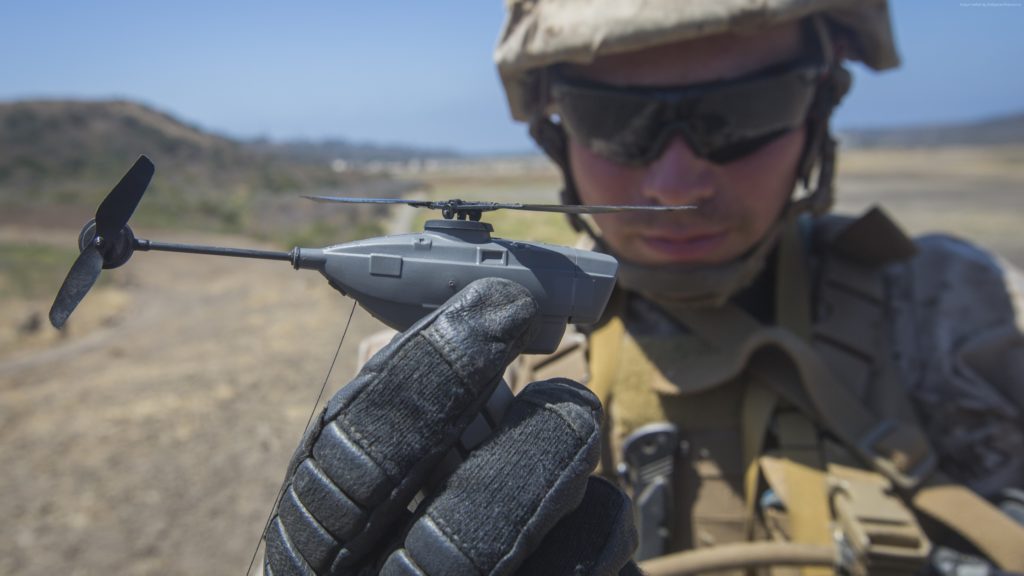 HALE/MALE
The largest and most powerful UAS are categorised as High-Altitude/Long-Endurance (HALE) and Medium Altitude/Long-Endurance (MALE), respectively. Because of their size, HALE and MALE UAV normally operate like manned aircraft from a standard land-based runway. NATO classifies UAS with a service ceiling above circa 14,000 metres as HALE. These systems are considered strategic or national assets, which operationally support theatre commanders. NATO classifies MALE UAS as those flying between 5,500 and 14,000 metres altitude, in support of Joint Task Force commanders on theatre-level missions.
RQ-4 Global Hawk
The largest and most powerful UAS in US production belong to the Northrop Grumman RQ-4/MQ-4 family. The original RQ-4 GLOBAL HAWK HALE entered service provisionally after the September 11 2001 terrorist attacks. Beginning in November 2011, GLOBAL HAWK prototypes performed US Air Force reconnaissance missions over Afghanistan in support of coalition intelligence gathering and mission planning.
Several models are currently operational. The Block 30 variant entered service in 2011. It is equipped with the Enhanced Integrated Sensor Suite, which simultaneously carries high-resolution electro-optical and infrared sensors and an all-weather synthetic aperture radar/ground moving target indicator (SAR/GMTI). The UAV also carries an Airborne Signals Intelligence Payload (ASIP) with high and low band signals intelligence (SIGINT) sensors. Multiple sensors can be used simultaneously.
The Block 40 variant was added to the US Air Force inventory in 2013. It carries the AN/ZPY-2 Multi-Platform Radar Technology Insertion Programme (MP-RTIP) active electronically scanned array (AESA) radar, which provides both SAR and GMTI data. Considered a next-generation technology, the AN/ZPY-2 provides highly detailed sensor imagery of moving targets.
The RQ-4 is 14.5 metres long, with a wingspan of 39.9 metres. The gross take off weight is 14,628 kg, including a payload of 1,360 kg. The surface ceiling is 18,300 metres. The jet-powered aircraft self-relocates to the operational theatre, and has a ferry range of 12,300 nautical miles. Maximum flight endurance exceeds 32 hours, with 24 hours loiter time over the target area (calculated on a 1,200 nautical mile distance between the airbase and the target area). Typical loitering airspeed is 310 kn.
The high surface ceiling, long-range and powerful sensor suite enables the RQ-4 to simultaneously provide both wide area coverage and detailed ISR in near real time. Sensor date is relayed in near real time through wideband Ku SatCom and alternately through line-of-sight communications. The RQ-4 is remotely operated in flight by a two-person crew (pilot and sensor operator). An additional pilot stationed at the forward operating airbase controls the UAV for take off and landing. The RQ-4 has been acquired by NATO as a joint asset. Japan and South Korea are also acquiring the UAS.
MQ-4C TRITON
A maritime variant, the MQ-4 TRITON, achieved Initial Operational Capability (IOC) with the US Navy in 2018. Full Operational Capability (FOC) is planned for 2023. The RQ-4C will perform persistent wide-area maritime ISR, freeing up manned aircraft for more targeted missions. It will also work in tandem with manned aircraft, locating and identifying targets to be attacked. The onboard Automatic Identification System (AIS) enables the UAS to autonomously identify vessels by class without human intervention. Flight parameters are largely equivalent to the RQ-4, with the exception that the MQ-4 is capable of rapidly dropping from high to low altitude to focus electro-optical sensors and a laser rangefinder and target designator on an acquired vessel. The sensor suite is optimised for the marine environment and mission. It includes AN/ZPY-3 AESA radar capable of operating in inverse SAR (ISAR) mode. The AN/ZPY-3 can survey a 5,200 square kilometre swath during one sweep, or a seven million square kilometre area over the course of a 24-hour mission. The MQ-4C is being acquired by Australia and by Germany. The German UAS are expected to field a sensor suite developed by Airbus.
EuroMALE
Airbus is leading a joint effort including Dassault and Leonardo to field a MALE Remotely Piloted Aircraft System (RPAS) by circa 2025. Frequently referred to as the EuroMALE, the UAS will be powered by two six-bladed turboprop engines and have an estimated operational range of 750 kilometres or 405 nautical miles. The surface ceiling is expected to be in the 7,500 metre range. The ten-metre long aircraft will have a wingspan of 15 metres and gross take off weight of 1,100 kg.
Airbus revealed a full-scale model at the Berlin Air Show in April 2018, although the company cautions that this may not fully reflect the final design. The system preliminary design review – a major milestone in the ongoing development – was achieved in November 2018. The design review followed the October 2018 invitation by the European Organisation for Joint Armament Co-operation (OCCAR) for Airbus Defence and Space to submit a tender for the development, production and the initial in-service support phase of the European MALE RPAS Programme. As reported by Airbus, the preliminary design review will allow the participating states – France, Germany, Italy and Spain – and industry to start developing the system with aligned requirements and a clear picture of the overall system design. Capacity goals include flight operations in non-segregated airspace, payload modularity, and capability to operate worldwide. The mission profile encompasses Intelligence, Surveillance, Target Acquisition and Reconnaissance (ISTAR) missions.
PATROLLER
Another European-designed MALE UAS – Safran's PATROLLER – is currently entering service with the French army's reconnaissance forces. It is equipped with the EuroFLIR 410 optronics suite, an imaging radar, and a SIGINT suite. It is suitable for a wide range of ISR missions, including target acquisition and designation. A maritime variant is also offered. The PATROLLER can carry a 250 kg sensor payload on missions exceeding 20 hours duration. The service ceiling is 6,000 metres. The reinforced retractable landing gear permits operations from short runways. The UAS has a lower than average noise, heat and radar signature. The 8.5-metre long aircraft has an 18-metre wingspan and a range of 4,000 kilometres.
HERON
Israeli industry globally markets several MALE UAS, including the IAI HERON, Elbit HERMES 900 and 1500, and Aeronautics Defence DOMINATOR XP. The HERON is the most mature of the three, entering service with the Israeli Defense Force in 2007. An additional nine nations, including five NATO members, now operate the HERON. Several variants are available, including the extended-range HERON TP with an endurance of more than 30 hours and a service ceiling of 13,850 metres. The 14-metre long plane has a wingspan of 26 metres and is powered by a single turboprop engine. The maximum take off weight of 5,670 kg includes a maximum payload of 2,700 kg. The payload configuration is modular and can be adapted to client and mission requirements. The aircraft control and Automatic Takeoff and Landing (ATOL) systems has been refined to permit remote operation in several thousand kilometres distant from the main base of operations. This includes the capability of landing and take off from remote sites with minimal infrastructure, co-ordinated from the main base via satellite communication. This eliminates the need for a ground control station and flight crew to be located at the aircraft's forward base. A small team with basic refuelling infrastructure will suffice in the theatre of operations.
HERMES 900/1500
Elbit markets a complete family of tactical UAVs under the HERMES line. The two most powerful are the HERMES 900 and HERMES 1500. The single-engine 900 has a 15-metre wingspan and 300 kg payload capacity. Payload options include electro-optics, IR imaging laser range finder and laser designation, as well as SAR/GMTI, COMINT DF, ELINT and electronic warfare. The ATOL permits remote operations from non-instrumented runways. A single operator controls both the aircraft and sensors. Control and communications options include Beyond-Line-Of-Sight (BLOS) through SATCOM, and Line-of-Sight (LOS) through datalink. Mission endurance can extend to 36 hours, with a surface ceiling of 9,200 metres. The UAS can be deployed for missions over land or sea. It has been acquired by seven nations plus the European Maritime Safety Agency.
The larger HERMES 1500 is powered by two turboprop engines. It achieves a surface ceiling of 10,150 metres and carries a 400 kg payload. At 24+ hours, mission endurance is lower than the 900 variant. Mission control is through the same Universal Ground Control Station as other HERMES utilised for other HERMES variants.
DOMINATOR XP
Unlike the other MALE UAS discussed here, Aeronautics Defense's DOMINATOR XP is based on a manned aircraft, the Austrian DIAMOND DA42 Twin Star. While the UAS retains the manned aircraft's avionics and general performance profile, it features improved fuel economy and consequently a higher mission endurance of 20 hours. The 373 kg ISR payload capacity permits carriage of multiple sensors, including electro-optical and infrared cameras (EO/IR), hyper-spectral sensors, laser designators, maritime radar for ISR in support of anti-submarine warfare and surface warfare missions, as well as for domestic security applications. The maritime radar includes SAR/ISAR modes. The maritime surveillance suite also includes search & rescue transponder detection and a ship Automatic Identification System (ASI) receiver. To date, the XP has been acquired by Mexico and by an as yet unnamed Asian client.
Medium UAS
Medium sized/medium endurance tactical UAS typically support operational units at the brigade level, as well as serving as shipboard ISR systems. Service ceilings extend to circa 5,500 metres. Wingspan tends toward the 5-to-10-metre range, with a maximum gross take off weight around 600 kg. Endurance varies significantly among the systems, from several hours to more than 20 hours. Some medium UAVs take off and land conventionally, including on unprepared fields. Others utilise rail or catapult-assisted take off, and are recovered either by parachute or through arresting wires/nets.

RQ-21A
While the Boeing Insitu RQ-21A BLACKJACK is sometimes referred to as a small UAV based on its size (length: 2.5 metres; wingspan: 4.9 metres), take off weight (61 kg), and range (102 kilometres), its service ceiling (5,900 metres) and endurance (16 hours) places it in the medium UAS category ('Tier III' according to the US classification system). In service since 2014 with the US Marine Corps (and subsequently purchased by several NATO partners), the BLACKJACK can operate from land or ship deck. Six payload spaces permit customising the sensor suite, which can include full-motion, day and night EO/IR camera systems, a laser rangefinder and an AIS receiver. The RQ-21 is launched from a vehicle-towed rail catapult and recovered in flight through an arresting wire. In May 2019, the USMC announced its intention to develop a vertical launch capability for the RQ-21 to reduce the logistical footprint and shorten launch and recovery time.
WATCHKEEPER
The UK's WATCHKEEPER is the largest ongoing UAS procurement programme in Europe, with a minimum of 45 units delivered in 2018. The UAS is based on the Elbit HERMES 450 and is produced by a joint venture between Thales UK and Elbit. The primary difference is the payload capacity. In addition to the EO/IR sensors of the HERMES 450, the WATCHKEEPER also carries a dual-mode SAR/GMTI radar. Each sensor is on a separate 38 centimetre gimbal. The 6.1 metre long UAV has a 10.6 metre wingspan and a gross take off weight of 500 kg. The payload capacity is 150 kg. Mission endurance is 16 hours per aircraft, with a range of 200 kilometres for LOS control and data transfer. The UAS is designed to operate in extreme zones, including the arctic and desert. The UK army deployed WATCHKEEPER extensively in Afghanistan in 2014 with full operational capability achieved in 2018.
ATLANTE
The Airbus Atlante is 5.47-metre long, with an eight-metre wingspan and a gross takeoff weight of 570 kg. Payload capacity is 100 kg. Payload options include a retractable EO/IR turret, SAR/GMTI radar, and maritime search radar. Mission endurance exceeds 10 hours, with a service ceiling of 6,000 metres and an operational range of 200 kilometres. The aircraft can operate at temperatures between minus 26 and plus 44 degrees Celsius, and can withstand crosswinds of 20 knots. Anti-icing and lightning protection systems contribute to the all-weather capabilities. Two options for take off and landing are available: Short take off (catapult launch and subsequent recovery by parachute); and Long Endurance (automated take off and landing using prepared or unprepared fields). A single operator console can control two UAS simultaneously. The UAS can act as data relays for one another, improving operational range and mitigating terrain impact on communications.
SKELDAR V-200
Medium UAS include rotary aircraft. Their reduced footprint and vertical flight characteristics make unmanned helicopters particularly attractive as shipboard ISR elements. The SKELDAR V-200 – a joint venture between SAAB and the Swiss firm UMS Aero – is being acquired by the German Navy and by the European Maritime Security Agency, and is on offer to several other navies. The system is 4586 STANAG compliant, and can be operated from all classes of vessel. The onboard footprint is minimal (fuselage length: four metres; rotor diameter: 4.6 metres; takeoff weight: 235 kg). The V-200 is the only UAV in its class that utilises heavy-fuel, thereby reducing logistical requirements. The system is controlled through an onboard single-operator console. Alternatively, the entire reconnaissance flight can be conducted in autonomous mode. Take off and landing are always autonomous.
The aircraft has a five-hour mission endurance. Sensor data is relayed through LOS datalink with a maximum 200 kilometre range. Payload capacity is 40 kg. Payload options include EO/IR, hyper-spectral and multi-spectral cameras, SAR, GMTI, AIS receiver, LIDAR (Laser Identification and Ranging) and ViDAR (Visual Detection and Ranging). SAAB describes ViDAR as "the world's first optical radar", which combines wide-area maritime search with high-resolution imaging of surface objects. Mission profiles include reconnaissance, identification of vessels, and targeting guidance for indirect fires. While currently marketed primarily as a maritime system, the SKELDAR V-200 can operate on land as well, requiring no infrastructure.
Small UAS
The Small UAS categories display significant variations depending on the classifying agency. NATO defines aircraft weighing between 15 and 150 kg, with a surface ceiling of circa 1,500 metres and a range of circa 50 kilometres, as Small UAS. Systems weighing less than 15 kg are labelled as Mini UAS, with a service ceiling below 920 metres and a range of 25 kilometres. They operate at the company level and below, and are deployed by hand. Extremely small Micro UAS deployed at the platoon and squad level have a ceiling of circa 60 metres and a five kilometre range. By contrast, the US DoD's Group 2 category – the equivalent of 'Small UAS' – includes systems weighing between 9.5 and 25 kg and with a ceiling below circa 1,080 metres. Group 1, encompassing both Mini- and Micro-UAS, includes systems weighing less than nine kilogrammes and with a ceiling 370 metres.
RQ-20
The AeroVironment RQ-20 PUMA is one of the most successful small UAS. Since becoming operational with the US Special Operations Command in 2008, well over 1,000 units have been sold. All US services utilise the RQ-20, as do several partner countries. The US Army is the largest single user. Each infantry company is issued one PUMA UAS and an additional 18 are allocated to each brigade.
The aircraft is 1.4 metres long, with a 2.8 metre wingspan and a weight of 6.8 kg. The surface ceiling is 152 metres, with 2.5 hours flight endurance. The RQ-20's primary payload is the i45 gimballed sensor suite with dual 15mp EO cameras, 50x zoom, IR camera, low light camera for night-time missions, and a high-power illuminator. AeroVironment also provides users with Pocket Digital Data Link (pDDL AE) transceivers and Pocket RVT receivers for mobile real time reception of video and geodata collected by the UAS.
The newest iteration is the RQ-20 PUMA 3, introduced in March 2018. The upgraded UAS reflects client feedback concerning improved ability for integration of third-party payload elements. The PUMA 3 is also more resistant to radio-frequency interference than the previous versions. Other improvements include: the ability to concurrently operate the i45 gimballed sensor suite and signals intelligence (SIGINT) payloads; the latest Digital Data Link (DDL) offering M1/M2/M5 and M3/M4/M6 frequency bands and AES-256 encryption; enhanced portability (the complete system of three air vehicles and two ground control stations is now transportable in four portable cases rather than six cases).
In April, AeroVironment announced another payload upgrade with the availability of a new 360 Multi-Sector Antenna (MSA) for maritime ISR missions. Equipped with 24 high-gain auto-selective antennas covering 360 degrees, the MSA analyses downlink data quality and automatically broadcasts through the antenna patches, which are most favourably aligned with the controller. The standard line-of-sight communications range is 20 kilometres over land or sea. In 2017, AeroVironment introduced a Long-Range Tracking Antenna (LRTA) which extends the LOS range to 60 kilometres for land operations.
MIKADO
The MIKADO (Mikro-Aufklärungsdrohne für den Ortsbereich – Micro-Reconnaissance Drone for Local Operations) micro-UAS is built by the German company AirRobot. It is deployed by the German army at the platoon and squad level for offensive and defensive reconnaissance. The quadcopter has a one-metre diametre including the rotors and engines, and weighs 1.3 kg. The complete system's height is 24 centimetres, including the sensor gimbal. The micro-gimbal mounted 200 gram payload includes day and low-light cameras, IR, and a laser target designator. Maximum altitude is 30 metres. MIKADO has a 20-minute endurance and a range up to 1,000 metres. The backpack-portable UAS is ready to fly in five minutes, and is controlled through a handheld tablet-sized console. The 'come-home' feature enables the UAS to return to is point of origin if the control signal is lost. Small size, vertical flight, and quiet, gearless electric motors make the MIKADO suitable for urban terrain and other cluttered environments.
BLACK HORNET NANO
At the very end of the scale, is the pocket-sized BLACK HORNET Nano UAS developed by Norwegian firm Prox Dynamics (now a subsidiary of US-based FLIR Systems). The original BLACK HORNET entered serial production in 2012, and has been fielded by military and security forces of 30 countries. It was widely employed by UK forces in Afghanistan, and remains the world's smallest combat proven UAS. In 2018, FLIR introduced the upgraded BLACK HORNET 3 Personal Reconnaissance System (PRS). The nano-UAS weighs 32 grammes, and has an improved range of two kilometres. Flight speed is 21 kph. The BLACK HORNET is suitable for indoor and outdoor reconnaissance. The new variant can operate in GPS-denied areas. It retains the three-camera arrangement set into the helicopter nose, but adds sharper imaging processing capabilities with the FLIR Lepton thermal microcamera core and a visible sensor, which enhances image fidelity. An improved encrypted digital datalink ensures seamless communications and imagery beyond line-of-sight and in closed areas. The UAS can be integrated into the Android Tactical Assault Kit (ATAK), an application to form ad hoc battlefield data networks using smartphones.
Sidney E. Dean is President of Transatlantic Euro-American Multimedia LLC. and a regular contributor to ESD.