Light tactical vehicles (LTVs) provide mobility for infantry forces over a wide array of terrains. In addition, they can be armed with a variety of of crew-served weapons including machine guns, anti-tank guided missiles (ATGMs) and air-defence weaponry.
Modern LTVs normally provide enhanced crew survivability such as rollover protection, reinforced or v-shaped bottoms to minimise the effect of mines and improvised explosive devices (IEDs), and organic or modular armour against small arms fire. However, neither armour nor firepower of LTVs can match the capabilities of armoured fighting vehicles.
JLTV
By far the largest LTV acquisition programme worldwide is the US armed forces' JLTV programme. Approximately 60,000 Joint Light Tactical Vehicles are to be procured by the US Army and the US Marine Corps (USMC) as a successor to the High Mobility Multipurpose Wheeled Vehicle or "HUMVEE".
Precise figures are in flux. The USMC had originally planned on 5,500 units, a figure which was increased to 9,000 vehicles. In mid-August the Corps announced that it would be increasing procurement again to a total of 15,000 JLTV. This will allow for a 100% replacement of the USMC's HUMVEEs. While USMC procurement was originally slated to be completed by 2022, the increased end-strength will extend the acquisition timeline through the early 2030s.
The US Army, for its part, is likely to reduce its planned purchase of 49,000 units through the mid-2030s. Army Undersecretary Ryan McCarthy has suggested a cut of circa 2,000 units overall, but a final decision is not expected for at least another year. The Army's decision is driven partially by the need to free up funding for higher priority modernisation projects.
Balancing Mobility, Protection and Firepower
A major characteristic of the JLTV is the organic crew protection. JLTVs are equipped with two armour levels: the A-structure, or base vehicle, includes a v-shaped hull to deflect blast energy from mines or IEDs, bulletproof windows, and an armoured crew cabin. Additional survivability equipment includes blast-protected seats and an automated fire extinguishing system. The modular B-kit add-on armour suite provides enhanced protection against enhanced small arms, fragmentation, and underbody threats, effectively increasing crew protection to MRAP levels.
Additional enhancements have been introduced based on soldier feedback during operational testing. These include larger rear windows and a forward looking camera to enhance situational awareness. A muffler was added to reduce the vehicle's noise signature. While no decisions have been made regarding mounting an Active Protective System, both the IMI IRON FIST and the Raphael TROPHY Light APS have been evaluated on the JLTV.
Depending on terrain and payload, the JLTV has an unrefuelled radius of 480 kilometres and a top speed (on road) of 120 kph. The 6,400 kg vehicle can be transported by fixed-wing aircraft (C-130, C-17, A400) and heavy lift helicopter (CH-47, CH-53), and arrives ready to deploy. It can also be carried aboard amphibious landing craft. The proprietary Oshkosh TAC4i suspension enables off-road performance exceeding that of the unarmoured HUMVEE, while ensuring a more comfortable ride and reducing crew fatigue.
The JLTV is equipped with a complete interface for battlefield C4ISR networks and plug-and-play situational awareness equipment, and retains sufficient modular capability for integrating future technologies. Each vehicle can be reconfigured in the field to meet operational requirements.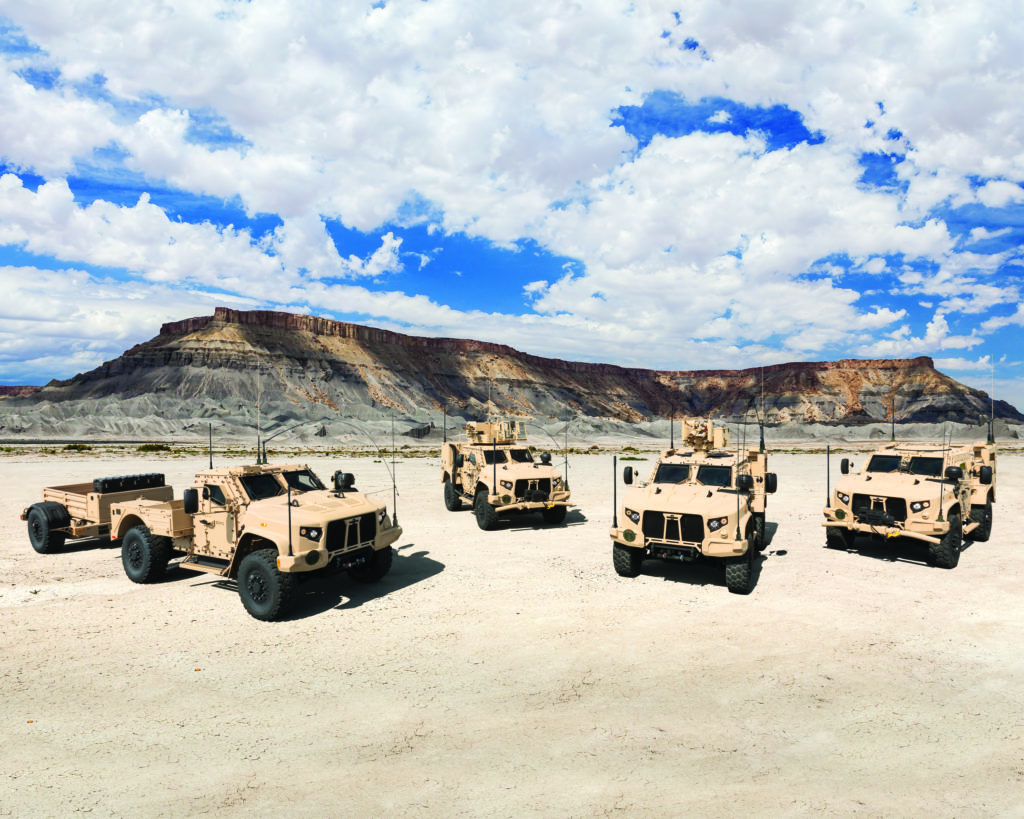 Family of Vehicles
JLTV comes in two basic variants: the Combat Support Vehicle (CSV) designed to seat two passengers and carry a 2,300 kg payload, and the Combat Tactical Vehicle (CTV) which seats four and has a 1,600 kg payload capacity. These variants can be configured for specific mission categories (mission package configurations).
The CSV currently has one mission package configuration, the Utility Prime Mover (UPM) variant that can either transport cargo or accept a shelter on the vehicle's flatbed. A prototype mounting the Boeing Maneuver Short-Range Air Defense System (M-SHORAD) consisting of an M299 launcher with four LONGBOW HELLFIRE missiles, was presented to the Army, which ultimately decided to acquire a different M-SHORAD system. A prototype mounting a 105mm howitzer has also been demonstrated, although the Army currently has not opted to procure that configuration. Oshkosh has also developed a prototype field ambulance based on the JLTV UPM; it can accommodate four litter patients or eight ambulatory patients.
The CTV has three configurations: the General Purpose (GP) vehicle carries a standard load of four combat troops, but is not configured as a combat vehicle; and two armed vehicles designated as the Close Combat Weapon Carrier (CCWC) and the Heavy Guns Carrier (HGC), respectively. The CCWC is designed to deploy TOW Anti-Tank Guided Missiles (ATGMs). The HGC can be equipped with manned or remotely operated weapons mounts and can accommodate a wide range of guns, cannon and tube-launched weapons. Side- and rear-mounted weapons can also be accommodated. Weapons options include, but are not limited to 7.62mm and 12.7mm machine guns, automatic grenade weapons, 30mm chain guns, and Javelin ATGMs. Furthermore, the USMC plans to field JLTV-mounted Ground Based Air Defense (GBAD) systems deploying STINGER missiles against low-flying threats in FY 2020. An upgraded GBAD incorporating a counter-drone laser weapon is to follow in FY 2021.
According to US Army planning, JLTV will be employed as a light, tactical-wheeled vehicle to support all types of military operations and units including airborne/ air assault, amphibious, light, STRYKER, and heavy forces. JLTVs will function as reconnaissance, manoeuvre, and manoeuvre sustainment platforms. Small ground combat units will employ JLTV in combat patrols, raids, long-range reconnaissance, and convoy escort.
Entering Service
The US Army approved JLTV full rate production beginning in May 2019. The first operational brigade was equipped with 300 Low Rate Initial Production (LRIP) units in spring of this year. The USMC declared Initial Operational Capability (IOC) for the JLTV in August, nearly a year ahead of schedule. It simultaneously announced plans to begin equipping field units within a month. Infantry battalions are to receive 69 vehicles each.
According to Andrew Rodgers, the JLTV (or immediate derivatives) are expected to remain in service through the rest of the century. "We are really at the starting line right now. Our grandchildren and great-grandchildren will see JLTVs in the DoD," said Rodgers. "We'll easily still have these assets somewhere in the DoD in the year 2100. Welcome to the start of many generations of JLTVs."
In addition, the US Army and USMC as major operators, the US Air Force intends to purchase 80 units for missile site security and special operations forces. JLTV is expected to also garner a significant export market. Negotiations have already begun, with Slovenia signing the first contract (for 38 units) in November 2018. Lithuania submitted a procurement request with the US government in February of this year. The United Kingdom initiated talks with the Pentagon as early as 2016, and is likely to acquire more than 2,700 units to satisfy the Army's Multi-Role Vehicle – Protected requirement.
Infantry Squad Vehicle
In addition to the JLTV, the US Army is procuring a new lightweight platform capable of carrying nine combat-equipped soldiers around the close battle area. The vehicle's primary purpose is to enable airborne and airmobile soldiers to land further from their objective, evading enemy air defences and detection. Designated as the Infantry Squad Vehicle (ISV), it will weigh a maximum of 2.200 kg empty, and be air transportable by all means including sling load (UH-60), internal carriage (CH-47) and Low Velocity Air Drop (LVAD) from fixed-wing aircraft. The Army defines ISV as a lightweight, highly mobile open cab vehicle. It will be unarmoured. Survivability will be achieved through high mobility, a roll cage and occupant restraints. Requirements include blackout lights, weapon mounts capable of supporting machine guns or a grenade launcher, an on-road speed of 80-90 kph (depending on surface) and a cross-country speed of circa 30 kph, and the ability to traverse a 60% longitudinal grade.
The market survey to industry released by the Army in September 2018 cites a total requirement of 2,065 vehicles over an unspecified timeframe. The solicitation announcement published in February of this year cited the goal of procuring 651 units between FY 2020-2024. Only production ready types will be considered. On 23 August, the Army awarded prototyping contracts to two vendor teams, with prototype delivery expected in November. Flyer Defense and Oshkosh Defense are offering a derivative based on the FLYER 72, which is currently utilised as the Ground Mobility Vehicle 1.1 by the US Special Operations Command; if this derivative is chosen, Oshkosh would manufacture the production vehicles. The competing SAIC/Polaris team is basing its offer on the Polaris DAGOR. The largest of the Polaris vehicle family, the DAGOR is currently in service with the US Army's 82nd Airborne Division. SAIC would be responsible for system integration if this prototype is selected. A production contract award to a single vendor is scheduled for 31 March 2020.
The PHANTOM BADGER
The PHANTOM BADGER LTV was developed by Boeing in collaboration with MSI Defense Solutions to meet a special operations forces (SOF) requirement. Depending on configuration it accommodates between two and five soldiers. The base weight is 3,400 kg, with a payload capacity of 1,590 kg. Operational range is 720 km, with a top speed (on-road) of 130 kph. The vehicle can be configured according to mission requirements. Armament options include a 12.7mm machine gun or 40mm grenade launcher, plus up to two 7.62mm machine guns. Uses include special reconnaissance, explosive ordnance disposal, combat search and rescue, and casualty transport. A single PHANTOM BADGER can be transported internally in the V-22 OSPREY, and two can be transported inside the CH-47; ten can be accommodated in a C-130. It is used by US Air Force SOF and USMC SOF.
MOWAG EAGLE V
The EAGLE V introduced in 2013 is the latest variant of the General Dynamics Land Systems/Mowag LTV family. The manufacturer offers the EAGLE V in a 4×4 and a 6×6 variant. Basic weight is 7,000 kg and 7,700 kg, respectively. Classified as a light protected vehicle, the EAGLE seats between four and fourteen depending on variant and configuration. Payload capacity varies between 3.3 and 6.9 tonnes, depending on variant. The EAGLE V features level 2 ballistic armour and level 2a mine protection. The v-shaped hull is designed to deflect blast from mine and IED explosions, while blast absorbing seats reduce the risk of shock-induced injury. Modular armour is available to enhance ballistic protection. A remote weapons station can mount machine guns up to 12.7mm, and 40mm grenade launchers. Optional equipment includes an RPG protection kit and an NBC-overpressure system. Operational range is 650 kilometres, with an on-road speed of up to 110 kph. The EAGLE V has been acquired by the German army to serve as protected command vehicles, and by the Danish army which chose four different configurations optimised for patrol, electronic warfare, support and reconnaissance.
Armoured Multi Purpose Vehicle
The Armoured Multi-Purpose Vehicle (AMPV) jointly developed by Rheinmetall and Krauss-Maffei-Wegmann is offered in two variants. According to the manufacturer, the smaller Type 1 is suitable for carriage inside a CH-53. The vehicle is optimised as a command or liaison vehicle; a special patrol version is being developed. The Type 1 has a base weight of 7.3 tonnes and a 2.6 tonnes payload, with capacity for five soldiers. The larger Type 2 weighs 9.9 tonnes and features a higher level of protection and a greater payload, but otherwise displays structural commonality with the Type 1. Both variants can be equipped with a roof-mounted weapon station mounting a 12.7mm machine gun or a 40mm grenade launcher, and a smoke generation system. The manufacturer states that the vehicle handles like an SUV, but features a high level of occupant safety due to the self-supporting monocoque made from armour steel and composite armour. An NBC filtration and overpressure system is available. The turn radius of 15 metres makes the AMPV suitable for urban operations, while the independent suspension enables high performance in broken terrain, including the ability to climb a 70% gradient. Maximum speed is 110 kph, with a 700 kilometre operational range.
Arquus SCARABÉE
The SCARABÉE developed by Volvo's French subsidiary Arquus (formerly Renault Miliary Trucks) is a candidate for the Véhicule Blindé d'Aide à l'Engagement programme intended to replace the French army's fleet of protected combat support vehicles by 2025. The four-seater SCARABÉE has a base weight of 6.6 tonnes and a two tonnes payload capacity. The vehicle can be internally carried in a CH-47 or tactical fixed-wing transports. It can be air dropped from low altitude without a parachute, and is operational within fifteen minutes of landing.
The composite-and-steel armoured hull provides small arms ballistic protection, while the chassis and hull are configured to minimise blast effects. Performance parameters include a top speed of 120 kph. Roof mounted weapons options include a 12.7mm machine gun, a 30mm anti-tank gun, or a medium-range missile launcher. A surveillance radar can be mounted in place of a weapon. Other surveillance technology includes cameras and acoustic gunfire localisation systems. The on-board BattleNet vectronics system networks all on-board equipment and systems including sensors and weapons, and connects the vehicle to the tactical battlefield network.
In addition to these state of the art characteristics which are found on various other LTVs, the SCARABÉE displays some revolutionary innovations:
Hybrid propulsion: The SCARABÉE is equipped with both a 300 hp Diesel engine and a 103 hp electric motor, both mounted in the rear. The Diesel provides primary propulsion, enabling an operating range of circa 1,000 kilometres. In contrast, the twin batteries powering the electric motor only store enough energy to traverse circa ten kilometres. The electric drive is intended to provide short-term special performance. Alternately, the electric motor can operate for hours to power on-board systems during surveillance missions.
Boost mode: By engaging both engines simultaneously the vehicle enters "boost mode", providing more rapid acceleration than any comparable LTV. According to the manufacturer, this boost mode is sufficient to evade an incoming ATGM.
Stealth mode: The electric motor can be engaged during the final approach to target, eliminating the Diesel's noise and thermal signature.
Independently powered wheels: Each of the four wheels can turn independently. This provides unprecedented manoeuvrability, enabling the vehicle to literally turn on the spot or to drive sideways to evade an obstacle or threat.
Sliding doors: the SCARABÉE is equipped with two van-style sliding doors which facilitate egress in close quarters such as an urban setting.
Remote control: The crew can dismount and operate the vehicle remotely. Among other scenarios this enables the crew to park or hide the SCARABÉE and advance on foot, but summon the vehicle if needed. The separately developed vehicle trailer which can carry an additional four tons of equipment can also be remotely operated as a "mule".
Renault SHERPA
The Renault SHERPA family of LTVs, also produced by Arquus, is utilised by various NATO forces and in other regions. Applications include reconnaissance, patrol, command and liaison, special forces, weapon system carrier, troop transport, forward logistics, and ambulance. Depending on configuration, the SHERPA can mount multiple machine gun and cannon systems up to 30mm, anti-tank or air-defence missile launchers, mortar, recoilless 105mm cannon, surveillance systems and/or an assault ladder. The BattleNet vectronics system ensures situational awareness and tactical connectivity. Scalable modular armour is available for ballistic, mine- and IED protection in compliance with STANAG 4569. The 10.4 tonnes vehicle is air-transportable in fixed wing aircraft (C-130, A400), and has an operational range of 1,000 kilometres and a maximum road speed of 110 kph. The SHERPA can handle a 60% gradient, a 40% side slope, and ford one metre of water. The French MoD placed an order for 241 light patrol vehicles and 202 heavy vehicles in December 2015; they are being procured for the French SOF.
Jankel FOX
Britain's Jankel offers a family of militarised Toyota utility vehicles under the series designation FOX. The FOX-r LTV is based on the Toyota LANDCRUISER 79, while the FOX-x LTV is based on the Toyota HILUX. The FOX Rapid Reaction Vehicle (RRV) is available on the basis of either variant. The major difference is found in the transmission system, with the FOX-r based vehicle featuring manual transmission, while the FOX-x has automatic transmission. The open-topped RRV can be equipped with add-on armour as required. The RRV mission profile encompasses SOF direct action, special reconnaissance and military assistance, as well as humanitarian missions such as security and assistance after catastrophes and crises, and non-combatant evacuations. The 4,500 kg vehicle can be internally deployed via CH-47. Depending on variant, the operational range will vary from 900 to 1,300 kilometres, with a configuration-dependent payload capacity; road speed is 120 kph. The Fox Long Range Patrol Vehicle (LRPV), a different variant than the RRV, has a 1,500 kilometre range. It can carry up to six personnel. Jankel cites missions ranging from border patrol to surveillance and reconnaissance, first support/force protection, convoy support and use in urban operations.
Primary weapons options for the FOX family of vehicles centre around 12.7mm machine guns and grenade launchers. The Belgian SOF in 2016 ordered the FOX RRV to replace its unprotected ILTIS vehicles.
Sidney E. Dean is President of Transatlantic Euro-American Multimedia LLC. and a regular contributor to ESD.