In last month´s Brussels Backdrop, we discussed the extraordinary history of Ukraine, torn between Russia and the West, and developments in Ukraine until the year 2000. In this issue, we will discuss developments as from the year 2000, when Russia under President Putin started to mingle in Ukrainian affairs to counter the pro-EU and pro-NATO course the country was pursuing. Under the presidency of the corrupt Leonid Kuchma, who was President of Ukraine between 1994 and 2005, ties between Ukraine and NATO were strengthened. In May 2000, the Ukrainian Parliament ratified the Partnersip for Peace Status of Forces Agreement, and two years later, Kuchma announced Ukraine's goal of eventual NATO membership, a desire that was welcomed by NATO. The relationship was taken to an entirely new level when in November 2000 the NATO-Ukraine Action Plan was adopted at a NATO – Ukraine Commission (NUC) meeting of foreign ministers in Prague. The Action Plan aimed to deepen and broaden the NATO-Ukraine relationship and to support Ukraine's reform efforts on the way towards Euro-Atlantic integration. In spring 2004, the Ukrainian Parliament ratified the Host Nation Support Agreement and a Strategic Airlift Agreement with NATO.
A few months later, internal political turmoil in Ukraine affected the relationship with NATO. New presidential elections were held in November 2004, but they were marred by massive corruption, voter intimidation and electoral fraud. The authorities rigged the elections in favour of Viktor Yanukovitch, the pro-Russian candidate, at the dispense of the candidate of the opposition, the atlanticist Viktor Yushenko, who also suffered from a sudden dioxin poisoning during the campaign.
The Orange Revolution of 2004
Nationwide protests erupted and the capital Kiev became the focal point of civil resis-
tance campaigns, sit-ins and general strikes. Thousands of protesters demonstrated daily and the revolution came to be known as the 'Orange Revolution', as orange was the colour of Yushenko's election campaign. Under huge popular and international pressure, a second run-off was held, as a result of which Yushenko was victorious. His inauguration as president on 23 January 2005 ended the Orange Revolution. Yushenko as a pro-Western head of state intensified relations with NATO, and in February 2005, Yushenko was invited to a summit meeting at NATO Headquarters. The NATO members expressed their support for his ambitious reform agenda and agreed to refocus NATO-Ukraine cooperation in line with the new government's priorities. An Intensified dialogue on Ukraine's aspirations to NATO membership and a package of short-term actions to strengthen support for key reforms were launched, and in October 2005, Ukraine hosted a multinational disaster-response exercise, Joint Assistance 2005. In 2006, a Resettlement and Retraining Centre was inaugurated in Khmelnytskyi and a contract was signed for the launch of a project to destroy tonnes of conventional munitions, small arms and air defence systems.
In August 2006, Yanukovich became Prime Minister of Ukraine, and, while Yushenko was still President, he immediately altered the nature of cooperation with NATO. Although Yanukovich, during a visit to NATO in September 2006, reassured the Allies of Ukraine's commitment to ongoing cooperation with NATO, he also said that the Ukrainian people were not yet ready to consider possible NATO membership. Cooperation continued (for example: Ukraine sent medical personnel to support a Provincial Reconstruction Team in Afghanistan in 2007), but no big steps forward towards full membership were taken. NATO leaders, however, still aspired NATO membership for Ukraine, a statement that was launched at the Bucharest Summit in 2008. The statement was further formalised with the signing of a "Declaration to Complement the Charter on a Distinctive Partnership between NATO and Ukraine" in August 2009. However, when Yanukovich became President in 2010, he immediately took his country's membership off the agenda. Cooperation continued, but at a lower level and at a slower pace; for example, a memorandum of understanding on Air Situation Data Exchange (ASDE) was signed, with the objective of reducingairspace conflicts by minimising potential cross-border incidents. In 2010, Ukraine deployed a ship in support of Operation Active Endeavour and in February 2013, Ukraine became the first partner country to contribute to NATO's counter-piracy operation off the coast of Somalia, Operation Ocean Shield.
Euromaidan in 2014
In 2014, large parts of the Ukrainian people (especially those living in the Western part of the country) were fed up with Yanukovich's pro-Russian and anti-Western stance. When he kept postponing an association agreement with the European Union, which would have provided Ukraine with loans in return for liberal reforms, many Ukrainians saw this as an attempt to back out of signing this agreement. The agreement would have complicated Ukraine's trade relationship with Russia, its biggest trade partner at the time, and therefore, Yanukovich did not favour it. The consecutive postponements of the agreement led to a wave of protests which came to be known as the "Euromaidan" movement. In February 2014, a series of violent events erupted, involving protesters, riot police, and unknown shooters in Kiev, culminating in the ousting of the elected Ukrainian President Viktor Yanukovych and the overthrow of the Ukrainian Government. Nearly 130 people, including 18 police officers, lost their lives in this revolution. Yanukovich fled to Russia and was declared a traitor by the Ukrainian Parliament. New elections brought the pro-Western Petro Poroshenko into power and the EU association agreement was signed. Poroshenko also signed into law a bill to cancel the non-bloc status of Ukraine and announced that Ukraine will start a process to achieve the criteria needed for NATO membership and also integrate with the Euro-Atlantic security space. Was Euromaidan a genuine people's revolution against a corrupt and authoritarian regime, or an illegal armed coup against an elected government? Political scientists and scholars of Ukrainian and international law are still debating the matter.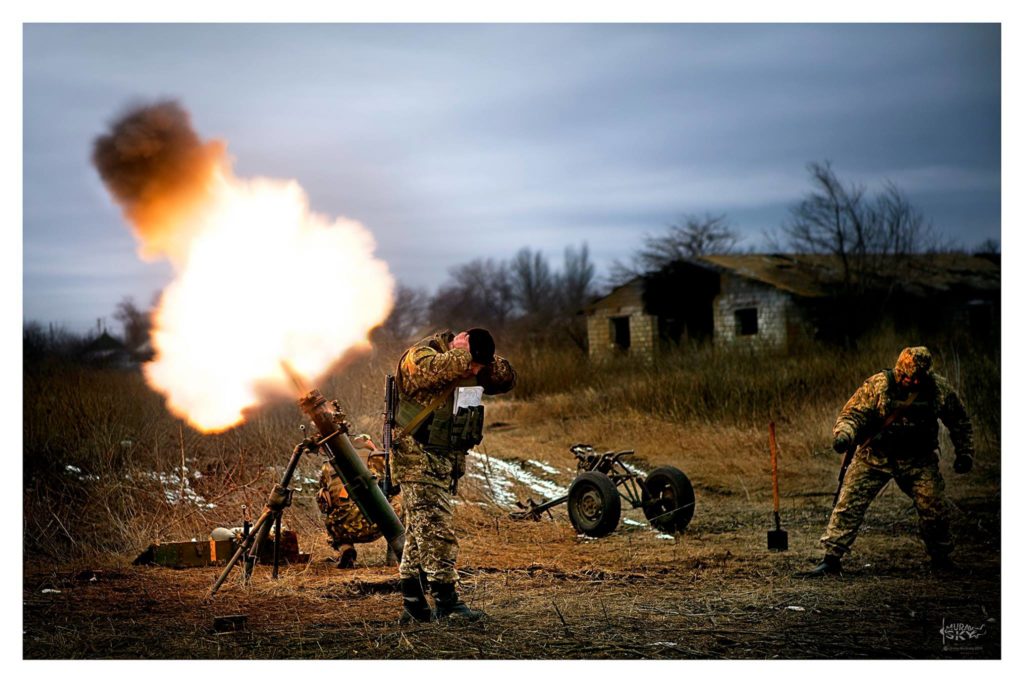 The Russo-Ukrainian War
Russian President Putin reacted swiftly on the unexpected and rapid expulsion of the pro-Russian elements in the Ukrainian Government organs. Russia somehow needed to compensate this loss of influence in Kiev and reacted by invading and annexing the Crimean Peninsula, home to the Russian Black Sea Fleet and Russian territory before Khrushchev transferred the Crimea from Russia to Ukraine in 1954. The US, the EU and NATO (and many others) condemned the annexation, but were unable to react with other means. The Ukrainian defence forces were no match for their Russian counterparts and had to give up the Crimea in a matter of hours. In a referendum, a large majority of Crimeans voted for the reunion with Russia.
Simultaneously with the military intervention in Crimea, Russia-backed paramilitary troops invaded the Donbass region in Eastern Ukraine. Fighting is still going on and an estimated 13.000 people, soldiers and civilians, have since lost their lives. The conflict gained much international attention when Malaysia Airlines Flight 17 (MH17), a scheduled passenger flight from Amsterdam to Kuala Lumpur, was shot down on 17 July 2014 while flying over eastern Ukraine. All 283 passengers and 15 crew died.
In response to the Russia-Ukraine conflict, NATO reinforced its support for capability development and capacity-building in Ukraine. The Allies continue to condemn Russia's illegal annexation of Crimea, and what they call "its destabilising and aggressive activities in eastern Ukraine and the Black Sea region". NATO increased its presence in the Black Sea and stepped up maritime cooperation with Ukraine as well as with Georgia. Since the NATO Summit in Warsaw in July 2016,
NATO's practical support for Ukraine has been subsumed in the Comprehensive Assistance Package (CAP) for Ukraine. In June 2017, the Ukrainian Parliament adopted legislation reinstating membership in NATO as a strategic foreign and security policy objective. Not much else could be done: in Ukraine, NATO is confronted with a fait accompli by Russia. And as long as Russia and Ukraine are at war, NATO membership for Ukraine is out of the question.
Zelensky
Could the surprising election of the comedian Volodymyr Zelensky as President of Ukraine on 20 May 2019 be a turning point in the 5-year old conflict? When he visited NATO Headquarters on 4 June to discuss the security situation in Ukraine and NATO's continued support for Ukraine, Zelensky underlined his eagerness to give new impetus to his country's engagement with NATO. At the same time, Zelensky is eager to stop the grinding conflict with Russia that Ukraine can never win and that engulfs the resources of the country, dearly needed for other purposes. Early September, dozens of prisoners were swapped as "the first step to end the war." Welcoming 35 freed Ukrainians at the airport in Kiev, the President said that he had spoken by telephone with Russia's President Putin, and that they had reached an agreement "on the first stage to unblock our dialogue and on the first step to stop the war."
Joris Verbeurgt