While an increasing number of countries are now deploying 8×8 armoured fighting vehicles (AFV) for an expanding range of battlefield missions, there is still a demand for 6×6 AFV's with a number of new designs already in production.
When compared with their 8×8 counterparts, 6×6 AFVs are more compact, lighter and are, therefore, easier to deploy by aircraft and can be used in confined spaces such as that encountered during urban operations. These are also more suited to more specialised roles such as reconnaissance. These 6×6 are traditionally used as armoured personnel carriers (APC) fitted with a protected weapon station (PWS) or a remote weapon station (RWS), typically armed with a .50 M2 HB machine gun (MG) or sometimes a 40 mm automatic grenade launcher (AGL). They can, however, be fitted with larger calibre weapons, with a good example being the Austrian General Dynamics European Land Systems – Steyr PANDUR (6×6) supplied to the Kuwait National Guard, with some of these fitted with a Belgian John Cockerill Defence (previously CMI Defence) two-person turret armed with a 90mm gun and 7.62mm co-axial MG.
In the past, most 6×6 APCs and variants were designed and built by European AFV contractors. However, in recent years, Brazil, China, Indonesia, South Africa, South Korea and Turkey have also developed 6×6 APCS. These are also now being offered on the export market although some key elements – such as engine, transmission, drive line and weapon system –w are often imported.
In addition to being deployed by the Austrian Army, sales of the PANDUR (6×6) were also made to Belgium, Gabon (trials), Kuwait (from Austrian and US production lines), Slovenia (made in Slovenia) and the US. Although the original Austrian Army contract was for 71 PANDUR (6×6), a contract for an additional 34 was placed with GDELS-Steyr late in 2016 with the first deliveries made in 2018 and final deliveries due in 2020.
These latest Austrian Army PANDUR are referred as the PANDUR EVO and have many improvements, including a new hull design with improved protection with a raised roof line to the rear for greater internal volume, electronic architecture and a new power pack (consisting of a 455 hp diesel coupled to a fully automatic transmission). Gross vehicle weight (GVW) is being quoted as 18.50 tonnes and a RWS is fitted that is the same as that fitted to other Austrian AFV for fleet commonality.
The Brazilian Army operates a fleet of ENGESA EE-11 URUTU (6×6) APC, which were first fielded in the 1970s and these have now begun to be replaced by the GUARANI Wheeled Medium APC (6×6), which uses technology supplied by the Italian company Iveco Defence Vehicles. GUARANI has a GVW of 18.3 tonnes and is fully amphibious being propelled in the water by two waterjets. A variety of weapons can also be fitted including the UT-30BR RWS armed with a Northrop Grumman 30mm MK44 dual feed cannon and 7.62mm co-axial MG.
The Peoples Liberation Army has been moving towards a more balanced fleet of tracked and wheeled AFVs for many years, with the latter including the China North Industries Corporation WZ551 (6×6) APC called the Type 92. This is used for a wide range of battlefield missions, including deployment as an APC, ambulance, command post, air defence, repair and recovery to name but a few. The latest version is the WMZ551 (6×6) with a more powerful diesel engine and is currently being marketed in a wide range of battlefield missions, including fitted with a turret armed with a 120mm gun/mortar and another with a 105mm low recoil gun, which is called the WMA301 Assaulter.
The Finish state owned company Patria has built large numbers of their Armoured Modular Vehicle (AMV) (8×8) with the latest version called the AMV XP, which will provide extra performance, payload and protection. To expand their product range of wheeled AFVs, mid-2018, Patria launched their latest Armoured Wheeled Vehicle (AWV) (6×6), which which it has developed using internal research and development funding. This is one of the heavier 6×6 currently being marketed and has a GVW of up to 24 tonnes of (which 8.50 tonnes is payload which in armament, ammunition, amour package, crew and fuel.) It was first shown fitted with a 12.7 mm PWS but has also been shown more recently fitted with the PATRIA 120mm NEMO turret mounted mortar system.
The French Army has now phased out all of its tracked APCs and currently deploys 630 (8×8) Nexter Systems Vehicule Blinde de Combat d'Infanterie (VBCI) and a large fleet of former Renault Trucks Defence, today Arquus, Vehicule de l'Avant Blinde (VAB) (4×4) in different versions. The VAB (4×4) is to be replaced by the GRIFFON (6×6), which which has been developed by a consortium consisting of Nexter Systems, Arquus and Thales with final integration taking placed at the Nexter Systems facility in Roanne. The French Army is due to field five versions of the GRIFFON – APC, command and control, engineer and recovery, artillery observation and ambulance. However, in the long term, there will be many more variants, including a 120mm mortar carrier. The baseline GRIFFON APC has a crew of two and carries eight dismounts and is fitted with an Arquus HORNET RWS, cameras for situational awareness, and electronic architecture with provision for acoustic threat detection device. Although Arquus built some 5,000 VAB in 4×4 and 6×6 versions, the French Army only deployed the 4×4 model. To meet potential export requirements, Arquus has developed, using internal research and development funding, the VAB Mk 3 that is only marketed in a 6×6 version.
When compared to the older VAB, first fielded as far back as 1976/1977, the VAB Mk 3 has greater volume, payload and protection and can be fitted with a wide range of weapons, including a now John Cockerill Defense CSE 90 LP turret armed with a 90mm gun and 7.62mm co-axial. Known sales of the VAB Mk 3 are Tunisia (from a US production line) and the Kingdom of Saudi Arabia, although the latter were originally earmarked for Lebanon.
Nexter Systems, who has long record in investing in research and development and using internal research and development funding, developed the Tactical Infantry Transport and Utility System (TITUS) (6×6) APC based on a Tatra chassis, which has a high level of cross country mobility. This was launched in late 2013 and, in 2018, the Czech Republic ordered some 62 units. TITUS typically has a crew of three and carries up to 10 dismounts who can rapidly leave via the large power operated ramp at the rear. It can fitted with a wide range of roof mounted weapon systems, including the Nexter Systems ARX20 RWS that is typically armed with a .50 M2 HB MG.
Rheinmetall MAN Military Vehicles (RMMV) built large numbers of the Transportpanzer 1 FUCHS (6×6) APC and variants for the German Army with the latest version being the A8 standard which has many improvements, especially in the area of survivability. Further development by RMMV, using internal research and development funding, resulted in the FUCHS 2, which has more volume, payload and protection and this has already been sold to Algeria (local production), Kuwait and the United Arab Emirates with the latter being built in three specialised NBC reconnaissance versions.
One of the more recent 6×6 vehicles to be developed is the Indonesian PINDAD ANOA (6×6), which is similar in overall layout to the French now Arquus VAB (6×6) APC and is already in service in Indonesia. Baseline PINDAD ANOA (6×6) is armed with a PWS armed with a .50 M2 HB MG, there are also more specialised versions such as ambulance, command post, mortar carrier and recovery. Further development by Pindad resulted in the BADAK (6×6) direct fire support platform, which which has a brand new all welded steel hull with the driver and diesel engine compartment at the front and the now John Cockerill Defence CSE 90LP two-person turret towards the rear armed with a 90mm gun and 7.62mm co-axial MG. The first contract is for 50 vehicles with deliveries already underway.
South Korea is now self-sufficient in the design, development and production of tracked and wheeled AFVs with Hanwha Defense marketing their BLACK FOX in both 8×8 and 6×6 configurations with 22 of the latter already being supplied to Indonesia and fitted with the John Cockerill Defence 90mm turret. To meet the potential requirements of Malaysia for a 6×6 APC, they have teamed up with the Malaysian company AVP Engineering to offer a new 6×6 called TIGON.
The South Korean Army held a public competition for a family of 6×6 and 8×8 APC and variants, which was won by Hyundai Rotem, with their KW1 (6×6) and KW2 (8×8) family of vehicles now in production and being offered for the export market.
The South African defence industry has developed a wide range of wheeled AFV with many of these being aimed at the export market. The Paramount Group, for example, is marketing the MBOMBE family of vehicles in 4×4, 6×6 and 8×8 configurations to enable the end user to field a complete family of vehicles, which share many automotive components and provide reduced through life cycle costs and easier training requirements. MBOMBE 6 (6×6) has a maximum GVW of up to 22.50 tonnes of which 5.20 tonnes is payload consisting of weapons, ammunition, armour package, fuel and crew. It has been shown fitted with a wide range of weapon stations including an overhead weapon stations, that can be armed with a 20mm or 30mm dual feed cannon and a co-axial 7.62mm MG.
The Turkish company FNSS Savunma Sistemleri developed the PARS family of vehicles (FOV) to meet the potential requirements of the export market with the first customer being Malaysia who is taking delivery of 257 in the 8×8 configuration with local assembly and production completed by DefTech. These are known as the AV-8 GEMPITA and 12 variants are being supplied and latest PARS III (6×6) is being marketed for Malaysia under the local designation of the AV-6.
A second customer is Oman who is taking delivery of 172 of which 145 are in the 8×8 configuration and remaining 27 in the 6×6 configuration with these being the latest PARS III model which has a number of improvements (including a new suspension system). Following a competition in May 2019, it was announced that the Turkish Land Forces Command (TLFC) would take delivery of an initial batch of 100 PARS III FOV with 45 in the 6×6 configuration in two variants, radar and command post vehicles. The rest will be in the 8×8 configuration with reconnaissance, CBRN and AFV variants. Of the 100 units, five are designated for the Turkish Gendarmerie.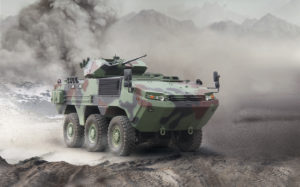 PARS III for TLFC will feature a hydro pneumatic suspension system and a locally supplied Tumosan diesel engine and automatic transmission with CTIS and run flat tyres being standard. GVW of the PARS III (6×6) is currently being quoted as 25 tonnes, with a maximum crew of nine including commander, gunner and driver.
The PARS III also features an integrated air conditioning system, which means that even in 'desert-like' conditions, the internal temperature of the vehicle can be kept to +25 degrees Celsius.
The Turkish company Otokar has established itself as one of the largest contractors of wheeled AFVs and tactical wheeled vehicles in Europe and in addition to marketing a complete range of 4×4 light armoured vehicles has also developed the ARMA. This has been developed as a private venture and is currently being marketed in both 6×6 and 8×8 versions with the former being the first one to enter production for the export market with Bahrain being the launch customer. ARMA (6×6) has a GVW of up to 18.50 tonnes of which payload is 4.50 tonnes and it shares the same power pack and drive line elements as the heavier ARMA (8×8).
Christopher F. Foss has been writing on armoured fighting vehicles and artillery systems since 1970 and until recently was editor of Jane's "Armoured Fighting Vehicles" and the artillery element of "Jane's Artillery and Air Defence". He has also lectured on these subjects in many countries as well as chairing conferences all over the world. He has also driven over 50 tracked and wheeled AFVs.