Vertical rotary lift aircraft are indispensable for any military force and every service branch, fulfilling such vital functions as logistic support, personnel transport (including aerial assault), search and rescue (SAR), medical/casualty evacuation (Medevac/Casevac), and installation/area surveillance and security missions.
Often the same aircraft – sometimes with modified avionics suites – can provide the same services to both the armed forces and to civilian law enforcement, public safety, and humanitarian agencies.
Numerous armed forces worldwide are currently upgrading their helicopter fleets with improved variants of existing models. Many armed forces also pursuing innovative new concepts to satisfy future rotary lift needs. Some significant developments are being promised, both in the short and longer term. Traditionally, the term vertical rotary lift has been synonymous with helicopters. Today, however, a broader definition can be applied to include tiltrotor aircraft as well as ducted fan aircraft.
Transport and Utility Helicopters
The US armed forces are currently developing a new family of helicopters under the Future Vertical Lift (FVL) programme. One FVL sub-programme is dedicated to procuring a Future Long-Range Assault Aircraft (FLRAA) to carry infantry squads into battle. The aircraft will also perform other missions such as S&R, medevac and logistic support.
Future Vertical Lift
The current objective is fielding FLRAA in fiscal year 2030 as a replacement for the UH-60 BLACK HAWK and H-1 HUEY utility helicopters. Core requirements for the FLRAA are: capacity to carry 12 combat equipped soldiers; a threshold cruising speed of 460 kilometres per hour (kph) and an objective of 515 kph cruise speed (the USMC sets higher demands, 500 kph threshold and 542 kph objective); an unrefueled combat radius of 368 kilometres threshold and 552 kilometres objective (USMC: 672 km / 829 km), and the capability of deploying with without a human pilot.
While the aircraft are likely to be procured by the Army, USMC, and joint Special Operations Command (SOCOM), the Army is managing the FVL programme. In March 2020, two competing offers were selected for the two-year Competitive Demonstration and Risk Reduction (CD/RR) phase of the programme. According to the Army, this CD/RR phase will "include initial conceptual designs, requirements feasibility, and trade studies using model based systems engineering" with the goal of reducing technical risk before awarding the full development and production contract in 2022. Insights gained during CD/RR will enable the Army to formulate realistic expectations regarding operational requirements, conceptual designs and the ultimate acquisition strategy, said Program Executive Officer Mr. Patrick Mason. The winning firm is expected to present the first prototype in early 2025, with testing to run through the end of FY 2029.
The competing CD/RR contracts were awarded to Bell Textron and to a joint venture by Sikorsky and Boeing. Both firms had presented technology demonstrators on which their ultimate FLRAA designs will be based. Neither aircraft is a classic helicopter.
Bell Textron's twin-motor V-280 VALOR technology demonstrator utilises tilt rotor technology which has been made "mainstream" by the firm's V-22 OSPREY. The V-280 is smaller than the V-22, includes integrated cabin armour, and has a v-shaped tail which enhances manoeuvrability, especially at high speed.
At first glance Sikorsky's SB>1 DEFIANT has a more conventional appearance, but its propulsion system differs from current helicopters. The twin-engine SB>1 is classified as a compound helicopter. It has two counter-rotating coaxial rotors and a rear-mounted pusher propeller. The former provide enhanced lift and stability compared to conventional rotor designs; the latter provides considerable forward thrust without tilting the axis of the main rotors.
BLACK HAWK Family
Both FLRAA concepts guarantee significant boosts in speed, climb and agility when compared to the Sikorsky UH-60. However, replacing the 2,000 BLACK HAWK helicopters currently in US service will not be completed before the 2040s. Moreover, FVL is a purely US programme, while the BLACK HAWK family is in service in nearly 30 nations. For this reason, Sikorsky is currently upgrading and modernising the 41-year-old UH-60 line (which consists of dozens of general purpose and specialised variants, including export models designated as UH-70).
The UH-60M or MIKE multi-mission variant introduced in 2006 remains the current production model. Older variants can be upgraded to the new standard, and are designated as UH-60Vs or VICTORs.
Performance, maintenance and survivability have all been enhanced vis-a-vis previous iterations of the UH-60. The MIKE variant has a four-person crew and accommodates 11 combat-equipped passengers. In addition, 4,090 kg can be sling-loaded. Cruising speed is 151 knots, while the vertical rate of climb when carrying 11 combat troops is 478 metres per minute. Major performance enhancing components include: the two 2,000 shaft horsepower (shp) T700-GE-701D turboshaft engines producing up to 2,974 kW power each; the wide chord main rotor blades which enhance lift and manoeuvrability; an active vibration control system; and the advanced digital cockpit which reduces pilot workload and enhances situational awareness. Cockpit elements include four night-vision compatible Rockwell-Collins multi-function displays, a four-axis fully coupled flight director, digital map, a Honeywell dual embedded GPS/INS navigation system, a Joint Variable Message Format (JVMF) messaging system, the STORMSCOPE lighting detection system, and two Marconi digital flight control computers. The UH-60M's profile encompasses almost everything short of attack-helicopter missions (although the UH-60M and S-70i can be outfitted with the Armed BLACK HAWK kit which enables the aircraft to deploy various air-to-ground munitions including up to 16 HELLFIRE anti-armour missiles).
Sikorsky also produces a dedicated maritime variant designated as the MH-60R SEAHAWK, which the US Navy describes as the world's most modern maritime helicopter. The mission profile ranges from logistic support, personnel transport and SAR, to over-the-horizon (OTH) reconnaissance, target designation, and armed anti-ship/anti-submarine operations.
While the aircraft shares most components with the UH-60M, it has been optimised for shipboard operations. This includes addition of the AN/APS-153 maritime surveillance radar, Link 16 and the HAWKLINK AN/SRQ-4 Common Data Link for communications with the ship, the AN/ALQ-248 Advanced Offboard Electronic Warfare (AOEW) capable of integrating with the shipboard EW systems, and the Thales/Raytheon AN/AQS-22 ALFS (Airborne Low-Frequency Sonar) for underwater reconnaissance. Carrying the specialised equipment reduces the transport capacity of the MH-60R to only five passengers.
Airbus Light Utility Helicopters
The UH-60 and the FLRAA are classified as medium-lift aircraft. There is also high demand for light utility helicopters. Being smaller, they can land in less accessible areas, and are normally more economical to operate while remaining capable of the same spectrum of operations performed by medium utility aircraft. Noise signature tends to be reduced compared to larger aircraft, delaying detection by opposing forces and minimising disturbance to civilian communities. Representative of this class is the light helicopter line produced by Airbus. Utility variants include the H135 and H145, also known as the EC135 and EC145.
The twin-engine H135 can be operated by a crew of one or two, and carries up to six passengers. Alternately, it can take one litter patient and two medical attendants, leaving sufficient space to perform emergency medical services. Early this year, Airbus announced a 120 kg increase to the H135's alternate gross weight (AGW). This increases maximum range and endurance to 770 kilometres and four hours and 16 minutes, respectively.
Maximum speed (259 kph) and hover ceiling (2,195 metres) remain unchanged. The H135 is well suited for operations at high altitudes and in all climate zones, and is frequently employed for mountain SAR and Medevac missions. The operational profile also includes military and civilian flight training (including for attack helicopter and heavy-lift helicopter pilots), police surveillance, and technical/logistic support for offshore installations. Sensors and communications equipment can be configured to operator requirements.
The largest of the Airbus light utility helicopters is the twin engine H145. The militarised variant, designated the H145M, is operated by the armed forces of 11 nations. Mission-specific kits can be installed within minutes to optimise the aircraft for a wide range of missions. Configuration options include light attack, transport and utility, intelligence/surveillance/reconnaissance (ISR), and maritime security. In the transport/utility configuration, the H145 carries up to ten combat-equipped soldiers (in addition to the two-person crew) and a sling capacity of 1,600 kg. Passengers can egress quickly via two sliding side doors and the rear clamshell hatch. A fast rope system, hoists, cargo hooks and machine-gun mounts are available, enabling the H145 to be utilised for assault, special operations, and SAR as well as conventional personnel and supply transport. When optimised for medevac, it can accommodate two litters plus medical personnel.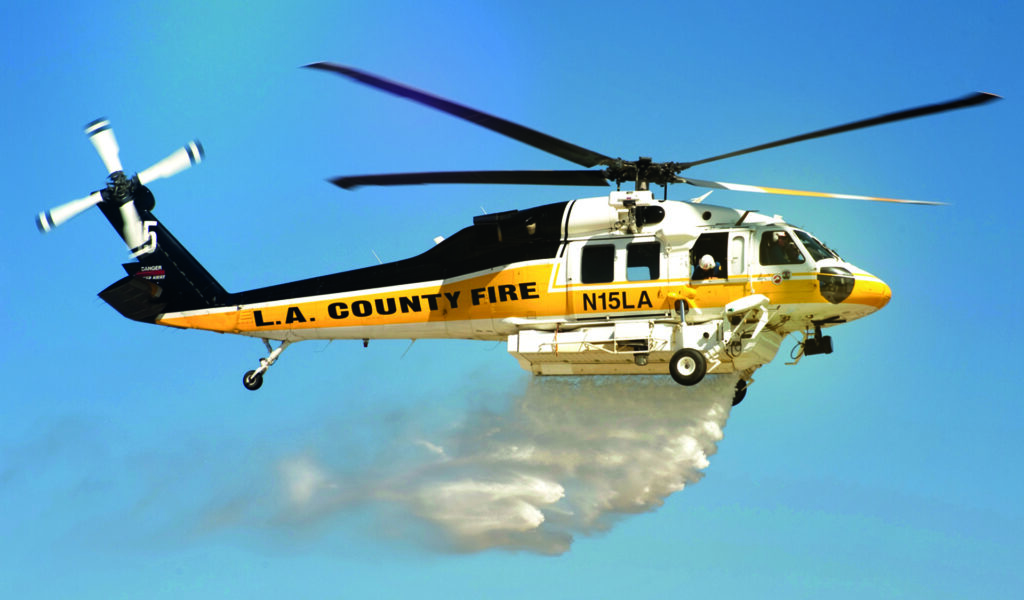 Safety factors and aircraft survival systems include a ballistically protected cockpit, cabin and engine; defensive electronic warfare suite; self-sealing fuel tanks; infrared signature suppression; a high-set rotorhead which enables crew to safely egress or load the aircraft despite turning rotorblades; and the Fenestron shrouded tail rotor which not only prevents the risk of injury, but also improves aircraft handling. Performance characteristics include a fast cruise speed of 240 kph, a range of 638 kilometres and a mission endurance of three hours and 32 minutes with conventional fuel tanks. The H145 is considered a rugged and reliable aircraft. The US Army, which operates it as the UH-72A LAKOTA light utility helicopter, reports a 90% mission availability rate. In September 2019, an Airbus-operated H145 set a new altitude record by landing above 6,900 metres in the Andes.
Heavy Lift
At the other end of the spectrum are high performance heavy-lift helicopters such as the Leonardo AW101 which entered service in 1999 and serves with the armed forces of six NATO nations and Japan. The aircraft is powered by three General Electric CT7-8E turbines which enable a top cruising speed of 277 kph, a maximum range of 1,500 kilometres, flight endurance of six hours and 50 minutes (extendable through aerial refuelling), and 9.5 metres per second rate of climb. Solid design and regularly upgraded equipment maximises occupant and aircraft safety while ensuring that the AW101 remains one of the best performing helicopters of its class; mission system modularity enables customisation to meet customer preferences.
The digital cockpit, mission management computer and other avionic and sensor systems are fully integrated. This provides the crew with real-time situational awareness and enables rapid tactical assessment. Ballistic protection, optional pintle-mounted machine guns and an integrated defensive electronic warfare suite can counter hostile fire and missiles. Additional safety elements include a 20G crashworthy airframe and crashworthy fuel tanks, 30-minute run-dry transmission, and a high-degree of redundancy for all critical systems. The SAR variant features some additional systems such as Synthetic Vision, an Obstacle Proximity Warning System, AESA radar and high-definition electro-optical sensors.
The AW101 can be configured as a multi-role aircraft, as a dedicated SAR helicopter, or as a maritime variant. Crew size varies between two and four depending on mission requirements. The multi-role configuration permits carriage of an additional 25 seated soldiers in the 6.5 x 2.5 metre cabin; up to 50 persons can be taken aboard during emergency evacuation/rescue missions. The rear ramp also permits drive-on/drive-off of special operations force vehicles. The dedicated SAR/Combat SAR variant benefits from the aircraft's range and endurance as well as the superior carriage capacity. Up to 20 wounded can be airlifted off the field at one time; this leaves space for specialised medical equipment to provide emergency trauma care to the most critical patients.
The largest heavy-lift helicopter manufactured outside of Russia is the Sikorsky CH-53 SEA STALLION. The CH-53 line dates to the 1960s, but new variants have been steadily introduced. The newest iteration is the CH-53K KING STALLION which is currently entering service with the US Marine Corps; several other nations are also evaluating the KING STALLION.
While the CH-53K resembles the previous variants, it utilises so much new technology that many observers consider it a de facto new aircraft rather than an upgrade. A digital or "glass" cockpit (with triple-redundant fly-by-wire systems) reduces crew workload, improves situational awareness, and enhances the capability to operate under all weather conditions including severely degraded visual environment. Cabin volume is 12% larger than on legacy aircraft; widening the cabin by 30 centimetres permits internal carriage of HUMVEE-sized vehicles. Fuel efficiency is improved by 18%. Maintenance requirements have been reduced by 35% through use of corrosion-resistant fuselage and rotor materials, introduction of an electronic aircraft health monitoring system, and configuration to ease access to components requiring repair or replacement. The aircraft configuration accommodates regular mission system upgrades (hardware and software).
This redesign results in significant performance enhancement over previous models. The three T408-GE-MTU engines enable top speeds of 315 kph, with a service ceiling of 5,540 metres. The maximum external lift capacity of 16,300 kg is nearly three times the capacity of previous CH-53 variants; the presence of three cargo hooks provides the option of carrying one heavy load or three smaller loads which can be delivered to separate destinations. Internal transportation capacity is flexible, with options ranging from 32 removable crashworthy seats to carriage of 463L cargo pallets and/or tactical vehicles; deck-embedded rollers facilitate on- and off-loading via the rear ramp. Combination payloads are possible, such as external carriage of a howitzer, and internal carriage of munitions and weapons crew. In medevac configuration the CH-53K can load 24 litter patients.
Ducted Fans and "Flying Cars"
While helicopters are more flexible than fixed wing aircraft, and can access a wide range of landing sites, they are still constrained by such factors as rotor diameter and susceptibility to wind effects. Ducted fan technology has been proposed as one way to overcome these drawbacks. This concept places the rotor or propeller inside a shallow tubular cylinder or "duct", which is open at the top and bottom. Rotor blades are normally much shorter than helicopter blades; this is compensated by using a larger number of blades or "vanes" per duct – in some designs up to 200. Sets of louvers at the top and bottom of the ducts are adjusted to dictate the force and direction of thrust necessary for vertical, lateral or forward motion. The configuration channels and intensifies the lift created by the rotor, enabling flight performance equivalent to that of a helicopter. Proponents of ducted fans point to various advantages: reduced noise signature; reduced physical footprint due to the smaller rotor diameter; decreased vulnerability compared to helicopter rotorblades, which must maintain sufficient distance from obstacles. Taken together, this means ducted fan aircraft could land in spaces too small or dangerous for even light helicopters. Military and civilian applications include medevac, rescue, tactical or humanitarian supply, law enforcement or special operations transport.
The Israeli firm Urban Aeronautics has been touting its trademarked FANCRAFT technology for two decades, demonstrating its HUMVEE-sized CORMORANT prototype flying directly up to the windows of tall buildings to conduct insertions or rescues. The firm's designs place the lift fans directly within the body of the craft, with crew, passenger or cargo sections along the outer edge. This configuration gives the craft a footprint no larger than an average 4×4 tactical vehicle. While the firm has so far failed to market the CORMORANT, the technology has now gained the interest of Boeing. In January 2020, the aerospace giant signed an agreement with Urban Aeronautics subsidiary Tactical Robotics to explore opportunities for developing, producing and marketing FANCRAFT-based VTOL aircraft including the CORMORANT.
The US Air Force (USAF) is taking a separate approach in its effort to acquire electric-powered vertical take-off and landing (eVTOL) aircraft informally referred to as "flying cars". USAF's Agility Prime programme is committing US$25M in 2021 to support eVTOL and Urban/Advanced Air Mobility technology; additional funding is planned in follow-on years. Will Roper, Air Force Assistant Secretary for Acquisition, Technology and Logistics, has stated a goal of achieving operational capability for this technology by 2023, and acquisition of 30 aircraft by 2030. Rather than pursue a dedicated military prototype, the USAF will support further development and testing of civilian eVTOL with a potential for military applications. The military's goal is procurement of an aircraft capable of carrying three to eight people. Initial performance criteria remain modest: flight speed of 160 kph, a minimum flight endurance of one hour, and a range in excess of 160 kilometres. Potential applications include short range cargo transport, SAR, medevac, and installation security.
However, some prototypes being evaluated by USAF already boast much higher performance. The Bell NEXUS family being developed as civilian air taxis are considered prime candidates for the Air Force programme; the largest variant employs six tiltrotor ducted fans, and can carry a pilot plus six passengers at 288 kph. The RHAEGAL-B cargo UAV, which employs four tilting ducted fans, will have a 2,450 kg payload capacity, a range of 1,850 kilometres and a top speed of 370 kph. In addition to battlefield resupply, the Pentagon is considering its suitability for casevac. Overall, up to fifty firms have shown interest in the Agility Prime programme.
Is this a watershed moment for rotary lift? Will future aircraft still resemble helicopters, or will they be closer to the aerial vehicles of today's science fiction films? The answer will likely be: "Both." Conventional rotory lift configurations, tiltrotor designs, and ducted fans all have their distinct advantages and drawbacks. Military and civilian public safety missions will remain multifaceted, precluding any "one-size-fits-all" approach. Diversity will be the key to maximising options.
Sidney E. Dean