The world of Unmanned Aerial Systems (UAS) has evolved for more than a century. But it was only in the early 1970s that UAS assumed a significant military role, with the evolution of computing, inertial navigation, electro-optics, and communications systems suitable for such platforms. With the dramatic miniaturisation of electronics and optronics and commercialisation of drone technology, UAS have become smaller and smarter, introducing disrupting capabilities for military, commercial, and personal users. In a recent interview with Matan Perry, VP Marketing and Business Development at Aeronautics, we had the opportunity to uncover some of these disruptive influences and trends that Small Tactical UAS (STUAS) may have on the future battlefield.
ESD: What are the main trends you see in the UAS world?
Perry: When you look at the general picture, a clear trend stands out – the market is booming. From predominantly tactical systems such as our AEROSTAR UAS, we see the introduction of much larger, heavier unmanned systems operating at a higher altitude, on extended missions, over unlimited ranges, as they rely on satellite communications for operations. Aeronautics offers the DOMINATOR for this category. It is operated on strategic missions, deploying from permanent airfields as part of national reconnaissance or naval surveillance activity. On the other hand, we see UAVs becoming smaller and more versatile. The ORBITER UAS family from Aeronautics is a leader in this category. These are small tactical systems that leverage new, more advanced electronics and optics to deliver the same missions, with better performance, more flexibly and affordably.
ESD: What technologies enable this trend?
Perry: The large drones leverage platform capabilities to operate in extreme conditions – high altitude, long-range, and long endurance. STUAS, on the other hand, are designed for extreme efficiency in all those aspects. They use miniaturised payloads to minimise space, weight and power consumption with efficient propulsion, launch, and recovery techniques that enable such UAVs to extend their missions and deploy with minimal logistics and support footprint. While Small Tactical UAS are not dependent on SATCOM for mission operation, using tactical SATCOM can help operations in extended range and beyond line of site areas.
ESD: Is VTOL part of this trend?
Perry: There are different VTOL technologies, suitable for various applications but all impose significant intrinsic weight on the platform, thus reducing endurance and payload capacity. Therefore, developers and users must assess VTOL carefully for the value it provides. At Aeronautics, we currently employ catapult launch with parachute and airbag retrieval for our tactical drones. We are considering using a vertical landing electrical multirotor system, which imposes the minimal penalty on the platform, retaining the catapult launch, while retaining higher energy efficiency.
We also employ multirotor technology in another product family – the PEGASUS 120. This is an octocopter – a load carrier powered by eight electrically-powered rotors. It operates in a fully autonomous flight and lifts up to a 45 kg load packed in a standard container, carrying ammunition, food, water, fuel, energy, and medical supplies. Flying for up to 30 minutes, PEGASUS can support dispersed units over 15km and deliver their cargo where it is needed. By sustaining combat units in their forward positions, the PEGASUS enable Brigades, Battalions, and Companies to move fast, cover large areas and minimise logistic concentrations, thus becoming more dominant, survivable, and effective.
Such drone formations can be operated at the tactical level as an organic asset of the Brigade, or deploy to a forward location, controlled remotely from an operating centre under a different authority or as a joint asset.
ESD: Can the fixed-wing platforms offer similar efficiencies?
Perry: Of course, our ORBITER 4 is a leader in the world's STUAS category – with mission endurance of 24 hours, a payload capacity of 12 kg and multi-payload capability. It delivers a performance that of a MALE UAS can offer today, but in a smaller platform. Our ORBITER family of UAS includes several performance levels, from the electrically operated Mini-UAS ORBITER 2, which allows a 4-hour operation at a distance of up to 100 km, to the larger electrically operated STUAS ORBITER 3 and ORBITER 4, which allows 24-hour operations at a distance of up to 150 km (LOS) or beyond LOS by SATCOM. All of them offer mission flexibility, as they can operate covertly, below cloud base, day and night and in almost any weather. Runway independence is a key feature of all ORBITERs, as it enables forces at the tactical level, from the Brigade up, to use drones to collect organic information and target for surveillance, reconnaissance (ISR) or special missions and operated and maintained by smaller forces and by fewer men power.
ESD: What drove Aeronautics to offer these innovations?
Perry: As a vertically integrated company, Aeronautics Group possesses all the know-how and capabilities necessary for the STUAS mission – from platform design and flight control to propulsion, datalink security, and the development of mission payloads. Each area is covered by a member of the Aeronautics Group that is an expert in its field.
For example, Controp develops and produces EO/IR payloads, Commtact produces datalinks and communications security. Zanzottera manufactures propulsion systems, while our newly completed integration with Rafael opens new horizons for further integration of Rafael's exceptional capabilities in payload design and mission support. Aeronautics is the platform manufacturer and developer of flight and mission control systems.
While each company maintains its operations, as a group we share and synchronise development roadmaps with the entire group to position our solutions and products at the forefront of technology and meet customer requirements with the most suitable solution.
The evolution of the ORBITER family demonstrates this approach, as we were able to integrate Controp's STAMP family on the ORBITER 2 as soon as it was released, and in doing so, we were prepared in time to debut the larger T-STAMP payload on our ORBITER 3.
Specialised mission payloads such as Rafael's MICROLITE Persistent Wide-area System (PWAS) combined with a compact version of the IMILITE automated mission processing system add new capabilities. Both systems were developed by Rafael and make ORBITER 4 a unique ISR enabler for persistent monitoring.
ESD: Where do you see the future of STUAS?
Perry: Autonomy and workload reductions are essential features for current and future UAS since users want to minimise their footprint at the tactical level. When operating the drone in a fully autonomous flight, mission operators can focus on the sensors and mission and let the computer fly the drone. These are features we provide today. All flight operations and procedures are maintained by the system, ensuring safe operation and airspace integration even with a single operator.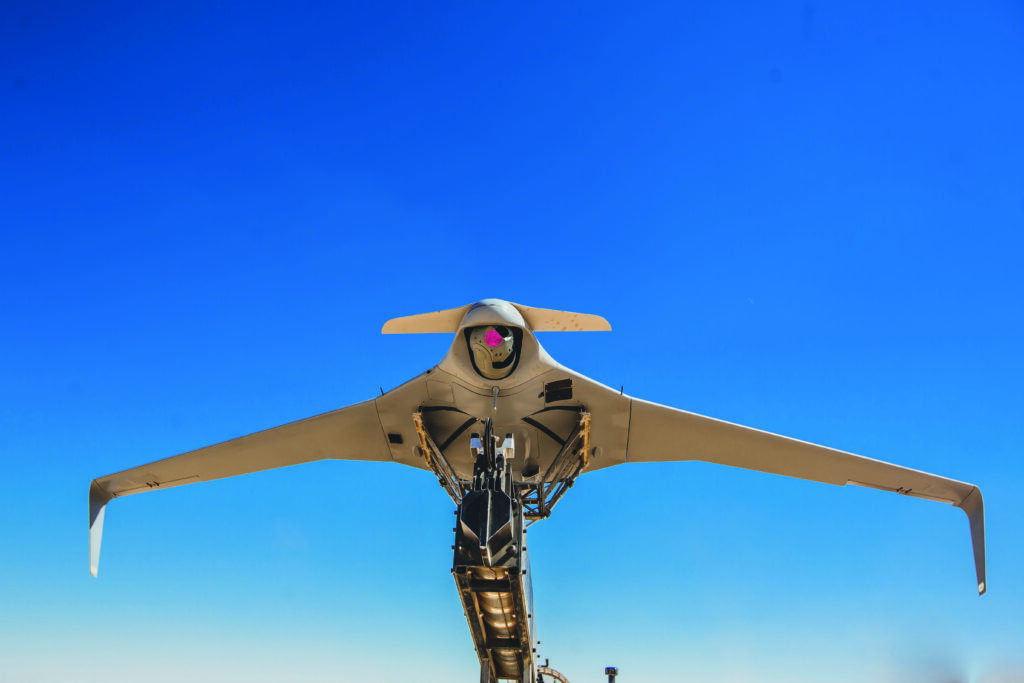 Future applications will see more missions conducted by UAS. So far, most users are using UAS to replace the traditional binoculars because UAS provide an elevated view of the battlefield. Soon, however, such drones will be able to deliver intelligence in more complex forms. By using artificial intelligence and machine learning (AI/ML), surveillance and target missions will be able to process much more data and process it largely automatically.
By combining multi-sensor systems on single or multiple platforms, users will merge EO/IR, radar, cellular interception, and electronic surveillance to support tactical missions, develop clear situational maps and act upon it more efficiently. Until now, these capabilities were reserved only for the strategic and national operators and could not be employed at the tactical level.
With fixed-wing and multirotor UAS becoming part of the ground manoeuvre formation, drones have the potential to evolve into a disrupting element in modern warfare.
ESD: Thank you.
The interview was conducted by Tamir Eshel.