India is the world's second largest arms importer. Will a ban on defence imports be enough to boost its defence industry, making it self-reliant? Can it duplicate the success of indigenous buying programmes witnessed in the USA, China, Russia and across Europe?
Emblazoned on India's sovereign flag is a spinning wheel. It is there as a symbol of self-reliance. Before Mohandas Gandhi shook the loose the crippling grip of the British Empire, all cotton from India was exported to the UK for processing into textiles and then re-sold to India, making the people reliant on Great Britain for materials it made for itself for at least three millennia. This bound the Indian economy to Britain's financial fortunes and forced India's people into peonage. Gandhi envisioned a self-reliant people capable of extracting its own resources, processing them and producing – and exporting – its own products, starting with the humble spinning wheel sitting at the heart of every rural Indian home and at the cultural core of the nation.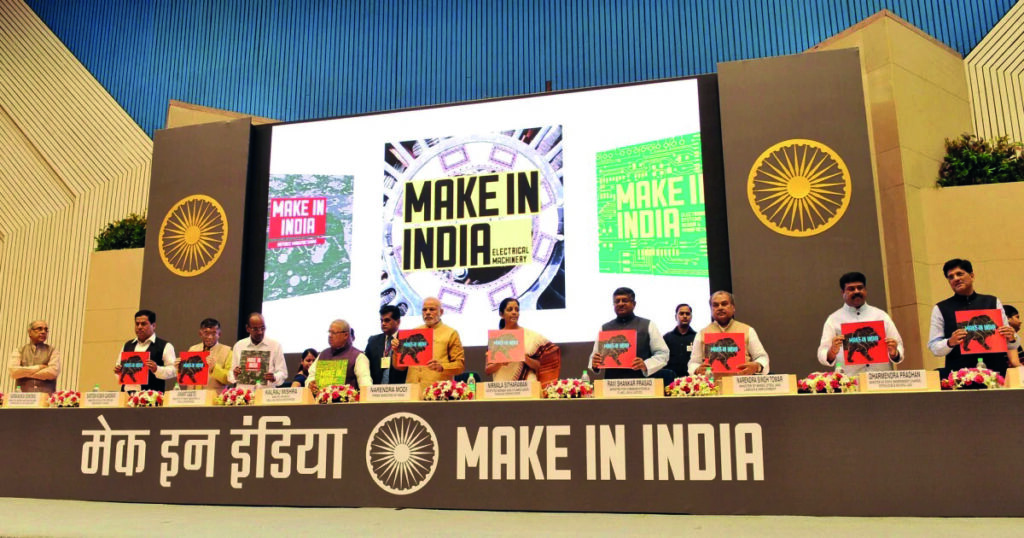 Waving the nation's flag and reaffirming Gandhi's timeless message, Prime Minister Narendra Modi proclaimed his own clarion call on 12 May 2020 to the defence industry of India: it must become more self-reliant. The words "Atmanirbhar Bharat" or "Self Reliance", are once again the watch words for the Indian industrial economy. As a modern industrialised nation, rivalling industrial output of any western nation, it needs to also be more like the USA ("Buy American!") and the EU trading bloc in terms of securing its economic and strategic resources, production chains and defence materiel assets.
India's Department of Military Affairs under the Indian Ministry of Defence (MoD) has prepared a list of 101 specific weapon systems and platforms whose import will be gradually banned.
Following the Prime Minister's recent announcement, the Defence Acquisition Council (DAC)approved procurement proposals worth approximately US$90Bn, which includes the order for 106 basic trainer aircraft for the Indian Air Force from the Indian Government-owned Defence Public Sector Units, Hindustan Aeronautics Limited, an upgraded version of the Super Rapid Gun Mount to be fitted on board Indian Naval and Indian Coast Guard vessels from Bharat Heavy Electricals Limited, 125 mm Armour Piercing Fin Stabilised Discarding Sabot ammunition for the Indian Army and an upgrade of the AK 203 and Israeli Unmanned Aerial Vehicle searcher Mk-II HERON.
Following the DAC's procurement approvals, an announcement of 15 Light Combat Helicopters (LCH) and 83 Mk 1A Light Combat Aircraft (LCA) for India's Air Force can be expected. In light of increased border tensions with China, the Air Force already deployed two LCHs in full combat profile to the Ladakh region, bordering on Chinese occupied Tibet.
The LCA MK 1A is on the MoD's list of 101 items, with an embargo date of December 2020.
Indian Defence Minister Rajnath Singh articulated on Twitter: "The embargo on imports is planned to be progressively implemented between 2020 and 2025." The rationale behind this policy move is to promote more indigenous defence production and to generate employment for India's youth in order to boost the Indian defence manufacturing sector.
This is a similar move President Cyril Ramaphosa took in 2018 to create more opportunities for South Africa's industrial sectors serving the defence establishment.
Mr Singh added that: "…all necessary steps would be taken to ensure that timelines for production of equipment as per the Negative Import List are met, which will include a coordinated mechanism for hand-holding of the industry by the defence services". While there has been much cooperation over the years between the Indian MoD and its defence industrial sector, it is clear that more needs to be done in the area of cooperative technology transfers, joint research projects and clearer guidance on how best to meet India's defence requirements.
Sujith Haridas, Director General of the Society of India Defence Manufacturers (SIDM) affirmed: "The 330 plus SIDM members can meet the requirements of the import embargo list and beyond. Allocating capital budget resources annually for domestic industries, to achieve domestic industry turnover of US$1.7Tn and exports of US$350Bn by 2025, shall transform the landscape of Indian defence and aerospace industry during the next 5-7 years."
The list of embargoed products was not created in a vacuum by parliamentarians keen to score government contracts for businesses in their home districts. Rather, India's MoD prepared the list after several rounds of consultations with all stakeholders, including the Army, Air Force, Navy, Defence Research and Development Organisation (DRDO), Ordnance Factory Board (OFB), and private industry to assess current and future capabilities of the Indian industry for meeting India's growing list of defence requirements. This is especially urgent, now that traditional allies Pakistan and the People's Republic of China are both pointing gun barrels at India's northern borders, backed-up by the threat of their own nuclear arsenals.
According to India's MoD, the Indian defence industry will manufacture the items placed on the "negative list" (viz. the banned items) by using their own designs, materials, innovations, research and development capabilities. This includes adopting and adapting technologies already developed by the DRDO.
Jayant Patil, Director of Defence and Smart Technologies at Larsen & Toubro Ltd. (a leading defence design and manufacturing firm headquartered in Mumbai) confirmed: "Our strategic sector is a shining example of the stellar capabilities the nation has built in-house, indigenously at a fraction of what the (more) advanced world has incurred and all because it was denied to us. "So, denial became a boon for us to achieve complete self-reliance, plus it's a wake-up call that came from China to stay focused and build (our) domestic industry."

Major Indian defence imports come from France, Israel, Russia, and the USA; ranging from aircraft, repair components and simulators to rockets, radars and artillery.
Almost 260 orders of these items were contracted by the Indian MoD at an approximate cost of US$3.5Ttn between April 2015 and August 2020.
With the latest embargo on the gradual import of 101 items, it is estimated that contracts worth more than US$4Tn will be opened up to India's domestic industry spanning the next five to seven years. Of these, items worth almost US$1.3Tn each are anticipated for the Indian Army and the Indian Air Force, while items worth almost US$1.4Tn are anticipated by the Indian Navy over the same period.
SP Shukla, Vice President of SIDM, while welcoming the announcement said, "This will catapult the Indian Industry into not only achieving 'atmanirbharta' (self-reliance); but, will also create a vibrant defence manufacturing ecosystem for exports."
The list of 101 embargoed items comprises not just simple spare and maintenance parts but also some high-end technology weapon systems and highly-complex platforms. The list also includes, wheeled armoured fighting vehicles (AFVs) with an indicative import embargo date of December 2021, of which the Army is expected to contract almost 200 at an approximate cost of over US$50Bn. Similarly, the Navy is likely to place demands for submarines, also with an indicative import embargo date of December 2021, of which it expects to contract about six vessels at an approximate cost of almost US$420Bn. A senior executive at L&T, however, revealed: "Policies of the Government are all very good; but, it is their implementation (that) is cumbersome, as the implementation is in the hands of the bureaucracy – and most of the bureaucrats are Directors in the Government-owned DPSUs so iti s a conflict of interest for them."
The MoD has now split the capital procurement budget for 2020-21 between domestic and foreign capital procurement. A separate budget header has also been created with an outlay of nearly US$520Bn for domestic capital procurement in the current financial year.
Jayant Patil of L&T says, "Budgets will not be split between private and public segments.
The reason being that in the past, orders mainly went to DPSUs but now the AONs (Acceptance of Necessity) granted allow the private sector to freely compete."
With the self-reliance firmly in mind, during India's 74th Independence Day celebrations, Defence Minister Rajnath Singh launched a number of products manufactured by several defence PSUs. One of the weapons showcased was the prototype NAG Missile Carrier developed by the Ordnance Factory in association with a DRDL Hyderabad lab. Other weapons presented by the Ordnance Factory Board (OFB) include:
14.5mm Anti-Material Rifle (fully indigenous)
Thermal Imaging/Day Sight (upgraded) for T90 Main Battle Tank commanders
8.6x70mm Sniper rifle (prototype) developed by Rifle Factory Ishapore for engaging long range targets
150th Do-228 aircraft produced by HAL, christened IN-259 for the Indian Navy for a maritime reconnaissance and intelligence warfare role
Linear Variable Differential Transducer fully-designed and developed by BEL for the Indian Navy
Konkurs Launchers Test Equipment designed and developed by Bharat Dynamics Limited replacing legacy Russian launchers, saving US$17.7M
Portable Pedestrian (Assault) Bridge for the Indian Army by Garden Reach
Overlooking what is capable indigenously at this moment, India seems to be keeping pace with its requirements for new and modernised materiel assets and equipment. However, without being neither a pessimist or optimist, the results achieved over the next five years will judge whether "atmanirbharta" – self-reliance – was achieved with patriotic pride or failed with indigenous in-fighting and regional rumbles.
The embargo list will be detailed in the upcoming Defence Acquisition Procedure (DAP) -2020 to ensure that none of the items is processed for import in the future. (https://mod.gov.in/dod/defence-procurement-procedure).
Suman Sharma