Signals intelligence (SIGINT) is the general term for the interception of signals. It has two main components – Communications Intelligence (COMINT) and Electronic Signals Intelligence (ELINT).
As its designation suggests, COMINT involves the interception and analysis of communications between organisations, military units, and individuals. One subset of COMINT is traffic analysis – a process that sets out to determine the flow of traffic between organisations, units, and individuals, and the quantities of traffic involved. Traffic analysis remains useful even if the signals it is studying are encrypted and cannot be deciphered.
ELINT refers to intelligence-gathering by the interception and study of signals that are not related to communications. These include transmissions from radar systems, missile-guidance systems, and IFF interrogators and transponders. ELINT operations will intercept such signals, and will try to determine capabilities, operating procedures, and locations of the hardware from which they originate.
Weapon systems sensors are becoming more complex, featuring higher resolutions, increased data rates and ever more complex data. Signal densities are rising, and a growing number of commercial applications that use frequencies similar to those of military systems. SIGINT and COMINT hardware must be able to cope with these developments.
They must be able to deal with frequency-agile threats, while Low-Probability of Intercept (LPI) radars that use techniques such as Frequency-Modulated Continuous-Wave (FMCW) pose problems for older ELINT receivers. These may have difficulty in detecting, analysing, and identifying such signals.
Yet given the long operational life of much military hardware – the S-75 DVINA (SA-2 GUIDELINE surface-to-air missile entered service in 1957, but is still in service with around 20 users – SIGINT systems must also cope with these ageing weapons. In some cases, these weapons have been upgraded, so may have a different electronic signature than that of the original variants.
At the same time, SIGINT receivers must also be able to handle the high signal densities created by an ever-increasing number of emitters, and cover ever-higher frequencies, including millimetre-wave bands. Therefore, while older threats may still be viable, older ELINT receivers may be of declining usefulness.
Classic Airborne Platforms
For major powers, the classic airborne SIGINT platform is often based on a long-range transport aircraft. Best-known example is probably the USAF's RC-135V/W RIVET JOINT version of the Boeing RC-135.
The UK's fleet of three NIMROD R.1 SIGINT aircraft were retired in 2011, and the resulting gap in capability was not made good until 2017 when the Royal Air Force received the first of three aircraft based on RC-135W and known as the AIRSEEKER R.1. The Royal Air Force also operates eight SHADOW R.1 intelligence, surveillance, target-acquisition, and reconnaissance (ISTAR) aircraft version of the Beechcraft KING AIR 350. Last year, the UK MoD awarded Leonardo and Thales contracts to supply an integrated DAS able to protect these aircraft from IR-guided threats.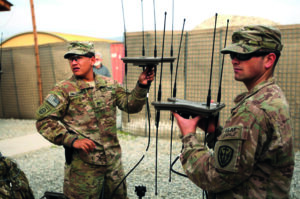 First flown in 1958, the Ilyushin Il-20M COOT-A SIGINT aircraft is a militarised version of the Il-18 turboprop-powered airliner. A batch of 20 was built, and the type remains in Russian service. These aircraft are reported to carry the ROMB 4 SIGINT system and VISHNAYA COMINT system.
First displayed at the MAKS Air Show in 2013, the Tupolev Tu-214R is intended to replace the Il-20M. It carries the MRC-411 multi-intelligence system, which includes SIGINT sensors, Side-Looking Synthetic Aperture Radar (SAR), and multi-spectral electro-optical systems.
In 2004, France opted to retire its two Systeme Aeroporte de Recueil d'Informations de Guerre Electronique (Sarigue) SIGINT aircraft. Based on the DC-8 airliner, these carried a sensor suite developed by what was then Thompson-CSF. A planned electronics upgrade by Thales is reported to have been over-budget and suffering from weight problems, factors that may have contributed to the decision to retire the aircraft. With the ending of the Sarigue programme, France's sole ELINT aircraft are two ageing C-160G GABRIEL SIGINT versions of the TRANSALL transport. Both are due to be retired in 2025.
Like several other countries, France saw the need to field a next-generation SIGINT aircraft based on a smaller airframe – a move made possible by the shrinking size and weight on modern electronics, and by the ability of high-capacity datalinks that would allow SIGINT specialists to remain on the ground rather than being carried on board the aircraft. In 2018, the French MoD ordered Dassault Aviation to supply three FALCON business jets equipped with Capacité Universelle de Guerre Électronique (Universal Electronic Warfare Capacity) SIGINT systems developed by Thales.
In July 2020, Germany announced that it will purchase three Bombardier GLOBAL 6000 aircraft which will be fitted with the Integrated Signal Intelligence System (ISIS). The aircraft are expected to provide the Bundeswehr's airborne reconnaissance capability from 2025 onwards.
The Israeli Air Force operates three Shavit SEMA (Special Electronic Missions Aircraft) based on the GULFSTREAM G550, and in March 2019, Australia opted to procure four modified G550 aircraft for use in the SIGINT role. These will be designated as the MC-55A PEREGRINE.
Elisra designed its ELK-7065 to be able to cover a large geographic area, detecting emitters that transmit only occasionally. It weighs only 60kg, so can be mounted in aircraft as small as a mid-sized UAV. Once an emitter has been detected from stand-off range, the UAV can fly towards its location, gradually reducing its cruise height. This manoeuvre will allow the emitter to be geolocated.
UAVs to the Fore
The US Navy's Lockheed EP-3E ARIES SIGINT aircraft are approaching the end of their service life. The planned Electronic Patrol-X (EP-X) due to replace these was cancelled, but the integrated functional capability (IFC) 4.0 version of Northrop Grumman Aerospace MQ-4C TRITON UAV is expected to have a similar level of SIGINT capability. It will carry specialised subsystems provided by Boeing Argon ST and Sierra Nevada.
Useful UAV-based SIGINT capability does not always require such a large and expensive air vehicle. When the US Army needed a small UAV able to support contingency operations in Nigeria and Uganda, it awarded Textron AAI contracts worth US$46.4M earlier this year for five Aerosonde MK 4.7, a UAV weighing less than 40 kg. These will be equipped with a multi-sensor installation that includes a day and night video camera and an SIGINT system.
Last year, the US Army released RFIs for EW payloads that could be carried by RQ-7 SHADOW and RQ-11B UAVs. These sensors should be able to identify and geolocate hostile emitters, including those that use LPI techniques.
While the US, Russia, and China operate large dedicated SIGINT satellites under their respective programmes – ORION, also known as MENTOR or Advanced ORION (USA), LIANA (Russia), and YAOGAN (China) – the cost of developing, launching, and operating this class of system can prove prohibitive for other countries, as the UK was to learn when its planned ZIRCON SIGINT satellite had to be cancelled in 1987.
France tested the concept of using formation-flying spacecraft to triangulate the location of radar and communication emitters. Its experimental ESSAIM microsatellies operated from 2004 until 2010, and were followed by the ELISA microsatellites in 2012. These in turn are due to be replaced in 2021 by the CERES (Capacité de REnseignement Electromagnétique Spatiale) formation of three microsatellites built by Thales Alenia Space and incorporating a payload developed by Airbus Defense and Space.
Norway and the Netherlands have adopted a similar approach for their Binational Radio Frequency Observing Satellites (BROS) demonstration programme, which plans to orbit a pair of nanosatellites in 2022. Designated BIRKELAND and HUYGENS, these are intended to use angle of arrival (AoA) and time difference of arrival (TDOA) techniques to accurately geolocate RF signals.
Also scheduled for 2022 is the first launch to be conducted under Australia's Miniaturised Orbital Electronic Warfare Sensor System (MOESS). This envisages the deployment of a constellation of about 20 CubeSats fitted with a range of sensors and monitoring equipment intended to detect and geolocate RF signals from ships and aircraft.
The Navies Join in
Another classic platform for SIGINT is the surface ship. Russia currently operates seven VISHNYA class (Project 864) AGI (Auxiliary General Intelligence) ships inherited from the former Soviet Union. These are equipped for intelligence-gathering, and have self-defence armament in the form of AK-630 six-barrelled 30mm cannon and STRELA-3 (SA-N-8 GREMLIN) surface-to-air missiles.
Incidents during the 1960s with the near-unarmed LIBERTY and PUEBLO intelligence-gathering ships has persuaded the US Navy not to operate vessels of this type, but to assign the task to warships. However, unarmed SIGINT ships are operated by other nations. For example, France has the DUPUY DE LÔME, Germany operates four OSTE class vessels, while Sweden has the ORION. The planned replacement for ORION will be the ARTEMIS. Ordered in 2017, this was built at the Stocznia Marynarki Wojonnej shipyard in Gdynia in Poland. Following its launch in April 2019, it was tranferred to Saab Kockums in Karlskrona, which will be responsible for installing the vessel's SIGINT systems.
The UK's Royal Navy does not operate surface-ship SIGINT platforms, preferring to assign this task to submarines. During the Cold War period, the UK always had two SSNs configured for this role.
These may be an emerging role for unmanned seagoing SIGINT platforms. In the summer of 2020, Captain Marlin Scott of the US charter fishing vessel PREMIUM TIME reported having found a strange object floating in the sea just off the Florida Keys. It consisted of a basic platform floating low in the water, and equipped with an antenna array mounted on an X-shaped frame positioned at the top of a short mast. There was also a small radome.
While the precise configuration of the system seemed novel, the basic craft may have been a derivative of the WAVE GLIDER system developed by the US company Liquid Robotics.
This consists of a surface float that is connected via a tether to a submerged 'glider', and is propelled by the conversion of ocean wave energy into forward thrust, independent of wave direction. It is capable of unsupported autonomous missions of up to 10 months duration, and long-distance transits of up to 1,000 nautical miles in the open ocean. WAVE GLIDER is small enough to have a low likelihood of visual detection, and minimal radar and acoustic signatures. An array of upward-facing solar panels provides 10 W of electrical power for whatever mission payload the user decides to install.
One of roles for which Liquid Robotics promotes WAVE GLIDER is intelligence surveillance & reconnaissance (ISR). The example sighted by Captain Scott bore no markings that identified the owner, but may have been deployed by the US to monitor illicit radio transmissions, perhaps those from vessels operated by drug runners.
Land Platforms
Best-known US land-based tactical SIGINT system is the US Army's AN/MLQ-44A PROPHET Block I. This covers the HF, VHF and UHF bands. While it can be broken down into subassemblies that can be carried by a four-man team, it is normally installed in an M1097 HMMWV. In 2019 General Dynamics Mission Systems was given a US$296.1M contract to produce the AN/MLQ-44B PROPHET-Enhanced. An upgrade to the AN/MLQ-44A, it is intended to detect tactical emitters at frequencies ranging from 20-2,000 MHz.
A similar upgrade is being applied to the AN/MLQ-36 used by the US Army and Marine Corps. The new AN/MLQ-36A Mobile Electronic Warfare Support System Product Improvement Programme involves a total replacement of the electronics in the original system.
Developed by Leonardo DRS, the SandDust HF DF/Geolocation system is small enough to be mounted in a sport utility vehicle (SUV). It uses a five-element antenna array to cover the 2-30MHz frequency range locating emitters to a bearing accuracy of 5 degrees RMS.
France's Thales SAEC (Station d'Appui Electronique de Contact) consists of an armoured vehicle equipped for the ELINT and COMINT roles.
The smaller and lighter a system is, the more readily can it be used in forward locations where it can be used to detect low-powered signals, and emitters that are masked by terrain. Praemittias Systems created its WOLFHOUND Cooperative Radio Direction Finding System for such tasks. Capable of being mounted in aircraft, UAVs, or ground vehicles, it has seen significant use in a man-portable configuration. WOLFHOUND consists of an electronics unit small enough to be carried in a backpack, an antenna array, and a display unit based on a small liquid-crystal display (LCD). WOLFHOUND was introduced in 2007, so has now been modernised to incorporate more rugged hardware, including an improved display.
For more than a decade, Russia has been modernising its EW systems, significantly improving its COMINT and ELINT capabilities. By 2025 it is expected to have replaced all its older SIGINT systems with newer hardware. Recent Russian military operations have provided that nation with the chance to test and refine its EW capability. For example, ground-based SIGINT systems such as the RB-636AM2 SVET-KU (covering the frequency range from 25MHz to 18GHz) and R-318T TARAN (covering 1.5-1,000MHz) were deployed to support Russian operations in support of the separatist movement in the Donbass region of Eastern Ukraine.
These Russian SIGINT adventures have not been without cost. On Monday, 17 September 2017, the dangers of conducting SIGINT patrols in a combat zone was demonstrated when a Syrian S-200 (SA-5 GAMMON) long-range surface-to-air missile system accidentally shot down a Russian Il-20M that had just completed a mission over Syrian territory, and was now over the Mediterranean sea and ready to return to Hmeimim air base, the main operating location for Russian aircraft engaged in supporting the Assad regime during the ongoing civil war. The Syrian SAM unit was probably trying to engage several Israeli F-16s that had launched air-to-surface standoff missiles against targets in Syria.
Exploiting the amount of SIGINT information that multiple sensors can detect poses its own challenge. Last year, the US Army released an RFI for a system able to store, exploit, and disseminate SIGINT data, and retrieve information from a national SIGINT database. The system should be able to help analysts to identify emitters of interest and determine their capabilities, identify potential malicious behaviour, and highlight the opponent's potential vulnerabilities.
A little-known US programme intended to improve SIGINT capabilities in the HF region is HFGeo (HF Geolocation) project being run by the Intelligence Advanced Research Projects Activity (IARPA). Another IARPA project could have COMINT implications is the Babel programme. This is intended to develop "agile and robust speech recognition technology that can be rapidly applied to any human language in order to provide effective search capability for analysts to efficiently process massive amounts of real-world recorded speech". Known participants include Carnegie Mellon University, University of California, Berkeley, IBM's T.J. Watson Research Center, and Raytheon BBN Technologies.
Anyone who was tried to use commercial speech-recognition software in an office environment will appreciate the potential importance of IARPA's Automatic Speech recognition in Reverberant Environments (ASpIRE) project. A spinoff from BABEL, this could help COMINT units search for keywords in intercepted voice communications.
Looking Forward
The density of RF signals poses a challenge to SIGINT operations, how to rapidly detect signals that might be of major importance. Early this year, the USAF issued a presolicitation notice for UNICORN BLUE – a project intended to use real-time processing to automatically extract the contents of RF transmissions, and provide time-critical alerts and other information. Several contracts for the development of prototype systems are likely to be awarded.
A long-standing problem in SIGINT is the need to recognise new types of signal. This is particularly a problem in the case of RF-controlled threats such as UAVs and IEDs. Over the next two to three years, the US Naval Surface Warfare Center Crane hopes that a solution will be developed under its planned Radio Frequency Spectrum Dominance (RFSD) Prototype project. This intended to result in a system able to analyse RF signals between 40MHz and 6GHz, compare these against a baseline of the signals normally intercepted, and automatically alert operators to the presence of new emitters that could indicate a threat.
One emerging trend in the world of SIGINT is the merging of this technology with that of electronic-attack measures in order to create systems that can detect and if necessary counter enemy threats. An example of this trend is Elisra's Air Keeper, which combines ESM, ELINT, and EW functions on a single air platform. Designed to automatically detect, measure, identify, monitor and intercept all ground-based, shipborne and airborne radar signals, the ELINT subsystems provide HF to 6GHz coverage. They are designed to provide advanced demodulation, classification and agile signal detection capabilities, delivering a real-time display of activity even in dense signal environments. This information is presented to the operator, and transmitted to the ground via an aircraft-mounted SATCOM system. The system's ECM functions offers manual and automatic modes for the detection, location, and jamming of selected threats.
Following an earlier career in engineering, Doug Richardson is a defence journalist specialising in topics such as aircraft, missiles, and military electronics.