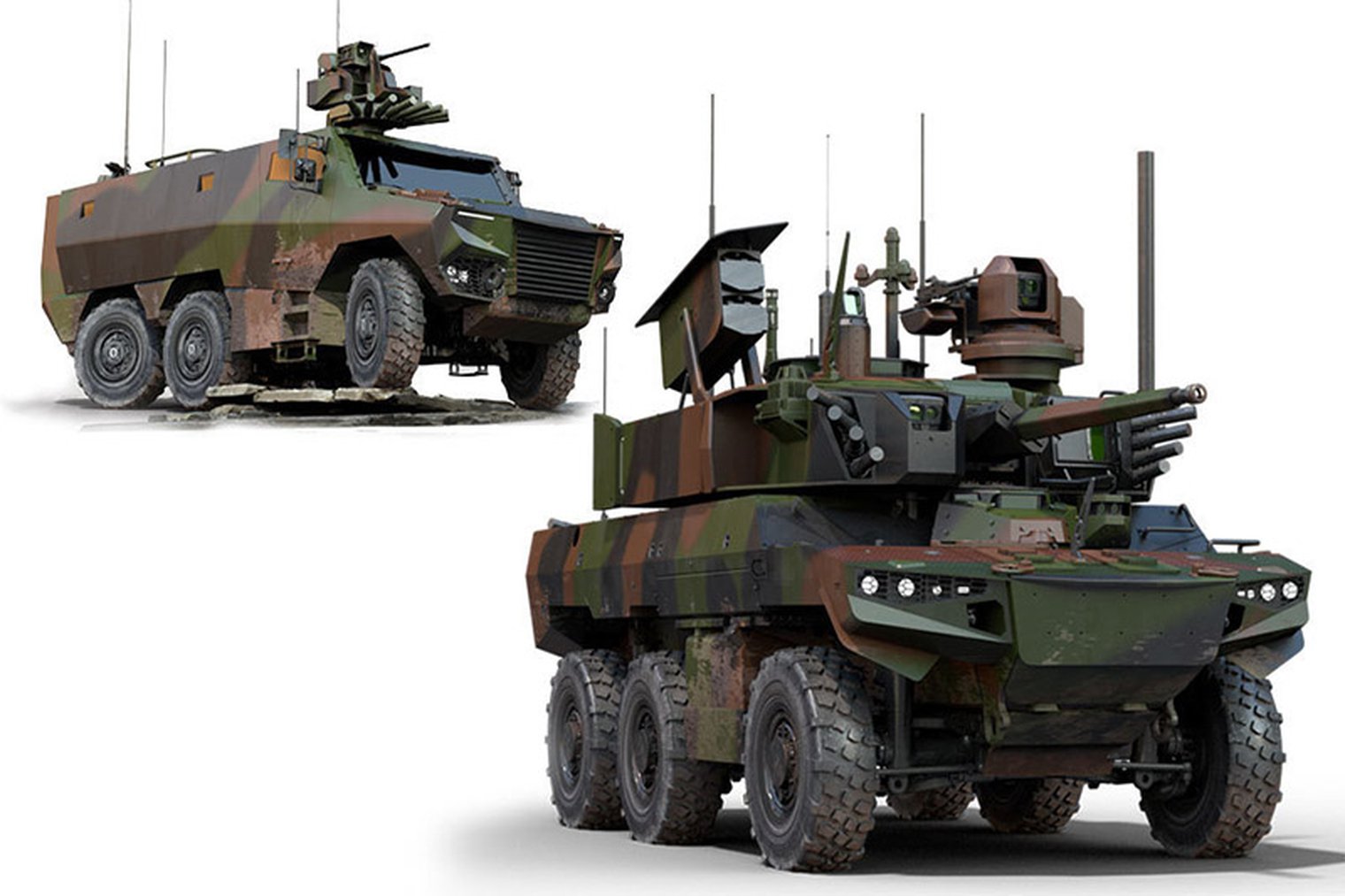 Vehicular Situational Awareness
Tim Guest
Shot at, but from where? With technology dominating today's battlefield, the survivability of vehicles, crews and troops now depends, to a large extent, on vehicle-borne sensors to provide them with real-time awareness of the situation around them.
Vehicular Situational Awareness (SA) capabilities are crucial to vehicle and crew survival, as well as the soldier-vehicle connection, which itself is one of the most important links on the modern battlefield. Effective vehicular SA capabilities enable commanders to determine imminent threats to the vehicle and defensive actions to take, and whether the local area situation is safe enough for troop disembarkation, or not. Safely exiting a vehicle on the battlefield has been one of the most dangerous moments for soldiers, but having a more detailed local area situational awareness than ever before has now closed that gap and improved survivability of both vehicle and combatants in the process.
Along with some of the thinking behind the need for effective vehicular SA, this article looks at a few recent vehicle programmes incorporating the latest SA sensors and some systems themselves.
The Need for SA
Closed down in the middle of a battlefield, an Armoured Personnel Carrier (APC) carrying crew and troop detachment comes under fire. Small arms, to begin with, but definitely time to dismount for the infantrymen onboard. Before the rear door is opened, however, the section commander needs to know as much about what's going on in the immediate area around the APC as possible, including from where enemy fire is originating. Unlike yester year, when it was very much a case of hope for the best, open the door, run for cover – if you made it that far — and then assess the local situation, technological advances in vehicle sensors, optics and overall vetronics offer a new level of SA to those inside; these networked sensors and optics feeding SA information through the vehicle mission systems and architecture have become the eyes and ears of the crew and mounted soldiers. And as new vehicle programmes unfold and upgrades take place, many include new sensor systems that are able to provide increasingly detailed SA information of the local area and beyond, giving crews and dismounting troops a better chance of making the right decisions to survive and achieve their objectives.
At the same time as the industry is developing and equipping vehicles and soldiers with the most advanced sensor technology, able to provide crews and troops with extensive and often complex SA information, current thinking recognises that human cognitive resources are limited. The Vetronics Research Centre in the UK, for example, while looking into all aspects of vehicular SA, acknowledges that the complexity of modern military battlefields poses many challenges to those working in them, and although the data generated by future military vetronics systems will provide useful SA info to vehicle crews, that wealth of complex data can also potentially overload them and pose a further decision-making challenge: what information is useful/important and what is not?
The research centre has been looking at how to ensure the right information is provided to crew members at the right time, and how an automatic and intelligent data management system in vehicles might solve this and alleviate the operational/mental workload. The centre is looking at different crew station environments and the issues they present, along with data management techniques and approaches that may be appropriate. It is addressing this challenge in the context of current and evolving UK MoD vetronics standards. At this stage, the development of an architecture to support an Intelligent Digital Assistant (IDA) for crew stations has been determined as a way forward requiring further investigation, development and trials.
Systems & Vehicle Programmes
One SA system telling vehicle crews and occupants of any threats and precisely what is happening around them before troops attempt to exit is the ANTARES SA system from Thales, which provides effective 360° optronic, five-million-pixel video of near, mid-and far-ground surroundings. The system provides integrated laser warning that can detect the launch of an incoming missile and allow the crew to respond. ANTARES is in use with the French SCORPION Programme; two of the systems provide close SA for the programme's JAGUAR 6×6 recon vehicle (see below).
Such local awareness data, images and information, in real time, day or night, is no longer only of importance to crew and soldiers. It also becomes part of the wider defence cloud sent beyond the vehicle and shared with all units on the ground, on the sea, or in the air, with systems like ANTARES connected into a shared data battle space for wider benefit. Emmanuel Sprauel, Director of Strategy and Marketing for Optronics and Missile Electronics business line at Thales said that integrating intelligence on all types of platforms, including augmented soldier and vehicle systems, then connecting them together, is key to assuring the most effective fighting forces today and tomorrow.
A new addition to Rheinmetall's MISSION MASTER Autonomous – Unmanned Ground Vehicle (A-UGV) family was announced in November 2020 – the MISSION MASTER Armed Reconnaissance system — with enhanced SA capabilities and role. Equipped with intelligence-gathering technology the MISSION MASTER Armed Reconnaissance variant is designed to collect tactical intelligence in the area of operations and execute high-risk scouting missions to deliver a real-time common operating picture without putting soldiers in danger. Since an enormous volume of data can be gathered during missions of this type, the new vehicle is equipped with long-range EO/IR sensors, a surveillance radar, a 360° full ring camera, a laser rangefinder and a laser designator to identify potential threats. To further enhance the line of sight for the sensors while keeping a concealed posture, the reconnaissance payload is installed on a 3.5-metre extendable mast. The vehicle also features radio-agnostic architecture to accommodate any type of radio, and enables bi-directional communication between the vehicle and the wider defence cloud – for example, HQ and other A-UGVs — giving all commanders greater shared SA in the process (see also "Unmanned Ground Vehicles" article in this issue).
Situational awareness improvements will also be part of a new Swiss Army deal. The Swiss Federal Office for Defence Procurement (armasuisse) awarded a contract to BAE Systems Hägglunds in November 2020 for the life-extension of Swiss CV9030 AIFVs, (known as the SCHÜTZENPANZER 2000), which is intended to keep their 186-vehicle fleet in service until 2040 and to improve significantly the platform's abilities. Improvements are based on previous obsolescence issues in the areas of optical, electrical and electronic components. A new, improved electronics architecture will aid future technology growth and vehicles will be fitted with a 360° surveillance to increase SA, combat effectiveness and survivability. The programme will involve multiple suppliers based across all regions of Switzerland.
Total Battlefield SA
As reported in the July 2020 edition of ESD, the French Army is undertaking its ambitious Synergie du contact renforcé par la polyvalence et l'info valorisation (SCORPION) programme. The programme goes beyond the development and delivery of the GRIFFON, JAGUAR and SERVAL vehicles, as well as an upgraded LECLERC Main Battle Tank (MBT), by bringing French troops firmly into the era of collaborative combat. This is being done through the adoption of multiple sensor management, connectivity and communication with dismounted troops and the integration of drones and robots with all stakeholders in the combat ecosystem. Collaborative combat will involve, in considerable part, the automatic sharing of alerts, targeting information and a host of other data, including vast amounts of SA information, between vehicles, troops, aerial assets, robots and Unmanned Aerial Vehicles (UAV). Much of that data will be aggregated at HQ level where, based on all the inputs, decisions can be made and orders disseminated. Taking the JAGUAR reconnaissance and combat vehicle as an example, the first tranche vehicles include a suite of SA sensors and other detection devices. These include acoustic sensors, laser warning detectors and a missile launch detector, each providing critical SA to the crew. The information will be automatically networked to other vehicles so immediate action relating to any imminent threat can be taken. The commander has a Safran PASEO electro-optic, all-digital panoramic sight fitted on the remotely controlled weapon station, and his hatch is fitted with episcopes giving a 360° field-of-view. Close SA is provided by Thales' ANTARES, which also doubles as a laser warning receiver, two being mounted on the vehicle, one front right and one rear left, to provide all-round coverage. The installed Metravib PILAR V acoustic sensor is a gunshot detector designed to be mounted on any armoured vehicle. It provides real-time SA with 360° area coverage providing full battlefield environment awareness. It can detect single-round, multiple-round, burst fire and simultaneous shots and can filter outgoing fire from incoming enemy fire. The information it provides – including GPS coordinates of shot origin – is reported through the vehicle BMS. Crews will no longer be left wondering, "Where did that come from?" They'll be told!
Indra, the Spanish information technology and defence systems company, recently announced a deal to equip the Spanish Army's 348 DRAGÓN 8×8 Wheeled Combat Vehicles with an advanced mission system and electronic architecture, including SA sensors. This deal follows the award by the Spanish Ministry of Defence of a €1.74Bn contract to a JV of General Dynamics European Land Systems-Santa Bárbara Sistemas (GDELS-SBS) and three other companies to deliver 348 8×8 Wheeled Combat Vehicles (Vehículo de Combate sobre Ruedas – VCR). The programme is expected to grow to approximately 1,000 vehicles, all requiring SA systems. Based on the GDELS 8×8 PIRANHA 5, the vehicle has been re-named DRAGÓN by Spain. Indra says its open and modular architecture will facilitate the incorporation of new systems, such as the full provision of an LSAS, where the pre-installation of its SA system will be carried out in the initial, €150M, phase. The scaleable architecture will also allow future SA sensor upgrades to these initial-tranche vehicles throughout the vehicle's life cycle. According to Indra, the mission system will enable the 8×8 to operate and exchange information and SA data in the most highly digitised and diverse conflicts and in increasingly collaborative scenarios, enabling tactical information to be shared by geographically dispersed forces in order to expedite the decision-making process, improve synchronisation and disperse huge amounts of tactical SA information providing a wide-area situational awareness for all battlefield stakeholders.
Final Words to…
Three further players deserving a final mention are Germany's Hensoldt, Copenhagen Sensor Technology (CST), and Israel's Rafael Advanced Defense Systems. Hensoldt's, 'See Through Armour System' (SETAS) for armoured vehicles became available during 2020. This high-resolution, electro-optical suite provides 360° visual vehicular SA, day or night. Its high-angle field of view allows threat-from-above detection in urban canyon environments, using its two powerful sensors: high-resolution, colour daylight camera and uncooled thermal imagers. Its capabilities can be enhanced, integrating automatic image processing features like moving target indication/object tracking to reduce crew cognitive burden. Its visual sensor is capable of recognising a pedestrian at 300 metres, and SA capabilities can be further enhanced with acoustic sniper-detection sensors, laser warning systems and a hemispherical camera to cover the area above the vehicle. Using head-mounted displays, crew members inside a closed-down vehicle can virtually 'see through' the armour. SETAS can be used as a stand-alone system, or connected to the vehicle's network or battle management system.
CST, with an established relationship with Leonardo, was chosen by them in 2020 to deliver electro-optical SA systems for all relevant Leonardo vehicles. CST's CITADEL family will meet this requirement with its many different configurations, suited for installation on a variety of vehicle types. CITADEL provides such capabilities as driver's vision enhancement and 360° local SA. All CITADEL cameras deliver high-performance images. Mounting several wide-angle cameras in strategic locations on a vehicle provides the crew with unobstructed views when closed down.
In November 2020, Israel's Rafael Advanced Defense Systems showcased its Next-Generation Combat Vehicle Suite, (NGCV-S) in South Korea, which offers integrated protection, lethality, SA and networking for enhanced mission effectiveness. Increased manoeuvrability is also a result of the greater levels of SA enabled by the NGCV-S, which meets the increasing need for all combat vehicles to move as quickly and securely as MBTs on today's complex and saturated battlefields. In addition to active armour protection and weapon systems, the NGCV-S' open, modular architecture, has, at its heart, the FIRE WEAVER networked combat system. At its core is a 'distributed brain' that manages the entire system using AI and other advanced technologies, which takes into account multiple factors, including rules of engagement, operational parameters, ammunition status, line of sight and warhead-to-target match – while maximising safety and minimising friendly fire incidents and collateral damage. Enabling network-wide SA, the system generates a high-precision, GPS-independent, common visual language on the weapon sights of all participants. Live data, such as targets and enemy locations, are marked and shared immediately on all weapon sights, enabling tactical fighters to become decisive factors on the battlefield. A fire management terminal enables human control in real time. Easily integrated, FIRE WEAVER is a complementary system for all BMS/C4I systems, and is effective against both small enemy forces in urban areas, as well as forces presenting superior mass in open terrain. Indeed, by integrating it with the Remote Weapon Station, the combat vehicle becomes part of the entire FIRE WEAVER network and a significant actor on the ground – no longer working alone on the battlefield, but connected to all network participants and supporting collaborative operations.
Tim Guest