Expanded Market for Remote Weapon Stations
Christopher F. Foss
One of the major growth areas in recent years in the Armoured Fighting Vehicle (AFV) sector has been the rapid design, development and production of remote weapon stations (RWS). In the past many AFVs, especially Armoured Personnel Carriers (APC), were fitted with an unprotected roof mounted 7.62 mm or a 12.7 mm Machine Gun (MG), meaning the gunner had no protection from small arms fire and shell splinters.
RWS Offer Greater Operator Protection
Today APCs and other types of AFV are increasingly being fitted with a roof mounted RWS which is normally armed with a 7.62 mm or 12.7 mm MG, or in some cases a 40 mm automatic grenade launcher (AGL). The RWS is laid onto the target by the gunner seated inside the AFV using a flat panel display (FPS) with associated hand controls. Latest RWS in service today are normally fitted with a day/thermal camera and sometimes a laser rangefinder enabling for fire to be laid onto the target. They are also normally stabilised to allow for accurate target engagement against stationary and moving targets while the platform itself is moving. Some are also fitted with banks of electrically operated smoke grenade launchers or even coupled to an acoustic detection system (ADS). This alerts the crew to an incoming threat, who can then swing the RWS onto the target with the gunner then deciding whether to engage the target or not. The installation of an electronic architecture (EA) in the platform enables the RWS to be connected to other key sub-systems such as a battle management system (BMS). These RWS are usually provided as Government Furnished Equipment (GFE) rather than being selected by the Original Equipment Manufacturer (OEM) with the weapon also being provided as GFE for commonality across the fleet.
RWS Commonality Across the Fleet
In the past, some countries have procured RWS from a variety of sources, sometimes to meet Urgent Operational Requirements (UOR), where rapid delivery is an overriding requirement. Increasing numbers of countries are now trying to have a common RWS not only across their fleets of AFVs but also, in some cases, their key tactical support vehicles which are now fitted with an armour protected cab.
A good example is France which procured the Norwegian Kongsberg PROTECTOR RWS as well as the French WASP (Weapon, remotely controlled under Armour for Self-Protection) to meet a UOR for vehicles deployed to Afghanistan and Iraq. For their fleet of new AFVs including the JAGUAR (6×6) reconnaissance vehicle, GRIFFON (6×6) and SERVAL (4×4) APCs, the French Army is fitting the HORNET family of RWS provided by Arquus Defense.
There are three members of the HORNET family of RWS, T1, T2 and T3 which share many common components to reduce through life costs and training and all are electrically operated. The most advanced in the HORNET T3 which is fitted to the JAGUAR and is armed with a 7.62 mm MG which also acts as the co-axial weapon for the turret whose main armament is a 40 mm CTAI Case Telescoped Armament System (CTAS). The HORNET RWS is coupled to the Metravib Defence PILAR V ADS which successfully passed tests with the French Defence Procurement Agency (DGA) and the French Army Technical Division (STAT).
The German Army held a competition for an RWS for its BOXER (8×8) family of vehicles and following trials with RWS submitted by Rheinmetall and Krauss-Maffei Wegmann (KMW) the latter was selected in two versions, FLW100 (light) and FLW200 (heavy).
The latter is installed on the BOXER Multi-Role Armoured Vehicle (MRAV) (8×8) on a raised plinth for great area coverage and is usually armed with a 12.7 mm MG. Mounted on the lower part of the RWS are banks of 76 mm grenade launchers.
Other users of the BOXER (8×8) have selected other RWS, with The Royal Netherlands Army adopting the PROTECTOR armed with a 12.7 mm MG, while Lithuania selected the RAFAEL Advanced Defense Systems SAMSON II RWS covered later in this article. The most widely used RWS in the world is the Norwegian Kongsberg PROTECTOR family, of which over 20,000 have now been manufactured, with 17,000 of those for the US Army. The Kongsberg PROTECTOR for the US Army was the PROTECTOR LOW PROFILE for installation on the roof of the US Army General Dynamics Land Systems M1A2 SEP V3 main battle tank (MBT).
In a recent statement Eirik Lie, President of Kongsberg Defence & Aerospace said "The PROTECTOR RWS is one of our biggest export successes, designed for growth and evolving technologies and has generated NOK40Bn to date in turnover. Implementation of Counter Unmanned Aerial Vehicle capabilities and wireless, network based fire control are proof that we can move forward in lock step with our customers when their needs change."
The PROTECTOR family of RWS was first deployed by Norway as far back as 1999 and it is now used by 23 countries, armed with weapons ranging from a 5.56 mm MG up to a 30mm cannon and even Anti-Tank Guided Weapons (ATGW).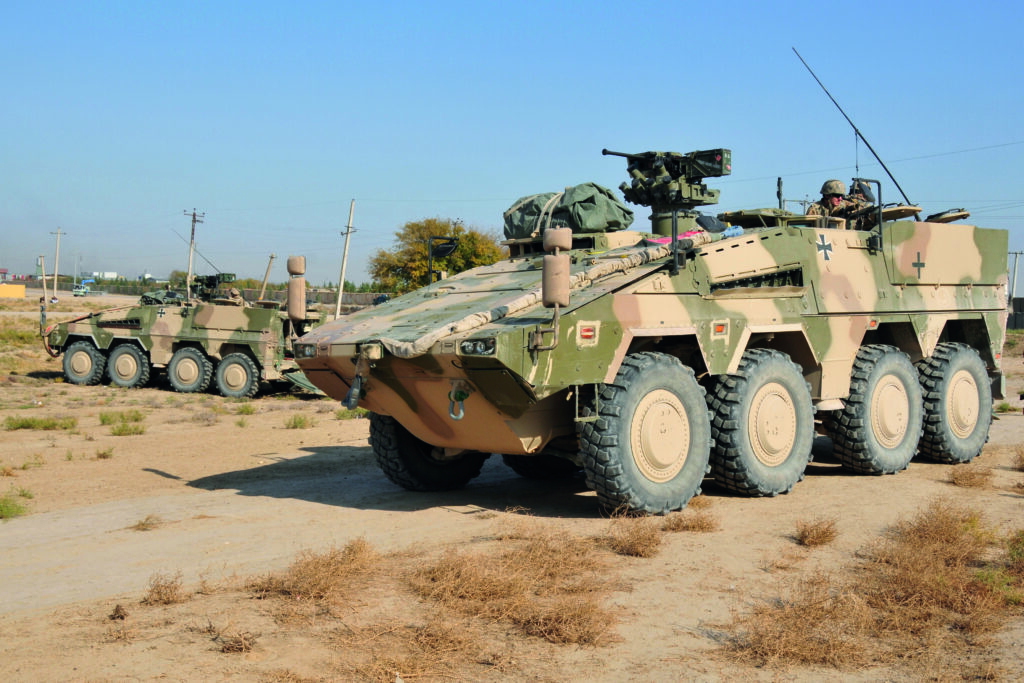 Sweden has fitted the PROTECTOR not only to its Patria Armoured Modular Vehicle (AMV) (8×8) APC but also other platforms such as the BAE Systems Hägglunds CV90 Infantry Fighting Vehicle (IFV), BAE Systems Hägglunds BvS-10 All-Terrain Vehicle (ATV) and the BAE Systems Bofors Archer 155 mm Self-Propelled (SP) artillery systems. BAE Systems Bofors did develop the LEMUR RWS but this was not adopted by Sweden: sales were made to Denmark, who has more recently ordered the Kongsberg PROTECTOR.
Large Calibre RWS
In addition to fitting AFVs with RWS armed with MG or AGL there is also a trend to design and manufacture larger RWS armed with a 30mm cannon and 7.62mm co-axial MG. In addition, some of these are also armed with ATGW to enable targets to be engaged beyond the range of the 30mm cannon. These are being fitted to platforms used for the IFV mission, which in the past have been fitted with a turret. The installation of an RWS armed with a medium calibre weapon frees up valuable space inside the platform that would have been taken up by the turret basket.
The US Army adopted the Kongsberg PROTECTOR medium calibre RWS armed with a Northrop Grumman Armament Systems XM813 30 mm dual feed cannon and 7.62 mm co-axial MG for its STRYKER M1296 DRAGON IFV with 83 fielded in Germany by 2018. Unlike many other RWS, the 30 mm cannon can be reloaded under armour protection. The M1296 provides the US Army with a step change in firepower when compared with the original M1126 Infantry Carrier Vehicle (ICV) fitted with a PROTECTOR RWS armed with a 12.7 mm MG.
Leveraging its large number of RWS armed with 7.62mm and 12.7mm MG, RAFAEL Advanced Defense Systems developed and put into production their SAMSON Mk I RWS, armed with a 30 mm cannon and 7.62 mm co-axial MG, with sales made to the Czech Republic. These were followed by the armoured protected SAMSON Mk II armed with a 30 mm MK44 cannon and 7.62 mm co-axial MG which can be fitted with a retractable launcher for their SPIKE LR1 & LR2 ATGW.
The latest SAMSON integrated RWS is also armour protected as well as having a retractable launcher for SPIKE LR1 and LR2, and also features their TROPHY hard-kill Active Defence System (ADS) and FIRE WEAVER network sensor-to-shooter system which was selected by the Israel Defense Forces early in 2020 to meet its future requirements.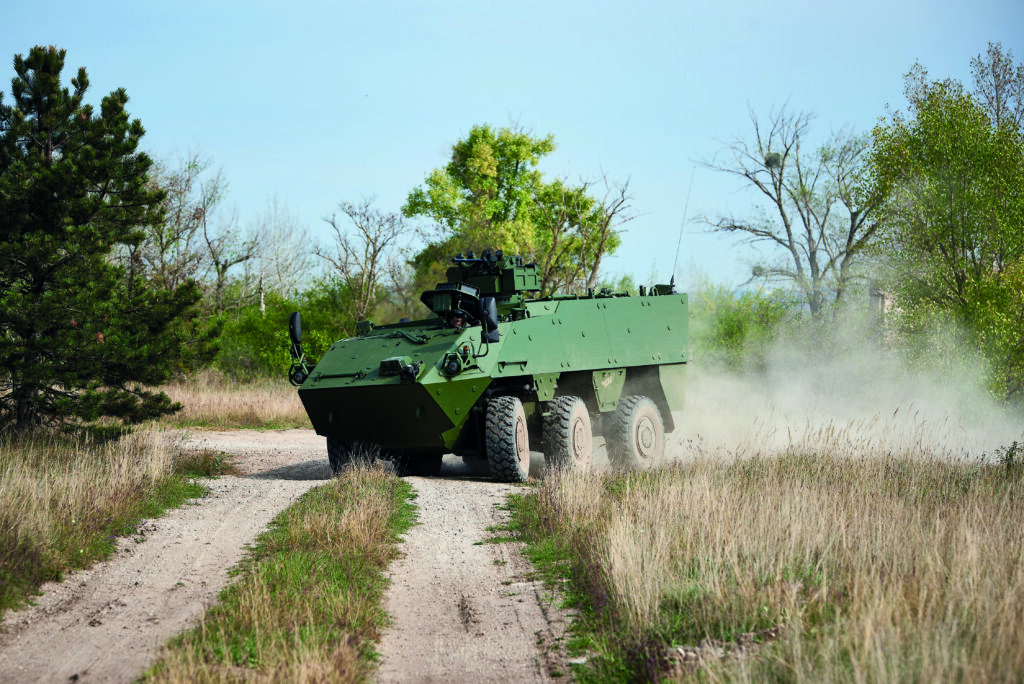 The original General Dynamics European Land Systems – Steyr PANDUR (6×6) APCs for the Austrian Army were fitted with a simple Protected Weapon Station (PWS) armed with a 12.7mm MG, but the latest PANDUR EVO versions are fitted with a locally developed RWS which can be armed with a stabilised 7.62mm or 12.7mm MG or a 40mm AGL, plus banks of grenade launchers. This RWS is also fitted to other Austrian Army platforms including their BAE Systems Hägglunds BvS-10 ATV and Iveco Defense Systems Light Multirole Vehicles (LMV).
Some MBTs now Being Fitted with RWS
As previously mentioned, RWS are installed on the US Army M1A2 SEV3 MBT while Qatar has taken delivery of the LEOPARD 2A7 series MBT fitted with a Kongsberg PROTECTOR RWS. The UK has fitted a number of its CHALLENGER 2 MBTs with a Leonardo PROTECTOR RWS which is also fitted to some PANTHER (4×4), RIDGEBACK (4×4) and upgraded FV432 BULLDOG Mk 3 APCs. Development of RWS is an ongoing process with contractors moving towards marketing a complete family of RWS to meet different user requirements with some now adding armour protection as their optics are vulnerable to small arms fire and shell splinters. There is also a clear trend to market RWS fitted with larger calibre weapons, including ATGW, to enable wheeled platforms to become IFVs rather than APCs.
Expanded Role for RWS
Although RWS are deployed on AFVs, they are also increasingly being fitted to Unmanned Ground Systems (UGV), in containers to provide close in protection for forward operating bases (FOB) with some also having naval applications.
Christopher F. Foss