At the present rate using current methods, it will take hundreds of years to rid the world of hidden mines left behind by conflict. Demining by hand is slow and dangerous and an obvious worldwide need exists for more unmanned demining systems.
Thousands of people are killed each year by land mines and unexploded ordnance (UXO) still hidden where wars have left their scars. Thankfully, brave and courageous individuals are involved, globally, in efforts by international charities and NGOs to de-mine post-conflict regions where this silent death waits beneath the soil for the unsuspecting going about their daily lives. At the forefront of demining efforts are organisations like the HALO Trust, Horizon OPCEM (India), the Danish Demining Group (DDG), the United Nations Mine Action Service (UNMAS), the Geneva International Centre for Humanitarian Demining (GICHD), and Norwegian People's Aid (NPA); these are just a handful. More often, demining involves individuals searching for mines and de-fusing them by hand; not only is this labour intensive and slow, but also very dangerous, leading to casualties among the expert demining community each year. It is a no-brainer, then, that unmanned demining systems make more sense for such dangerous tasks.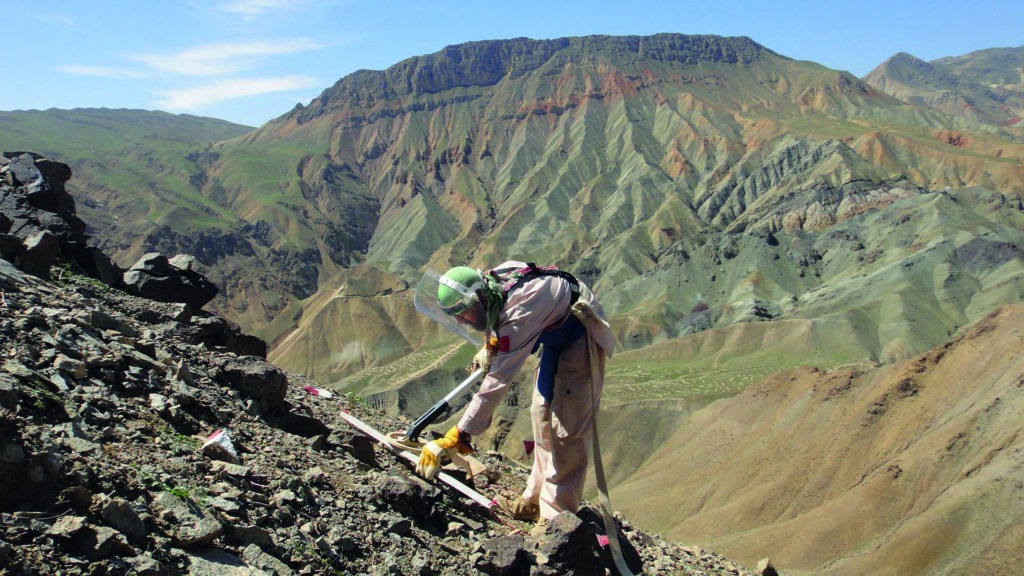 This article takes a brief look at the size of the problem and some unmanned systems and latest innovations that will help solve it.
Size of the Problem
In Afghanistan's Bamiyan Province, a former front-line in the Soviet-Afghan war, the country's first all-female demining team works hard to clear, by hand, the region's mines and IEDs. The province, littered with UXO, is soon expected to be declared explosive-free as a result of these efforts, despite ongoing conflict and mines still being used.
In Colombia, after five decades of fighting between Farc rebels and the Government, people risk their lives daily demining the countryside and forests by hand. Colombia is one of the world's most mined nations; around 11,000 people have been killed, or injured, by such devices in recent years. One positive is that Farc kept relatively good records of where mines were laid, revealing locations and speeding the demining process.
In North-eastern Nigeria, land mines and IEDs similarly litter the region after years of conflict, predominantly with Boko Haram. People being killed or injured is, according to the Mines Advisory Group (MAG), on the increase; 160 killed in the past two years and hundreds injured.
Such scenarios repeat worldwide in 60 countries where millions of devices lie buried. When laid, international law dictates mine locations must, in theory, be mapped. This, however, does not always happen; during conflicts maps and records are often lost or destroyed, making demining slow and hazardous. In 2016, though charities like HALO Trust cleared around 200,000 anti-personnel mines and 20,000 anti-vehicle mines, this is just a drop in the ocean; estimates put the number of anti-personnel mines still to be removed, globally, at some 110 million. [Conflict Armament Research 2018, Source MAG]. Estimates put the number of women and children killed or seriously injured each year at between 8,000 and 20,000 and MAG predicts at the current rate, using today's methods, agencies involved will still take over 500 years to clear all UXO buried worldwide. Thankfully, latest solutions, such as drones, have the potential to dramatically reduice that depressing timeframe.
Unmanned Demining Innovations – Drones
Demining drones are being pioneered by a number of organisations; one European player well ahead in its efforts is the Dutch company Mine Kafon. Its intensive R&D prior to 2020 has resulted in successful product/system development; its drone solutions, MK DESTINY (surveillance drone) and the MK MANTA (detection drone), are now ready for production.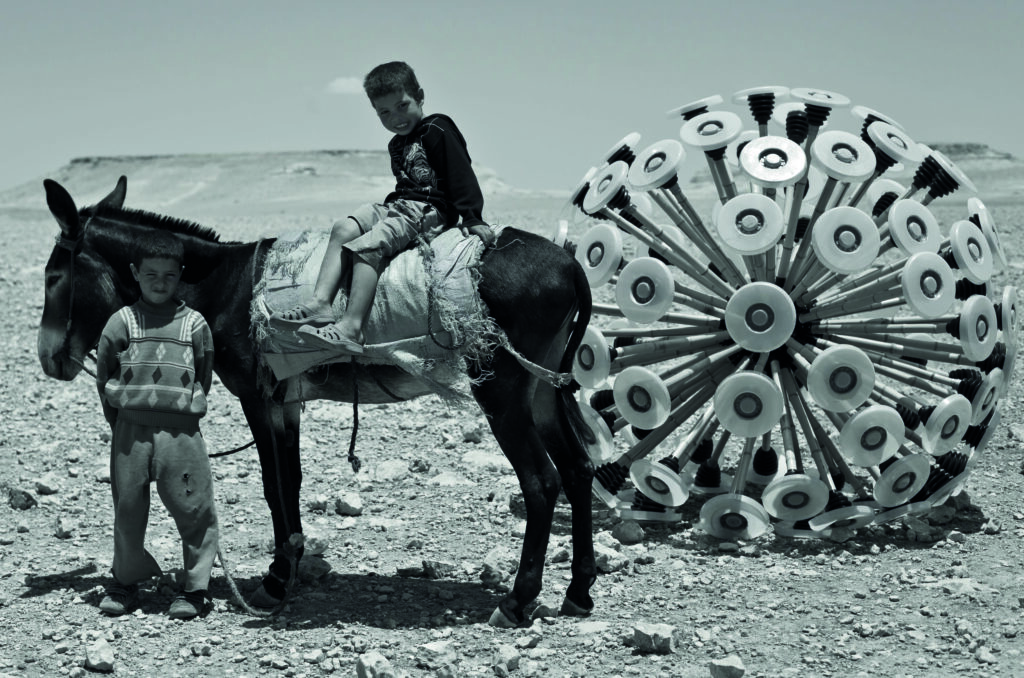 Associate Manager, Julian Liu, talking to ESD, said the company has had discussions with several interested parties and performed field tests in actual minefield locations.
Founded by brothers, Massoud and Mahmud Hassani, the company's beginnings are poignant. The two men grew up in a small town called Qasaba outside Kabul. During their childhood, they made/invented their own toys. Their house backed onto an active minefield and they experienced the horrors of land mines from an early age. Forced out by the Afghan Civil War, they eventually settled in the Netherlands, having moved over 40 times through different countries. Massoud then pursued a career in industrial design and, inspired by humanitarian beliefs, nature and the wind-powered toys he and his brother grew up making, they developed the 'Mine Kafon BALL'. Not only was this a legitimate, wind-powered, unmanned, mine-clearing device, but also a work of art that helped drive a global mine-awareness campaign, win them several awards and fund their start-up. The company's ambitious mission: to clear all land mines around the world within 10 years.
The Mine Kafon BALL System
The two MK drones and attachments fully integrate with the MK ground station and communicate their output in real time. The portable ground station monitors and control the drones, robotic components and accessories, and can be moved from location to location. Robotic add-ons are key to the system; the ROPE and DELTA Robots are used to carry multi-sensor attachments, while variants of the GRIPPER Robot can be deployed for precision work. The operator can manually control all the drones and robotics, or set the system's autopilot mode. All data from the drones is received wirelessly from on-board computers and is displayed on the ground station's screen; detections and information collected are analysed by the ground station and the mission operator is updated at all times. The ground station software and its algorithms combine the collected data from the sensors to pinpoint exact target locations.

The DESTINY drone, for long-range surveillance, incorporates a high-resolution 10x zoom camera with a three-axis gimbal and can fly up to a few kilometres, maintaining precise position information using real-time kinematic technology. High performance carbon fibre reduces weight and increases flight time up to 1 hour and the eight-rotor configuration ensures that if one or two motors fail DESTINY can still fly. The drone identifies hazardous areas via live video stream using its camera's powerful zooming capabilities; identified mines are marked on a digital map by the ground station operator and a 3D map of the area of interest is created using autonomous mapping. This map enables a detailed terrain search using computer-vision algorithms.
The MANTA drone is an autonomously-flying detection and detonation system and performs in two steps. The first is based on the 3D maps created by the DESTINY drone: MANTA systematically flies over hazardous areas whilst carrying a variety of mine detection sensors, including a metal detector, ground-penetrating radar and a sample collection device for chemical analysis. Data from the detection sensors is processed at the MK ground station using data fusion algorithms to obtain precise position information. The second step is disabling or destruction: the exact execution depends on surroundings and identification data. Nevertheless, UXO is either detonated using a remotely positioned explosive charge or disarmed by a human deminer. Non-explosive detonations can be performed using equipment manufactured in-house. MANTA's eight powerful motors and 30-inch propellers in coaxial configuration enable this heavy-lifting drone to carry demining robots and sensors of up to 30kg overall weight. Powered by eight 6S batteries, it has a maximum flight time of 60 minutes.
Field Proven, Tracked/Wheeled Innovations
Privately-owned explosive ordnance disposal company Armtrac designs and manufactures a range of armoured mechanical demining machines. One of its systems, the Armtrac 20T C-IED Robot, is a flexible, cost-effective, remote-controlled Unmanned Ground Vehicle (UGV) that can be fitted with a variety of toolkits, including a demining flail, or tiller, and a rear robotic arm equipped with different attachments. In conventional demining and EO clearance operations the A20T can perform technical survey, mechanical demining and vegetation cutting prior to manual, or canine-assisted demining. In counter-IED operations it can provide support to C-IED operatives and route-clearance, as well as surface/sub-surface IED disposal. Its small size comes into its own in challenging terrain where larger machines are unsuitable. Highly manoeuvrable, the A20T Mk2 can climb, descend and traverse 30° slopes and is operated using a control station, which transmits operator commands to the UGV and displays key vehicle data for the operator, such as RPM, speed, temperature and fuel levels. The robot is also fitted with digital video feedback from up to four on-board HD cameras. The A20T's rotary mine comb can extract anti-tank and anti-personnel mines from 20cm depth with minimal dust creation, and moves them from the robot's path for collection and later disposal, without damaging them. The tool is ideal when dust needs to be kept to a minimum. The company says the system is currently the only small demining machine in the world that can mount toolkits front and rear concurrently for different roles.
According to Armtrac's Robin Swanson, the company is currently developing an all-terrain A20T version with light flail, which can swim and conduct beach landings, and is also suited for use in swampy areas. The A20T is just one of Armtrac's systems and one important point about all its proven demining machines is that each can be operated as a UGV with remote control option, whether they have a cabin or not. The company claims to be the only player offering both tracked and wheeled variants of its systems.
Swanson told ESD that over the past two years the company has developed a wheeled Route Proving and Clearance Vehicle (RPCV) and a Bomb Search and Detection Vehicle (Vehicle Mounted Mine Detector VVMD), based on the JCB FASTRAC for two separate requirements from two different customers (RPCV for the Middle East and VVMD for SE Asia). This is the Armtrac 100-350 Mk2 and its great advantage is that it can be logistically self-sufficient because it can travel on-road at up to 70kph without the need for low loader transport. A C-IED mine roller system can be mounted on the front of the RPCV and a clearance tool mounted on the rear.
With demining equipment typically expensive to purchase and many commercial companies and NGOs finding it difficult funding equipment to assist their operations, Swanson said Armtrac now offers the opportunity to hire demining equipment, which can be returned at the end of an operation. A lease-to-buy option is also available and single platforms delivering multiple roles provide significant economies.
Further Future Hope
A final observation worthy mentioning is Demine Robotics of Canada, which has developed its JEVIT demining robot. Meaning 'life' in the Khmer language, JEVIT is designed to unearth anti-personnel mines and other small UXOs; the vehicle is remote controlled through camera feeds allowing de-miners to work at safe distance. Blast protected by metal plating it can incorporate multiple detection tools and robotic manipulators to handle UXOs. JEVIT excavates explosives without detonation using a patented excavating mechanism that penetrates the earth around and underneath an explosive device with three individually rotating augers. The penetrating tool, which can penetrate any soil type in a wide range of operating conditions, lifts out of the ground exposing the explosive, which is then safely disposed of through controlled detonation, or defused.
Richard Yim, CEO of Demine Robotics, said that from its prototype vehicle at the start of 2020, the latest iteration of JEVIT is now a totally new machine and has been operating in trials in north-eastern Cambodia.
Tim Guest