Hartmann Electronic and W-IE-NE-R Power Electronic are proud to present our latest addition to the VPX power supply segment. Our supplies place an emphasis on robust quality and high-efficiency to exceed military technical standards. These high-performance supplies have been shock and vibration tested to ensure uninterrupted operation in all military vehicle applications; airplanes, helicopters, tanks, warships and even submarines.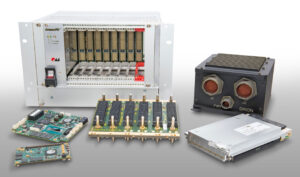 These VPX power supplies lay the foundation of a backplanes-based VPX system and are a specialty of Rugged Computing – specially designed for defense applications such as radar systems, drones or computers in ATRs (Air Transport Racks) and are in full compliance with the VITA 62 specification. VPX, as per VITA48, is the successor of the widely established and used VME bus. It was developed to enable high-speed serial connections for robust, data-intensive and real-time-capable applications in the military, aerospace, transport and industry sectors. Combined with the VITA 48 family of standards for mechanical and coolings aspects (VPX-REDI) this technology is particularly suitable for products that are to be used in harsh military environments.
The 715W VPX DC-DC power converter is exceptionally powerful thanks to its very high packing density. It has been tested according to the MIL-STD-810 standard (Altitude, Vibration, Shock) and thus confirms its suitability for very harsh operating conditions. The VITA 62 aligned power supply unit, which can be supplied in both heat conduction cooling (D575.00701 / VPX371DMA) and standard air-cooling (D575.01230 / VPX371DAA), is already being used successfully in many applications around the world. Highest Efficiency is achieved by the 400W DC-DC power supply for D575.00720 / VPX340DMA which meets VITA 62 and the applicable military standards. An advantage of this power supply, being suitable for military flight operation, is its power converter design with discrete compenents, which allows optional customer-specific adaptations.
The very similar power supply D575.00730 / VPX336DM is particularly flexible, covering four different output configurations with a total output power of up to 360W and a wide input voltage range of 15V to 40V. Customer-specific adaptations are also possible here as an option.
SOSA Standard in Sight
Hartmann Electronics was recently certified according to the aerospace quality standard AS9100. With collaborative force, the development departments of Hartmann and W-IE-NE-R are currently working intensively on a SOSA-compliant VPX power supply. Background: The technical standard SOSA (Sensor Open Systems Architecture) is intended to ensure interoperability between electronic systems from different manufacturers in military applications. In addition, the two partner companies are jointly developing power supplies with integrated hold-up. This feature allows the supply, in the event of a system power failure, to maintain the output voltage for a short time and continue to supply connected loads. Both the development and the production of the VPX power supply units take place at Hartmann GmbH and W-IE-NE-R USA.
About rugged computing
As industry experts and sister companies, Hartmann and W-IE-NE-R have joined forces and sell rugged computing components for VPX applications according to military standards. Hartmann Electronic is known for its experience in the development and manufacturing of high-speed serial backplanes, while W-IE-NE-R is one of the technology leaders in the field of power supplies. Together, with their partner company, Orion Technologies, which is already an official SOSA member, they are developing SOSA-compliant products in order to achieve interchangeability at the system level. All three companies are subsidiaries of the Swiss Phoenix Mecano AG and are represented worldwide with products and services.
Contact:
Motorstr. 43
D-70499 Stuttgart, Germany
Phone: +49 711 13 98 90
Fax: +49 711 866 11 91
info@hartmann-electronic.com