Vidisco provides innovative portable X-ray solutions for safe and accurate detection in demanding Security and Non-Destructive Testing (NDT) applications. Founded in 1988, Vidisco pioneered the digital X-ray industry and today, continues to lead in developing, manufacturing and supporting a wide array of solutions. Thousands of Vidisco systems are deployed by top military, security and industrial organizations in 75 countries worldwide. They deliver fast, high-quality imaging in the most challenging environments.
Many of the world's top military, security and industrial organisations depend on Vidisco solutions to protect their assets and most importantly, their people. The Vidisco team comprises more than 50 seasoned military and professional experts and a worldwide service division, operates from our headquarters and service centres in the U.S., Europe and Asia. Our quality commitment starts with the smallest component and extends through the full customised solution to ensure the highest accuracy and reliability. Vidisco solutions address the broadest spectrum of NDT and Security applications across varied sectors.
Easy-to-operate and optimised for efficient NDT solutions for inspection in harsh field conditions, our solutions deliver high-quality images and long-lasting high performance. They are customised to our customers' exact requirements and can be easily updated as needs change.
In addition, Vidisco's digital portable x-ray systems enable safe and effective EOD/IED detection for the most demanding security applications. With our easy-to-use portable digital X-ray (DR) solutions, EOD technicians can quickly make informed decisions with no need to approach the object. Optimised for harsh field conditions, Vidisco systems comply with the toughest industry standards and are field-proven in civilian security and combat situations.
Vidisco portable digital X-ray inspection solutions provide high value for varied Security applications, including:
Law enforcement
Military
Special forces
Customs and border control
Prison services
Counter-terrorism
First responders
USAF Selects Guardian X-Ray Systems
Vidisco USA Inc. recently announced the award of a US$27 million contract to supply more than 300 Guardian 12" X-Ray systems to the United States Air Force (USAF). The contract will be carried out over a five-year period. This is the second award in two years, after a previous award for more than 200 systems to the US Marine Corps in 2019.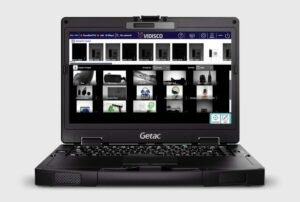 This award recognises the quality and versatility of Vidisco's products and position. Vidisco USA Inc. as one of the largest X-ray suppliers for the United States Department of Defense. Its portable X-ray solutions have been selected by numerous military and law enforcement agencies around the world, including the United States Marine Corps and various army and police forces in Israel, France, Italy, Japan, and Finland. The Guardian system is a military-grade DR system designed especially for security applications. Dustproof and waterproof, with MIL-SPEC and IP-67 ratings, the Guardian was designed to meet the extreme conditions of security and military missions. Military X-ray inspections are commonly conducted under stressful and dangerous situations. In these situations, X-ray images must be captured rapidly and analysed in a short time frame. To address this challenge, the Guardian system offers ultra-fast deployment, one-time downrange, and a high-resolution digital image captured with one pulse only, as well as advanced image editing software.
For the past 30 years, Vidisco has delivered thousands of portable X-ray systems for EOD/IED military and law enforcement customers around the globe. Close work with such units has enabled Vidisco to manufacture improved solutions to suit customer needs. The Guardian includes additional optional accessories, such as integration with robots, a dual energy module for organic/inorganic differentiation, and an option that allows fusion of X-ray and visible images using Augmented Reality (AR), as well as a slider solution for large object scanning, 3D scanning (XAR), and more.


32 Haharoshet St.
Or Yehuda, 6037598, Israel
Phone: +972-3-533-3001