Military land vehicles naturally move in open and uneven terrain. Vehicle movements and recoil from firing must be continuously and directly compensated in order to precisely aim at the target. And has to be reliable, easily to maintain and cost-effective for decades of use. Innova­tions on this part of the vehicle require courage – and usually patience. But to simplify and accelerate the development of stabilisation systems for military land vehicles, sometimes more complexity is needed first. The end result was not only a modular construction kit, but also a blueprint for other areas of technology.
More cost efficiency and time savings
In the development and production of military vehicles, time is not only money, but also relative. Years pass from the idea to the first deployment. In turn, vehicles are in service for decades before they need repairs and upgrades. The problem: Important technological leaps and the best solution also require several years of development time – and therefore often risk falling by the wayside. Especially because they turn out differently depending on the country and mission of deployment. This also applies to the turret and weapon stabilisation system of military land vehicles, for which VINCORION has been a supplier for decades.
"At some point it became clear to us that we had to be able to implement individual specifications faster and more efficiently, while at the same time offering our customers an even better technical solution, for upgrade programs as well as for development projects, for small as well as for large series," describes Christoph Krüger-Leineweber, Vice President Development at VINCORION. The key to simplifying development and production while maintaining the diversity of application possibilities: Modularity.
Configuration management gradually reduces complexity
For the project, the developers turned their perspective completely for once: instead of a concrete order with specific requirements, the team thought starting from known challenges such as sharply increasing energy requirements in the vehicles or very tight installation spaces. "We talked to various OEMs, customers and partners, incorporated our previous experience from the different fields of activity and were initially faced with an even more complex bundle of processes, documents and components," describes Christoph Krüger-Leineweber.
It was not only the developers who were called upon to create order here and to transport the idea of a modular construction kit for turret and weapon stabilization into reality. From the software engineer to customer service and product management to the obsolescence man­agement, the entire value chain had to be involved right from the start. Because even for maintenance and upgrades, there are enormous time and cost efficiencies to be gained from thinking in terms of building blocks rather than complex systems.
Tailor-made in modular design
A major advantage is that the basic framework of control and power electronics, sensors and electromechanical drives has already been field-tested in the Leopard 2 MBT, the self-propelled howitzer 2000 and the Puma AIFV. Nevertheless, it was something special when the prototype passed the comprehensive tests on the test stand and was used in a demonstrator for the first time.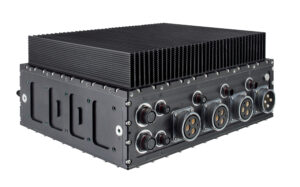 With its know-how in the mechatronic development and maintenance of military platforms, VINCORION has created a powerful system in the form of the modular GTD chaserV system with easy-to-maintain replacement and repair capabilities, short development times, simplified spare parts logistics and short procurement cycles, including overhaul and spare parts supply over decades. This system, consisting of control and power electronics, sensors and electromechanical drives connected via a real-time system bus, can be adapted to any platform at short notice and individually and connected by means of easily configurable interfaces.
Think outside the box
Innovation also means taking risks together. A new development process needs a committed team that can rely on each other and think in new patterns. In this way, a vision not only gave rise to a concrete product, but also to a new methodology with different processes. And these, in turn, can be transferred to other technologies and markets. In the end, this also means a lot of product maintenance and constant optimisation, but at the same time it is the breeding ground for new visions, projects and paths. This also applies to the GTD chaserV.
VINCORION Advanced Systems GmbH
Feldstrasse 155
22880 Wedel
Germany
www.vincorion.com