Poland and South Korea's Growing Defence Ties
Robert Czulda
The multi-billion-dollar agreements recently signed between Poland and South Korea are unprecedented – they are the largest arms contracts in the recent history of Poland and in the history of South Korean military exports. Both Warsaw and Seoul hope they could use them to develop deep military ties and strategic industrial cooperation.
It is not clear yet how much Poland will pay for the equipment ordered from South Korea, with talks regarding financial and technical details presently ongoing. Contracts already signed have a value of approximately EUR 12.78 Bn, but further deals, including those covering technology transfers and additional batches of main battle tanks (MBTs), self-propelled howitzers (SPHs), and multiple rocket launchers (MRLs), are just a matter of time. According to some Polish estimates, the total could end up reaching as high as EUR 21.3 Bn.
The shopping list includes foremost the K2 MBTs. All 180 K2s from the first batch, valued at EUR 3.16 Bn, are to be delivered by 2025. Additional tanks are due to follow, consisting of 820 that are to be built locally from 2026 onwards. These locally-produced tanks will be a newer variant, known as K2PL (the full technical details are yet to be agreed, but they are expected to have enhanced armour, an active protection system, Polish 12.7 mm heavy machine guns (HMGs) and be compatible with US-made programmable munitions). Despite initial plans, K2PLs will not get an additional pair of roadwheels. Tanks from the first batch are expected to later be upgraded to the K2PL standard. Accompanying these orders for MBTs are large ammunition requirements, and in December 2022, Poland issued a foreign military sales (FMS) request to the USA for 120 mm munitions for various MBTs, including K2s. In total, Poland requested the following munitions:
First ten K2s arrived in Poland in early December 2022 via the seaport of Gdynia. This was a special moment for the Polish Army – the last time it received completely new-build tanks was in 1978 with the delivery of their T-72s, with other tanks since then acquired from surplus stocks. The first Polish unit equipped with K2s is a tank battalion in Ostróda (temporarily based in Morąg), which is subordinated to the 20th Mechanised Brigade in Bartoszyce, which is part of the 16th Mechanised Division in Olsztyn. According to Warsaw, the K2 MBTs are better-suited to operate in Northeastern part of Poland (Warmia and Mazury), which is muddy, boggy and hilly, than the heavier Abrams tanks. Further K2s will be used by two tank battalions of the 9th Armoured Cavalry Brigade in Braniewo (part of the 16th Mechanised Division), which are presently armed with PT-91s.
SPHs were next on the list, during an official ceremony in Morąg in August 2022 Poland ordered 212 K9 SPHs for EUR 2.28 Bn. The first batch, consisting of 48 K9A1s is expected to fill the gap created when Poland donated some of its indigenously manufactured AHS Krab 155 mm SPHs to Ukraine. According to initial plans, further K9s (more than 800) are to be produced locally, in the K9PL variant. The first batch of 24 K9A1s, still in South Korean camouflage, arrived in Poland in late 2022 and they were deployed to the 11th Mazurian Artillery Regiment in Węgorzewo, which was subsequently transformed into the 11th Mazurian Artillery Brigade, subordinated to the 16th Mechanised Division.
Poland will also receive K239 Chunmoo MRLs, which are intended to serve as a response to Russian BM-30 Smerch MRLs and 9K720 Iskander SRBMs. A deal, worth EUR 4.36 Bn, was signed in early November 2022 between the Armament Agency and Hanwha Aerospace. 218 launchers are to be delivered under the current contract, which also covers training and logistics. Poland will also get "several thousand" missiles of two types: 239 mm (80 km range, 12 missiles per launcher) or a theatre ballistic missile (290 km range, one missile per launcher). Deliveries are planned to take place from 2023-2027. The first Polish K239 Chunmoo division, comprising 18 launchers, will be subordinated to the newly established 18th Artillery Regiment in Nowe Dębno, and is expected to declare its initial operational capability (IOC) by the end of 2023. In total Warsaw expects to procure 288 K239s. They will give Poland a major boost to its indirect fires capability, as current artillery systems of the Polish Army, such as the Krab 155 mm SPHs and the WR-40 LANGUSTA wheeled MRLs, do not use guided munitions and their range is just roughly 40 km. The Chunmoo will become Poland's longest-range systems since Poland retired their 9K79 Toczka theatre ballistic missiles in 2005. In order to make full use of the K239's long-range strike capabilities, Poland will have to either develop its own reconnaissance and targeting capabilities or cooperate closely with its allies.
The first batch of twelve KAI FA-50 jets are expected to land in Poland in August 2023. They will be used by the 23rd Tactical Airbase in Mińsk Mazowiecki, which has been using the MiG-29s. This purchase, the most controversial among all orders made recently in South Korea, is expected to allow the Polish Air Force to phase out ex-Soviet MiG-29s and Su-22s. Operationally, the FA-50s will be used for training and to replace F-16C/Ds in some duties, mainly peace-time air-policing. In total 48 jets will be procured, with 36 of these in the FA-50PL variant, which includes an AESA radar, as well as compatibility with AIM-9X Sidewinder and AIM-120 AMRAAM missiles. The deal marks KAI's largest ever export order.
Poland might also order the AS21 Redback IFV, which was tested in late 2022 at Nowa Dęba by the 18th Mechanised Division, in the same variant that was offered for Australia's Land 400 Phase 3 programme. A vehicle sent to Poland was equipped with the Elbit/EOS T2000 turret, but it "has not been ruled out" that the Polish variant could be integrated with locally designed ZSSW-30 turret, with the resulting variant designated PL21. According to the Polish MoND, Redback would complement the locally designed and manufactured Borsuk IFV, which is due to be the basic vehicle of Polish armoured and mechanised units. It has been speculated that Redback could serve in the 18th Mechanised Division along with the Abrams MBTs (consisting of new M1A2 SEPv3 and used M1A1 FEP tanks), while other units, such as the 16th Mechanised Division, would be based on amphibious BORSUKs and K2s. A potential order could include 300 Redbacks. Both Redback and Borsuk vehicles would replace the BMP-1 family, which is locally known as BWP-1.
Financial Challenges
The main question that numerous experts in Poland ask themselves is: how to fund such massive procurements? To understand the context, it is worth mentioning that in 2022 Poland planned to spend at least EUR 14.9 Bn on defence, while in 2023 this amount is expected to grow to EUR 20.65 Bn, equating to 3% of GDP. Of this total for 2023, EUR 5.81 billion was earmarked for major modernisation initiatives.
Such gargantuan spending – at least by Polish standards – require additional sources of funding. The Homeland Defence Act of March 2022 created the so-called Armed Forces Support Fund (Fundusz Wsparcia Sił Zbrojnych, FWSZ), which replaced the Armed Forces Modernisation Fund (Fundusz Modernizacji Sił Zbrojnych, FMSZ). It is now one of three sources of funds for technical modernisation, with the other two being the state's budget and the sale of stocks in defence companies. However, in October 2022 the Polish government classified all the details. It is widely believed that this was the result of the Polish Development Bank's (Bank Gospodarstwa Krajowego; BGK) failure to sell state debt obligations. BGK did not explain why the planned sale was cancelled, and so one can only guess that the reason could be a lack of interest from buyers.
Tomasz Dmitruk, one of Poland's leading defence experts, noted in an article published by Dziennik Zbrojny website that:
"the Polish taxpayer will not find out how technical modernisation of the Polish military is to be funded by the FWSZ. This is even one third of the total expenditure planned for this purpose, which in 2023 is to reach nearly EUR 31.96 Bn. In addition, this decision will mean that the Ministry of Defence will no longer have to publicly explain itself for failing to implement FWSZ's income and expenditure plans. This approach may certainly prove to be politically beneficial, considering that the parliamentary and local government elections are scheduled for 2023".
Lack of transparency regarding the FWSZ and challenges in gathering additional funds are not the only obstacles casting a shadow over large-scale defence procurements. The Polish economy is presently in crisis, with growth drastically slowed. According to the IMF, in 2023 Poland's GDP will grow just 0.5% instead of the 2% initially forecast. Similarly, the European Commission estimated Polish GDP growth in 2022 at 4% instead of 5.2% and 0.7% in 2023 rather than 1.5%. Furthermore, inflation reached 17.4% in November 2022, and looks set to increase. In other words – the economic situation is becoming more and more difficult, which puts high defence spending into question.
The current geopolitical situation in the region has resulted in widespread public support for boosting military capabilities. Nevertheless, public enthusiasm has its limits. According to a poll carried out in late October by United Surveys for Dziennik Gazeta Prawna daily, more than 60% of poll participants agree with plans to increase the number of soldiers in the Polish Armed Forces. Among the supporters of the ruling party, Prawo i Sprawiedliwość (PiS), as many as 80% of respondents support such an idea. However, when it comes to the financial aspect, the situation is less clear-cut. Dziennik Gazeta Prawna noted that 80% PiS supporters believe that Poland should spend more on defence even if it means budget cuts in other sectors or incurring new debts. In turn, almost 60% of opposition supporters are against it. The survey also noted that:
"Criticism towards higher defence spending grows with higher education. Almost 60% of those with a primary and lower secondary school education are in favour of cutting other expenses and increasing the public debt, while in a group of those with higher education it is only 41%. More than 50% of respondents are against it. Rural residents are the most opposed to incurring debt for defence purposes."
Korean Attractiveness
What factors have drawn Poland to Korean hardware so heavily? First of all, this is the result of past experience. Polish-Korean defence cooperation is not new – as early as in 2014 Poland's Huta Stalowej Woli (HSW) received a license from Samsung Techwin to locally manufacture the K9 hull for their Krab SPHs. The deal came around because Poland's defence industry failed to produce its own hull for the Krab, and had to acquire the know-how abroad. However, such cooperation has borne fruit – Krabs are still in production and are considered to be highly effective.
Secondly, Seoul's offer was seen as the most attractive, and South Korea promised to deliver equipment much faster than other suppliers. Before Poland requested FA-50s, it was hoping to buy used F-16s. However, even in 2016 such procurements – either from Denmark or Belgium – were considered technologically unpromising and financially unprofitable. Obtaining used F-16C/Ds in good condition from the United States also became impossible.
The same applies to MBTs – all attempts to find used Leopard 2 MBTs in good condition failed, while Berlin was either unwilling or unable to meet Polish needs, which have been growing. Currently the Polish Armed Forces have 150,000 soldiers and almost four divisions, though the fourth (the 18th Mechanised Division in Siedlce) is still being formed and is expected to become fully operational in 2026. However, according to current plans, the Polish Armed Forces are expected to ultimately grow to 300,000 soldiers. Two new divisions are to be established in central Poland, and the 16th Mechanised Division is planned to have four brigades instead of three.
Rapid delivery timescales are extremely important to Poland because a significant part of its equipment, including MBTs and SPHs, was transferred to Ukraine. Reportedly, this comprised over 200 T-72M1Rs and some PT-91 Twardy MBTs donated by Poland to Ukraine, in addition to Krab 155 mm and 2S1 Gvozdika 122 m SPHs. Therefore, Poland has to urgently fill the gap in its armoured units. Local upgrades of the Leopard 2A4s to 2PL/M1 standard are too slow – all 142 are due to be upgraded by 2027. The programme, which was carried out in cooperation with Rheinmetall, was launched in 2015 and was initially expected to be completed by 2021. This is much slower than planned deliveries of South Korean K2 tanks (180 by 2026) and US-made M1A2 SEPv3 (250 tanks by 2026), not to mention used (ex-USMC) M1A1 FEP (116 by 2023). Additionally, K2PLs are to be manufactured locally (at least partially), while Germany has never established similar production facilities in Poland. As a result, the country can only carry out minor upgrades and maintenance works for its Leopard 2 fleet.
Thirdly, Korean equipment is modern and meets Western standards. It is also not without significance that the Polish military has not encountered any interoperability problems between Korean and Western systems. Commonality is also an important factor. For example, South Korean K9s have a very similar design to Polish Krabs, which are based on the K9 hull. According to the Polish government, one of the decisive factors in obtaining the FA-50 was the fact that they share 80% systems commonality with the F-16s.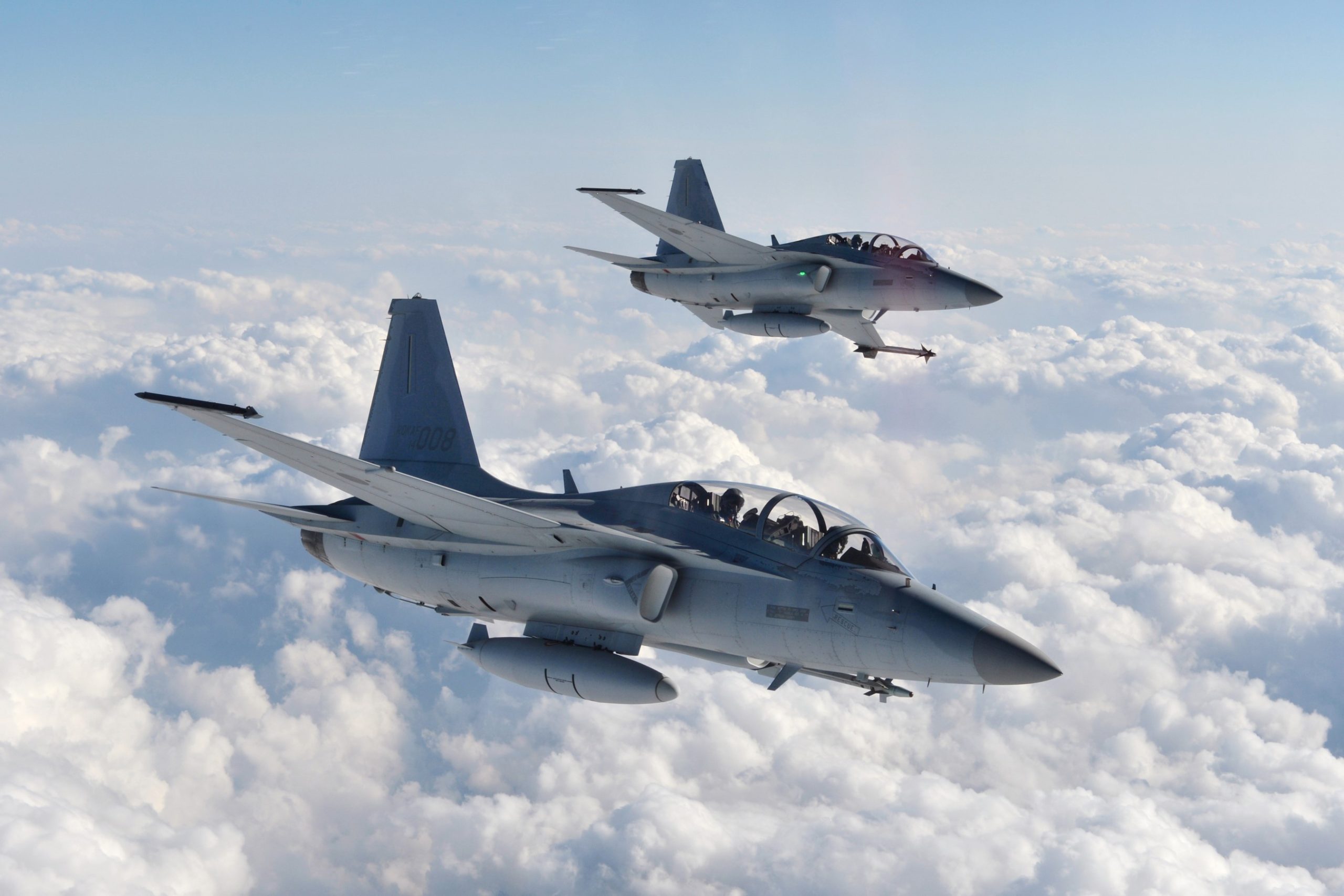 Fourthly, defence cooperation with Seoul is part of Warsaw's broader ambition – to increase Poland's power and independence, including politically vis-à-vis its European partners. In recent years, Poland has been suffering from a political conflict with the European Union, mostly with Germany. Berlin has been using EU instruments, including the EU's judicial system and funds, to subdue Warsaw's anti-federal resistance and to subordinate it to its own interests. Cooperation with South Korea therefore gives Warsaw hopes for reinforcing its selfhood.
This ambition also covers an industrial aspect, Warsaw wants to upgrade not only its military, but also indigenous defence industry, which desperately needs new technologies. South Korea has offered a wide range of cooperation and technology transfer opportunities. It is too early to present any details, since negotiations have not been concluded yet, however some proposals were made public. For instance, KAI has been tempting Poland with a vision of deep industrial cooperation, which could, at least according to KAI, include an MRO (Maintenance, Repair and Overhaul) centre in Poland and local production of components. Moreover, KAI mentioned the possibility of Poland joining the KF-21 Boramae aircraft development programme.
A further industrial aspect has been the opportunity for local equipment integration. From the outset, Poland's K239 Chunmoo launchers are due to be integrated with PGZ's 8×8 Jelcz wheeled vehicles, communication, and the WB Group's Topaz Integrated Combat Management System (ICMS), which has already been used by other Polish artillery systems, such as Krab, WR-40 Langusta (122 mm), M120 Rak (120 mm), Dana-T (152 mm) and the 2S1 GVOZDIKA (122 mm). In the next phase, the Polish Armed Forces are to be supplied with launchers and missiles produced by Polish industry, which will have acquired South Korean know-how.
Regarding tank acquisition, PGZ state-owned defence consortium is expected to establish a joint venture with Hyundai Rotem, which will be responsible for a production of the K2PL variant. Polish K2s will be manufactured in WZM (Wojskowe Zakłady Motoryzacyjne) in Poznań, while Poland's K9PL SPHs are planned to be manufactured by ZM Bumar-Łabędy. It has been hinted that if an appropriate industrial base is created locally, Poland could become a regional hub for production and logistical support.
Many Questions Remain
Multi-billion-dollar contracts with South Korea raise many unanswered questions, not only related to the financial side. For instance, why buy K9s if Poland has its own Krabs? Initially this procurement was justified by the plan that K9PL would be based on the K9A2 variant with an automatic ammunition handling system, but now it seems that K9PL will be a simple upgrade of the less advanced K9A1, which is not superior to Polish Krabs in any way. Secondly, what is the future of the Borsuk IFV if Warsaw orders the Redback? According to Polish media, during local field trials in late 2022, Borsuk performed much better than AS21. Moreover, what are details of Poland's classified agreements with South Korea? Will Poland join South Korean R&D initiatives?
Some voices of concern coming from the Polish defence industry can be heard. On the one hand it, gets a chance to receive new technologies, which could bring Poland's industrial complex to a new level. On the other hand, however, the Koreans took over some of the orders that the Polish industry could count on (SPHs, AIFVs, grenade launchers). For this reason, the President of HSW Bartłomiej Zając resigned in August 2022 in protest.
Concerns about the Polish Defence industry's final share are reinforced by reports such as the one of late November 2022, when PGZ announced that Poland would build "roughly 500" K2 tanks, in addition to Armoured Recovery Vehicles (ARVs), while initially it was stated that the Polish industry would manufacture 820 MBTs. Moreover, "Poland's Ministry of National Defence has imposed very ambitious timetables that put the industry in a difficult position and in a worse negotiating position, because there is less time to establish production" – noted Jędrzej Graf, editor-in-chief of Polish Defence24 daily. Graf added: "a priority for the Ministry of Defence is to have the equipment in line as soon as possible, but this does not go hand in hand with the interests of industry".
Massive procurements in South Korea have not gone unnoticed abroad. According to Dmitruk's financial analysis, in the absence of industrial 'Polonization', South Korean companies would be responsible for 28% of Polish modernisation efforts, while US share would drop to 33%. European involvement would be just 12%. According to Politico, the South Korean industrial offensive in Poland have been "causing some jitters in the US Defence industry" due to "concern from U.S. industry that this won't stop with Poland".
Pro-German and pro-European circles argue that Poland should spend money in Europe, not in distant Asia. However, it is hard not to notice that the European partners failed to prepare a comparable offer. For example, in the past Poland expressed interest in joining the Franco-German Main Ground Combat System (MGCS) future tank programme, but ultimately was not invited. After the outbreak of this year's Russian aggression, Warsaw initially tried to get tanks from Germany, but it was not possible, so Poland looked for other suppliers. As a result, Germany irrevocably lost a massive market for its tanks. The same applies to nuclear energy issues – Poland has long been looking for a strategic partner to build its first nuclear power plants. France did not even try to win Warsaw's interest and its offer was considered poor. It is little wonder then, that Poland ultimately chose the United States' and South Korea's proposals.
Robert Czulda