Knowing what's going on outside your armoured vehicle without having to open a hatch and risk losing your head, has become increasingly achievable in recent years, as new technological solutions and possibilities to deliver comprehensive situational awareness under armour have entered the battlespace.
Closed down, armoured vehicles and tanks have never really had great situational awareness (SA) in the past, with crews confined behind several inches of thick, steel and/or ceramic armour, often with only passive, narrow, periscopic views of the outside world available to them. Starting with a brief look at activities in Ukraine, this article takes a look at how this situation has changed, at why closed-down AFV crews need the best local area SA capabilities available to them on the battlefield, and at a handful of technological solutions now solving SA challenges.
Sobering Events in Ukraine
It's not been a good year to be a member of a Russian tank or armoured vehicle crew fighting in Ukraine. In the first month alone, some 400 tanks were reportedly lost, a number of these to fire from the likes of US-made Javelins and Ukrainian Stuga-P ATGMs, as well as aerial attacks from Baykar Bayraktar TB2 armed drones. Even anti-tank mines laid without camouflage on roads have taken a fatal toll on Russian armour, which seemingly operated without effective SA, or effective infantry support. Combined arms support in an era of multi-domain operations seems to have been left seriously wanting and Russian AFV crews have suffered as a result. Even advanced tanks like the T-80BVM and T-72B3M have succumbed and it's not down to their battlefield capabilities, which should not be underestimated. One of the major problems, if not the major problem, has been they've just had little infantry support to clear ground in front and to the sides; the crews have not, it seems, really known what's going on around them before incoming, armour-stopping munitions have struck. They have been seriously let down in terms of tactics.
What of their own awareness of their surroundings? RUSI has recently reported that while their sights and fire control systems have been "generally less modern than their peers," the Russians had made improvements prior to the 2014 annexation of Crimea with the procurement of Thales' infrared (IR) sights, giving them an ability to fight closed down, at night or other low-light conditions, and in smoke. While not a dedicated SA sensor, per se, a thermal imager (TI) equipped sights certainly provides some feedback to the crew in such conditions, offering a degree of SA of their immediate surroundings. Since that initial procurement the Russians have attempted to manufacture the thermal imagers themselves, with some success, though the final number of vehicles equipped with these in time for the war with Ukraine is unclear. Russia has also developed at least one touchscreen-based 360° situational awareness system for use with its latest AFV designs, including the T-14 main battle tank (MBT) and T-15 heavy infantry fighting vehicle (HIFV) from the Armata family, the B-10 APC and B-11 IFV based on the Kurganets-25 platform, and the K-17 Bumerang 8×8 IFV. Despite these vehicles offering a significant capability boost over many of its existing vehicles, Russia has yet to bring any of them into active service.
As the war effort continues to compete for funding, and sanctions restrict Russian procurements, the prospect of their introduction looks less and less likely as time goes on.
Ukraine had also been making efforts made efforts to improve its vehicular SA during this time. In late 2016 it was reported that the Ukrainians had been using the first iteration of Microsoft's Hololens – released in 2016 – to develop their own 'see-through-armour' capabilities for their vehicle crews to gain local SA (LSA) from beneath armour. Working with Hololens and their own technologies, Ukraine's 'Limpid Armor' went on to develop its Land Platform Modernisation Kit (LPMK), unveiled at first trials in 2019.
The system included augmented reality (AR) smart helmets to be worn by the crew, enabling enhanced SA to easily identify friend or foe on the battlefield, as well as to monitor the vehicle's own critical systems. Cameras and sensors on the outside of a vehicle link with a helmet incorporating the Hololens headset, to give the wearer a 360° panoramic view of their surroundings, on which AR notations and operational information can also be overlaid, without the user having to turn their head. Following those first December 2019 trials on a BTR-4E IFV, Limpid conducted further trials in 2020 prior to intended delivery of five systems to the Ukrainian Forces, but what has happened since is uncertain. At that time, the company was a participant in NATO's Research Task Group (AVT-290 RTG) for Standardisation of Augmented Reality for Land Platforms in Combat Environments, which was due to run for two years until December 2020.
In Parallel, Another 360
As Limpid was starting to develop its LPMK using the first Hololens in 2016, Israel's Elbit Systems launched its own See-Through-Armour (STA) system to provide SA from under closed hatches. Today, the company calls its STA system, IronVision, a panoramic observation solution enabling operators to understand and experience their environment from a single stitched-together image. It uses algorithms to process and join imagery collected by high-resolution, day-and-night video cameras installed around the outside of the vehicle, to give commander and crew a seamless 360°, real-time panoramic view. IronVision uses legacy heads-up-display technology from Elbit's aerospace business, transferred to the AFV domain, to help generate imagery so armoured vehicle and tank crews can overcome inherent visibility limitations, while improving mission efficiency and safety.
Real-time, zero latency, high-resolution video is transmitted to a crews' IronVision helmet-mounted displays (HMD), providing a natural, conformal view of the vehicle surroundings. The system is fully integrated with battle management, warning and control systems, enabling tactical Information feeds from all of these to be presented on the HMDs in AR form. During daytime conditions, IronVision can detect a human from >200 m and a vehicle from >300 m away; at night, those detection distances drop some 50 m in both cases.
Indian 360 Innovation
Another 360-degree view of the world has been developed more recently by Indian company, AjnaLens under the government's 'Make in India' initiative to encourage companies to develop, manufacture and assemble products in India, but suited and destined as much for export as for domestic customers. AjnaLens has indigenously developed a see-through armour solution, the Ajna Enhanced Situational Awareness System (AjnaESAS). This uses AI and AR technologies to navigate vehicles through challenging terrain by eliminating blind spots and providing clear imagery even in the most obscured conditions, whether navigating through dust, sand, haze, smoke, thereby increasing survivability of vehicle and crew.
The low-power-consumption, MIL-SPEC system is said by the company to be cost-effective and comprises an intricate camera system mounted on the vehicle and an augmented reality helmet-mounted display (AR-HMD) worn by the crew members sitting inside. This gives an armoured vehicle or tank crew a 360° in azimuth field of view from inside their closed down vehicle, improving their SA and keeping drivers informed of their surroundings. In addition to providing panoramic vision, the camera system gives the crew night-vision and 4X-zoom capabilities. The system can also be enhanced with additional features, such as identification friend or foe (IFF) capabilities and can be further customised to suit the mission and vehicle type.
Talking to ESD, Rishi Desai, AjnaLens marketing and growth manager, said that the company plans to further integrate IFF and Blue Force Trackers into AjnaESAS, "to empower our soldiers with object identification and enemy-tank tracking capabilities even from a distance and in all weather conditions. After object detection, the process of identifying and locking the target can also be automated, leaving only the decision to 'engage' to a human".
Asked if there was interest from the Indian Forces, Desai confirmed, "Yes, we've built this with the support from the Ministry of Defence and it is soon going to be deployed in the Indian Forces." He added that there has also been recent interest from overseas forces. He said the AR-HMD headset would be worn by commander and crew with four connection points expected for the headsets inside an MBT, although "data is transferred wirelessly".
The AjnaESAS has so far been trialled onboard BMP 2 and BMP 2K vehicles. As for detecting overhead threats, Desai confirmed that only horizontal threats could be detected by the system at this time. As to when best to fit the system, Desai said, "AjnaESAS is ideal for installing during vehicle production, but primarily it's designed for retrofit of existing fleet vehicles. We are doing some final trials and design upgrades and the system will be ready for mass production by the end of 2023."
Honeywell's 360
Adding to the 360° club, in October 2022 at the AUSA exhibition in Washington DC, Honeywell announced the arrival of its Honeywell 360 wearable display, intended to provide seamless SA for rugged ground vehicle operators and pilots in low-visibility conditions. The 360° HMD simulates natural vision with a high-resolution, ultra-low-latency view of what is happening around the vehicle, allowing users to safely manoeuvre around potential risks. This wearable, stereoscopic, mixed-reality HMD uses a series of sensors and exterior cameras to feed information directly to the headset, improving a crew's SA by increasing visibility and reducing the need to consult additional instruments. It combines the outside camera feeds with sensor and tactical information to provide a 360° field of view that can integrate multiple databases, including terrain, traffic and weather in an AR-augmented view.
The lightweight display has been designed for comfort and extended use. In tests, the type of nausea sometimes experienced with head-mounted systems has not been experienced. Ricky Freeman, President of Defense and Space at Honeywell Aerospace, said the new system "helps enable the battlefield of the future" with its real-time data to improve the reaction time of users so they can make timely, well-informed decisions. The mixed-reality system avoids the need to consult fixed displays. The Honeywell 360 Display has been tested extensively on ground vehicles, including in rough terrain.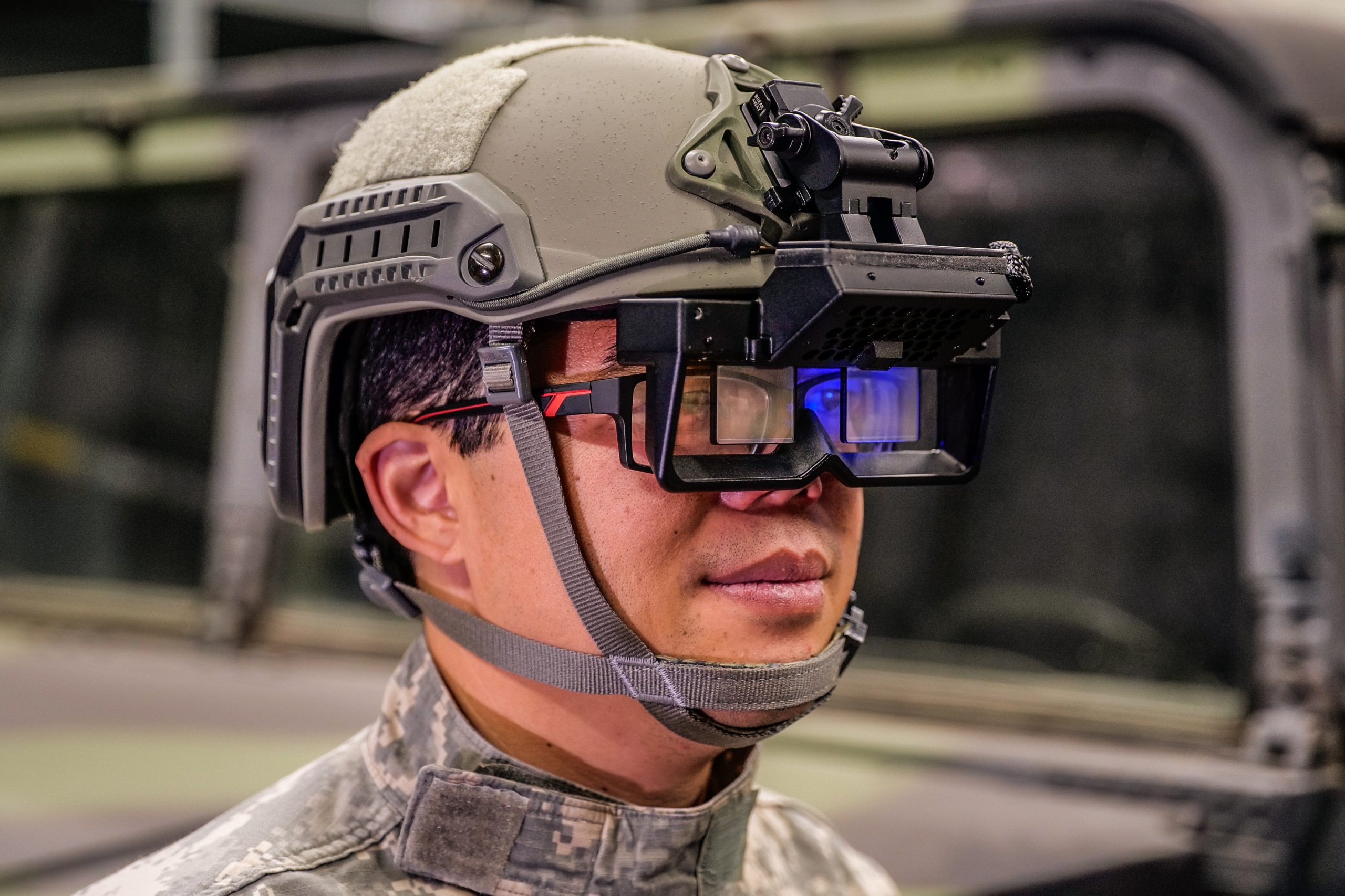 Of the crew who would use this, a Honeywell spokesperson told ESD that, "The Honeywell 360 display is capable of supporting multiple crew members. It's been demonstrated on the Honeywell Hummer in various environments and conditions, such as urban, off-road, desert, day and night." As to whether the system is capable of monitoring vertical, overhead threats, the spokesperson told ESD, "The Honeywell 360 Display is camera/sensor agnostic and can be integrated with the camera/sensor systems available on the vehicle to display up to a full, 360° view dome." The spokesperson added that the system can be installed during vehicle production or as a retrofit to existing fleets.
SETAS Latest
A system we've looked at and described previously in ESD is the Hensoldt See Through Armour System, SETAS. This day/night, high-performance local situational awareness system for use on any type of armoured vehicle provides the crew of a closed down vehicle with a 'high degree' of SA from inside. The high-resolution optronic vision system can recognise a human out to a range of 300 m with the HMD effectively enabling the wearer to see through the vehicle to the world outside. Threats like snipers or RPGs can be detected within their operating range.
The high vertical field of view makes the system superior for environments like the urban terrain and for threats from above. The modular system accommodates two powerful sensor systems: high-definition (HD) colour day cameras and uncooled TIs. The mission-approved uncooled TI is already mounted on several military vehicles worldwide. Single external units (camera modules) can be replaced in the field.
Depending on the type of vehicle, number of crew/occupants, SETAS can be scaled for use by a single individual or by as many as eight people – crew or mounted troops, so that each person can observe their own area of interest and responsibility. With hatches closed down, SETAS provides day or night 360° close area observation, threat identification and tracking, as well as data exchange with other vehicle systems.
For the latest on this important SA-under-armour system, ESD spoke with Hensoldt's communications manager, Alex Ogger, who said that SETAS had, among other recent appearances, been on display at this year's DVD in Millbrook on a KMW RCH155 and Hensoldt's own Mercedes Sprinter 4×4 technology demonstrator, then at a British Army Expo on Salisbury Plain, where it was showcased on Foxhound 4×4 protected patrol vehicle. Ogger told ESD that SETAS is designed to work as a standalone, retrofitted system, or fully integrated on the production line of new platforms. "Due to high possible level of integration to the platform, it is recommended, but not mandatory, to involve the platform supplier [in such work]."
He said that, "When SETAS is fully integrated to the platform network, it can show its full capability, interfacing with various platform systems like the BMS, map systems, threat detection systems [such as laser warning receiver, or acoustic gunshot detection system], Active Protection Systems, main commander or gunner sights, to bring added value to these systems." He added that the system's open architecture, fully supports Generic Vehicle Architecture (GVA) and NATO Generic Vehicle Architecture (NGVA), so that even customer-owned proprietary algorithms will, in future, be able to run within SETAS' processing unit.
Ogger confirmed to ESD Hensoldt's working relationship with KMW on SETAS, adding, "Due to our long and good co-operation with various platform suppliers we know which features might suit the customers' needs in the future. That's why we developed SETAS in the past, so it would be ready now to integrate to any and all platforms."
As to what AFVs have had a taste of SETAS for trials, so far, Ogger said that an evaluation by the British Army ATDU, trialling SETAS on a Foxhound, has, at time of writing, just finished and that with KMW an RCH155 pre-series vehicle is equipped with and has been demonstrated with SETAS on several occasions. KMW has also equipped a new version of its RCT30 with SETAS. In addition, Ogger said, "A US platform will be equipped with SETAS within the next two months for demonstration starting 2023." He added a final list of other vehicles which have so far been trialled and evaluated with SETAS, which are: GDELS Eagle (4×4 and 6×6), Patria 6×6, BAE CV90 and Warrior IFV.
"Like you can see," Ogger said, "on the platform suppliers listed for SETAS demonstrations we are talking to suppliers all over the world, not only within Europe. Since we started to present the concept of SETAS, there has been great interest." And although Alex Ogger was only able to confirm that SETAS has been sold to just a single customer so far, he said it "is available as a prototype system with a maximum of processing power and up to eight individual users", but added that, "SETAS will be under contract soon!"
ESD asked Ogger about SETAS capabilities referencing the context of the Ukrainian conflict and how it might handle overhead SA to cope and protect against top-attack threats, such as drones dropping AP munitions right on top of a closed-down tank, or air-to-ground AT weapons from ground-attack fighters. Ogger stated "The SETAS architecture and stitching algorithm, producing the seamless 360° image for each individual user, allows more Hensoldt integrated camera modules to be connected than the standard four units. In that way it is also possible for a hemispherical camera to be connected and introduced to create the users' virtual dome." Hensoldt has previously demonstrated hemispherical cameras as far back as 2011.
He continued, "The biggest advantage is for 'watching the soldiers back' – they cannot see and identify all 360° threats at the same time, so its advanced image processing capability and AI algorithms can do that job and analyse all live camera images for threats." He added that SETAS' powerful processing capabilities bring the advantage of reduced burden to each single crew member. "The system's AI algorithm could detect and analyse objects approaching and depending on their behaviour, [way of movement], they probably could be recognised or even identified. Here the available extreme high-resolution daylight camera of SETAS, combined with the uncooled TI, are providing the required image information."
Thales CDP
While not a single-vehicle SA-under-armour system in its own right, the Thales Combat Digital Platform (CDP) is a single system merging all operational functions required to accelerate situation analysis and SA, decision making and action and, in effect, can provide SA information to multiple closed down vehicles at the same time. A spokesperson for Thales told ESD that, "As the volume of battlefield data increases every day, coming from sensors, effectors, drones, robots, interconnected units, the automatic processing of this huge amount of data by the Thales CDP drastically reduces cognitive workload of crews, eases use, training, mission preparation and deployment."
They said the CDP performs services relevant to all unit levels taking information from collaborative observations of sensors of all kinds. It takes SA data feeds, like those of full motion video from vehicle optronic sights, alerts from gun-shot detectors, bearings from RF direction finders or radar tracks, and then, using AI, extracts 'objects of interest' it finds in those sensors feeds. It performs multi-sensor, multi-vehicle data fusion to create combat tracks and displays those tracks on a local situation map, broadcasting the combat tracks and situation map on all relevant units' tactical radio network in 'reflex time' (sufficient time to react to threats). The CDP effectively combines the under-armour SA of multiple sources and disseminates all that information across the relevant battlespace, enabling closed-down AFVs and MBTs to 'see' their wider surroundings and react to potential threats in time to survive.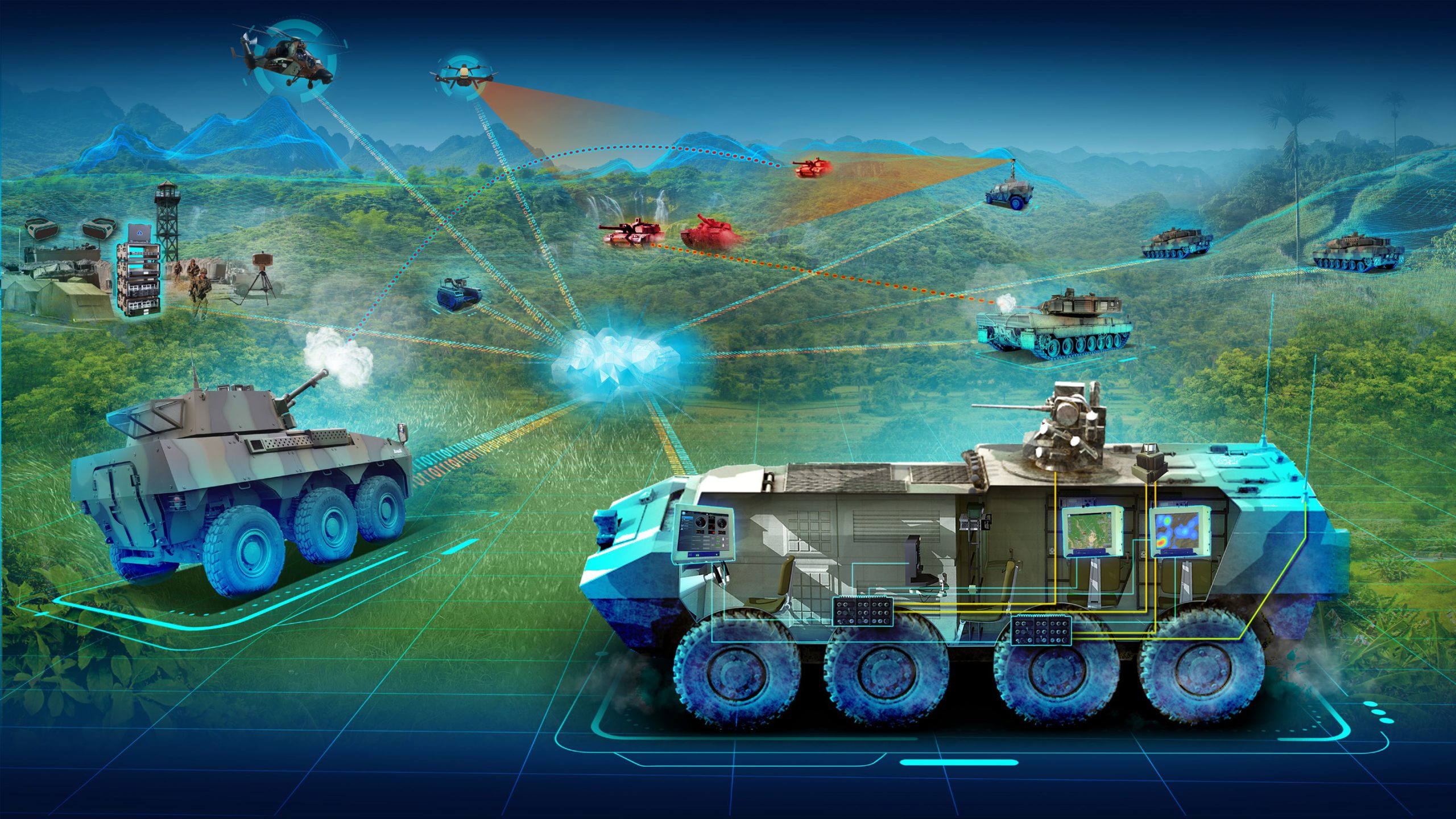 The CDP has been carefully designed with an easy-to-use interface. Command phrases and operational gestures are simple and familiar, keeping cognitive workloads low. The platform provides continuous information sharing at all levels of command, augmented SA thanks to cooperation between sensors and effectors, smart services and AI-powered decision-making aids to lighten cognitive workloads, and easy integration of UAV/UGVs and dismounted soldiers to multiply presence.
The platform, operating from the brigade level to vehicles out on the front line, is comprehensive and provides services that aid command and control (C2) of tactical units, as well as aiding in observation, protection, the decision-making cycle and action at all levels. Thales' CDP is built on a cloud-ready digital platform, and is compatible with connectivity solutions such as Software Defined Radio and LTE to provide its collaborative combat SA capabilities.
Tim Guest