The ongoing war in Ukraine has provided a glimpse into military operations in the modern age of strategic competition, illustrating a shift away from two decades focused on counter-terrorism and counter-insurgency towards more conventional peer conflict.
The war has also highlighted the importance of technology on the modern battlefield with dismounted infantry and special forces units on the ground being heavily reliant upon the use of handheld, weapon-mounted and man-packed equipment including radios, night vision goggles, thermal cameras and weapon sights – all of which require huge amounts of energy to power.
However, since the invasion of Ukraine by Russian Armed Forces on 24 February, dismounted ground forces on both sides have been isolated far beyond the reach of traditional combat support supply chains, meaning troops have been in situations where they have run out of food, water, ammunition and other critical equipment, significantly hampering operational effectiveness, survivability and morale.
Examples include the 'Siege of Mariupol' which saw hundreds of members of Ukraine's Azov Regiment (formerly 'Azov Battalion') taking shelter from Russian forces in the Azovstal' Iron and Steel Works for weeks. As defence sources explained, spending more than 24-48 hours beyond the reach of combat logistic support chains can have a significant impact on the operational effectiveness of a unit which must subsequently ration energy, ammunition, food and water supplies indefinitely.
This is one area of interest being hotly pursued by armed forces around the World, including the UK's Defence Science and Technology Laboratory (Dstl), which is exploring options to equip dismounted personnel with a next-generation in power solutions.
Dstl's 'The Science Inside 2022' corporate report, published on 16 November, proclaimed that: "The soldiers of the future will use multiple sensors and effectors to improve capability and situational awareness at the tactical level." The report added: "To achieve full benefit, these capabilities must be able to share information both within the individual soldier system and beyond via secure communication links. In addition, there is a need to reduce the battery burden and simplify logistics by powering such devices from a common battery rather than the multiple different types of batteries often carried by a dismounted patrol."
As a result, Dstl and its industry partners are working on a pair of future concepts which include "embedded power monitoring to allow the scale of the future power problem to be understood"; and "greater power transmission, higher data rates and a range of on-body wireless technologies to allow the removal of troublesome cables in some instances". The report suggested that "Ultimately, fully integrated systems will unleash the power of combination allowing a soldier system to achieve more than the sum of its parts."
Industry offerings
Next-generation power management is an area also being developed by the defence industrial base. According to US company Perfecta's vice president for business strategy, Mike Lawrence, power supply, energy storage and data management have become just as critical as food, water, and ammunition to the modern warfighter.
Lawrence said: "Power is required to operate virtually all the warfighter's tools, from radios for voice and data communications, night vision devices [NVDs] for night operations, to end user devices [EUDs] like tactical smartphones loaded with Tactical Assault Kit [TAK] to provide situational awareness [SA]. Power remains the one resource that is constantly in short supply during every phase of military operations."
According to Lawrence, the past decade has witnessed "incredible" advances in capability for the dismounted soldier, although there remain strong demand signals for solutions which can enable efficient management of available power on remote and austere battlefields as well as the capability to 'scavenge' power. "Power scavenging ensures the dismounted soldier a tactical advantage. It ensures that a soldier's load is lighter, provides the necessary energy to power their [TAK] for longer and simply operate for sustained periods of time without resupply by scavenging power for all their devices from sources found in quick resupply on the battlefield or recharge on the move by sourcing power from their vehicle or aircraft," Lawrence said.
The issue of power management has risen in prominence in recent years, coinciding with the development of software defined radios (SDRs) which often require numerous battery changes over the course of a mission. Many two-channel SDRs, capable of simultaneously running mobile ad hoc networks, satellite communications and even full motion video feeds from aerial assets, can consume a significant amount of energy.
As Lawrence explained, this "operator's problem" dictates the need to manage data and power across a soldier who could be operating multiple devices. "Smart management of power and data combined with power scavenging capabilities on a system with a form factor optimised for dismounted combat operations can enable the modern soldier to achieve and maintain overmatch at the tactical edge," he claimed. "In a battlefield that is growing more digitally connected, this need for more power and data capabilities will only accelerate. Perfecta believes that a comprehensive and robust system design approach is the key to addressing this issue successfully," Lawrence added.
In response, Perfecta has designed a system-level architecture with the primary goal of employing a standardised device and power interface which has the potential to exceed the current power and data needs of the modern warfighter. "The proposed solution is designed to handle more input power than current dismounted power solutions can provide; deliver and manage more output power per port than current devices can handle; and finally, provide a higher speed data connection for all downstream devices than most current devices operate at," Lawrence suggested. "A single USB Type-C compliant connector is utilised for primary device and host connections, simplifying the warfighter's experience by allowing any device to be connected to any port," he added.
Perfecta's Integrated Power and Data Management Kit solution features a processing device (currently a smartphone-based EUD); a power and data manager or hub; interconnect cabling; radio power and data adapters; and centralised power source. The core of the solution is the power and data management hub which supports an EUD with three dedicated downstream device ports. Each port supports USB 3.1 Gen 1 data rates of 5 Gbps and is USB Power Delivery compliant, providing up to 100 W, depending on configured voltage.
The proposed hub supports an input system power of 10-20 V DC at a maximum current of 10 A. The input power connector incorporates Nett Warrior [a US Army dismounted situational awareness system] power connector architecture, enabling smart battery data to be used and charging of the connected system battery.
A secondary power input connector supports an input of 10-35 V DC at a maximum of 10 A for scavenged power. "[Scavenged] power can be used to charge the system battery while simultaneously providing system power. The warfighter can then use Perfecta's Power Block to run SDRs and EUDs while simultaneously trickle-charging a connected handheld radio battery," Lawrence said. "The solution also supports most power and data functionality as a default state, requiring no input or interaction from the warfighter. More granular active control over power and data by the warfighter is supported through a software application running on the EUD," he added.
Lawrence also explained that the power block solution could be connected to Thales AN/PRC-148C/D and L3Harris AN/PRC-163 SDRs in operational environments, noting "The Power Block accepts system power from the hub and regulates to an acceptable voltage for radio power and handheld battery charging. Battery charging is limited to a trickle-charge level to ensure adequate power is available for the radio and the rest of the system. Charging starts automatically when a non-fully charged battery is attached and stops when a battery is fully charged."
In 2023, Perfecta will continue with the development of a Family of Systems Approach integrating together software and hardware solutions into a small, lightweight, rugged, and configurable body-worn tactical computing system. "This will enable the individual warfighter to effectively and efficiently power, monitor and control all attached radios and electronic devices with integrated Human Machine Interface (HMI), for use by US Special Operation Forces," Lawrence highlighted.
"The hub's management application displays in real-time the model of the radio on each hub port and enables per port toggling of power, allowing the end-user to actively control their power usage based on dynamic mission needs," he added before concluding: "Live information regarding the system's main battery, including make and model, overall health, level of charge, rate of discharge, and time-to-empty (TTE) fields will keep the user informed and in control over their overall power footprint…finally, the application will render information regarding status of the scavenger port to indicate when an auxiliary power source is actively being utilised as the primary source of system power and whether the main system battery is being recharged by the auxiliary power source, such as one in the supported roll on/roll off scenarios."
Elsewhere, another US-based company, Galvion used the Association of the US Army (AUSA) exhibition to unveil the 'Nerv Centr SoloPac II' battery – a Lithium ion rechargeable battery. A company spokesperson for Galvion also described how power has become just as important on the modern battlefield as ammunition. "The ability to manage the usage, storage, supply and logistics of 'power' has become a new benchmark for a fighting force," the spokesperson suggested. "This change has been so rapid many NATO countries are still just defining the problem.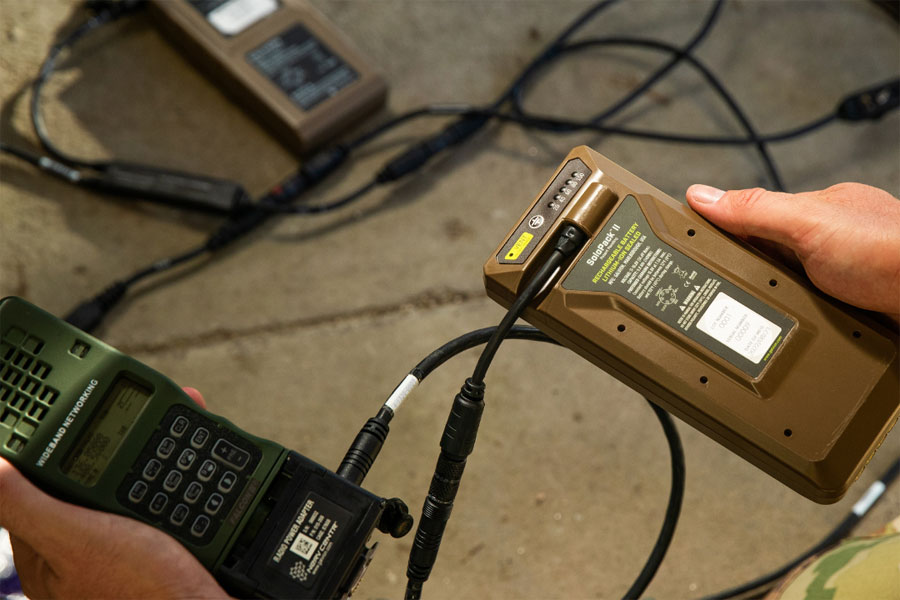 "Integrating an EUD into the power management ecosystem, along with an application like Galvion's 'NervCentr Hub' App, is the entry point to enable the soldier to have an accurate picture of their power supply and demand in real time," the spokesperson proclaimed before describing how the "proliferation of data to every soldier" on the modern battlefield now means every soldier requires some version of a power manager in order to ensure complex equipment operates smoothly and efficiently. "This could be a single port EUD charger, all the way up to advanced multi-port products. But at some point, every combat soldier will need this technology."
According to Galvion, the SoloPack II retains many of the functions of its predecessor, the 'SoloPack', but does include a number of additional features to support the modern soldier. Features include 40% more power storage (140 Wh) over legacy models, in addition to reduced form factor so the SoloPack II can be carried in an ammunition pouch. Weighing 750 g, the unit features a variety of connectors, including Nett Warrior connectors to enable faster charging and additional current flow, while remaining backwards compatible with NATO STANAG 4695 for ease of integration and improved logistic sustainability on the battlefield. "The SoloPack II has state-of-charge display for real-time remaining capacity at the press of a button, convenient bottom contact charging and can be recharged while in-flight and connected to Galvion's Squad Power Manager (SPM) which is certified safe-to-fly.
With an expected availability in early 2023, the higher capacity SoloPack II is designed to support operational power needs for missions of up to 24 hours, while the original 98 Wh SoloPack battery supports short-duration missions of up to 12 hours.
Galvion also highlighted to some of the greatest technology gaps facing armed forces today in terms of power management, noting "Given that all voltages need to be converted between the battery source and the electronics, efficiencies converting between voltages is an engineering area for continued improvement." Galvion added: "Beyond the technology itself, there is a need for the establishment of common 'open' interfaces that are more agnostic in order to simplify interoperability; avoiding the proprietary interfaces required by large integrators which would facilitate broader interconnectivity between equipment and systems."
Looking to further futureproof its power management solutions, Galvion also identified a series of technology areas of interest to enhance its offerings. These include the ability to increase power conversion efficiencies with the spokesperson suggesting: "A 2% increase in voltage conversion efficiencies will result in a 2% reduction on logistics demand." Galvion is also increasing the data bandwidth capacity across its solutions, enabling high-definition video, audio and system data, as well as integrating wireless technologies for military wearable technologies.
Growing Requirements
Considering the future of the power management market in the next five to 10 years, Perfecta's Lawrence suggested: "The inclusion of additional equipment on a warfighter's kit only has benefit if it adds capability and improves overall performance in support of the mission. This is only achieved by prioritisation of minimising the overall SWaP of a solution." Lawrence also disclosed how the company is seeking to further reduce the physical form factor of its Hub solution. Presently, the hub measures 5.5" x 3.5" x .75", which is comparable in size to an overly thick mobile phone, he described.
Galvion's spokesperson also confirmed soldiers will require "multiple times" more power across future operating environments, adding: "With the continued improvement in sensor technologies; the proliferation of small unmanned aerial systems; and the need for increased situational awareness to improve agility, lethality and survivability, soldiers will be plugging even more devices into their power systems." The spokesperson concluded: "Soldier power and data systems will have to embrace USB-C technologies, providing this extra power, extra configurability, higher data rates and more universal connectivity with military/commercial equipment. Power will be elevated alongside ammunition, diesel and rations as core army commodities."
Andrew White