The US Air Force (USAF) has awarded Boeing a contract worth up to USD 1.2 Bn to begin work on a US-specific E-7A airborne early warning and control (AEW&C) platform, the air force announced on 28 February 2023.
The E-7A, which is based on a Boeing Next Generation737-700 airliner, was selected by the USAF in April 2022 to replace its fleet of 31 E-3B/C/G Sentry Airborne Warning and Control System (AWACS) aircraft.
The air force is using a rapid prototyping acquisition pathway to acquire the first two E-7As and plans to begin production in fiscal year 2025 (FY25), with the first E-7As expected to be fielded by FY27. The service anticipates procuring 24 additional E-7As by FY32 to produce a total E-7A inventory of 26 aircraft.
Boeing describes the E-7A as "an integrated, flexible command-and-control node that leverages networked connectivity, edge processing capabilities and organic communications and sensor data generation to support significantly improved operational decision-making and resilient and efficient force employment" adding that its "next-generation, multi-domain capabilities are foundational to maintaining Air Superiority – providing accurate, timely and effective support".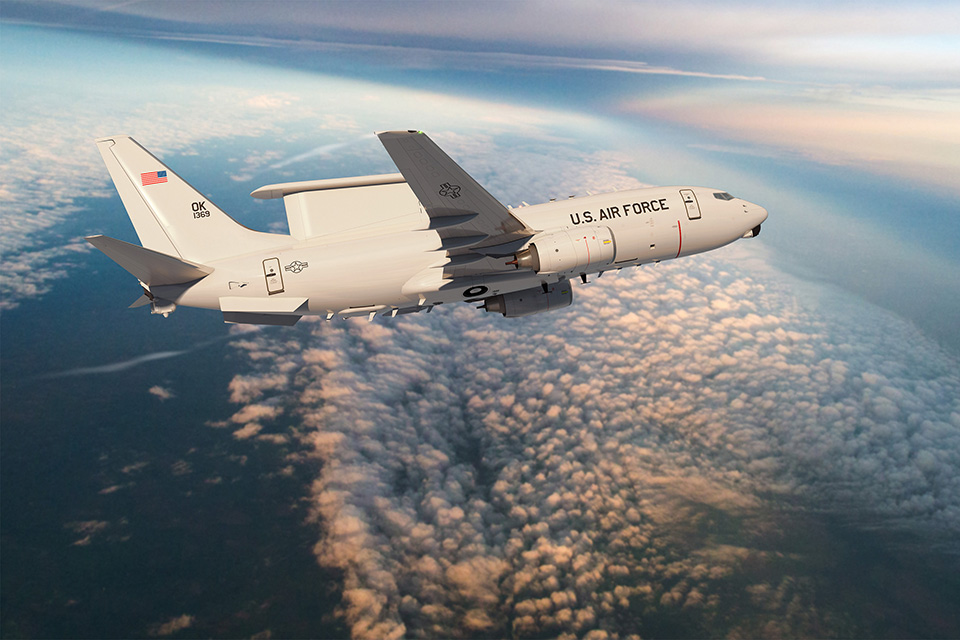 The platform's primary sensor is Northrop Grumman's distinctive dorsally mounted Multi-role Electronically Scanned Array (MESA) radar.
"The E-7A will be the department's principal airborne sensor for detecting, identifying, tracking, and reporting all airborne activity to Joint Force commanders," Andrew Hunter, Assistant Secretary of the Air Force for Acquisition, Technology and Logistics, was quoted as saying in a 28 February press release. "This contract award is a critical step in ensuring that the department continues delivering battlespace awareness and management capabilities to US warfighters, allies and partners for the next several decades. The E-7A will enable greater airborne battlespace awareness through its precise, real-time air picture and will be able to control and direct individual aircraft under a wide range of environmental and operational conditions."
"We conducted a thorough analysis of viable industry options to ensure the selected E-3 replacement could meet the specific needs of the US. Until the E-7A is fielded we will continue to rely on the E-3 AWACS," Hunter added. "The rapid prototyping program will integrate US-based mission systems into the existing airborne platform to meet [USAF] requirements while simultaneously ensuring interoperability with coalition and allied partners already operating the E-7A."
The E-7A is already in service with the Royal Australian Air Force, which has six of the type, while the Turkish and South Korean air forces each operate four.
The United Kingdom originally ordered five E-7As in 2019, but the country's Integrated Review of Security, Defence, Development and Foreign Policy, published in March 2021, reduced the buy to three.
Meanwhile, the E-7A is currently vying with the Saab GlobalEye platform to replace NATO's fleet of 14 E-3A AWACS platforms.
Peter Felstead