Turkey commissioned its largest warship on 10 April 2023, with a ceremony at the Sedef Shipyard in Istanbul marking the official entry into service of the landing helicopter dock (LHD) TCG Anadolu.
Attending the ceremony, Turkish President Recep Tayyip Erdoğan hailed TCG Anadolu as the world's first aircraft carrier to host an air wing consisting predominantly of unmanned aerial vehicles (UAVs). The ship, which will now become the Turkish flagship, is stated to have a deck capacity for 10 helicopters plus 11 UAVs and a hangar capacity for 19 helicopters and 30 UAVs.
For its commissioning ceremony TCG Anadolu was presented with a Baykar Bayraktar TB3 armed UAV and Baykar Bayraktar Kızılelma unmanned combat air vehicle (UCAV) on its flight deck, along with four helicopters. The Bayraktar TB3, which has folding wings to allow a larger number of UAVs to be hosted on TCG Anadolu, has been specifically designed to be capable of taking off from and landing on short-runway aircraft carriers. However, operating Bayraktar Kızılelma UCAVs from the ship will be a much more difficult proposition. While the TB3 is powered by a pusher propeller and is 8.35 m long, the Kızılelma is a much faster, jet-powered UCAV that is 14.7 m long. It has reportedly been designed to make carrier landings using arrestor gear, but TCG Anadolu, which is based on the design of the Spanish LHD Juan Carlos I, was not designed to feature such a system.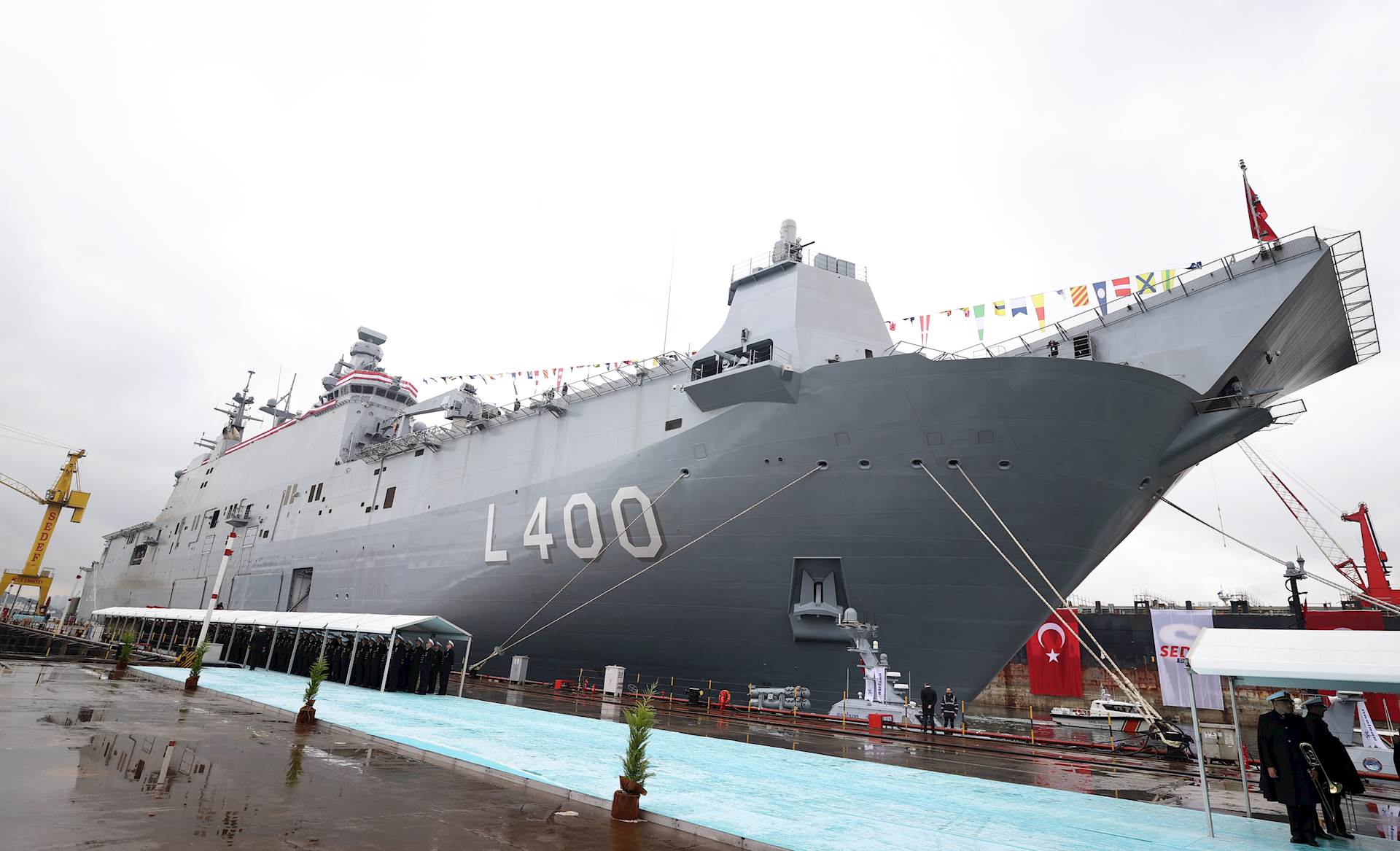 The Turkish LHD was originally to have operated Lockheed Martin F-35B short take-off/vertical landing Joint Strike Fighters (JSFs), but in 2019 Turkey was ejected from the JSF programme for refusing to abandon acquisition of the Russian S-400 air defence system.
The Turkish aerospace industry then set about designing unmanned fixed-wing aircraft to operate from the ship.
The Bayraktar TB3 is due to make its first flight very soon, while the Kızılelma made its maiden flight on 14 December 2022.
Following the Anadolu commissioning ceremony President Erdogan also attended a sheet metal cutting ceremony for the Turkish Navy's three new MİLGEM İSTİF-class frigates. A contract has been signed with Turkey's Sedef, Anadolu and Sefine shipyards under which the sixth, seventh and eighth Turkish MİLGEM frigates will be built concurrently within 36 months. The main subcontractor in the MİLGEM programme is the STM-TAİSjoint venture.
The ships will be known as İzmir, İçel and İzmit.
Peter Felstead