To mark the 75th anniversary of Israel, ESD reached out to a few members of Israeli defence industrial community. We selected a few representative companies of the air, land, sea, and integrated technologies sectors to ask about the role they saw their country and respective companies playing in European Security and Defence.
Alex Shapochnik, CEO & Co-Founder of Creomagic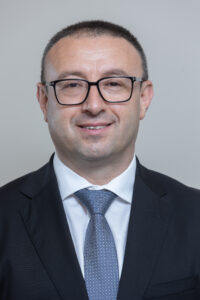 Located in the centre of Israel is the Weizmann Science Park where Creomagic was founded seven years ago. A short walk among its inhabitants, tells the story of Israel's unique Start-Up ecosystem and of Israel's national defence industry.
Israel's first underground ammunition factory was built exactly here in 1946 in an underground shelter under a noisy laundry – two years prior to Israel's independence. A few decades later, El-Op – a global leader in laser equipment and space cameras, and Silver Arrow – a trailblazer in UAS, were also established here. Today, they are part of Elbit Systems.
Creomagic works from here to solve a great technology challenge: providing military and public safety teams, autonomous systems, and robots, with high-speed wireless secured connectivity. CreoNet's mobile ad-hoc network (MANET) technology uses software-defined cognitive radios to transmit unprecedented volumes of streaming video and data in any environment – and without any permanent infrastructure.
The interest in such technology among European nations is growing tremendously, mainly due to the war in Ukraine, and natural disasters that occur more often in Europe in the last decade. While broadband MANET technology was developed and operated mostly in the US and Israel, its penetration in Europe is only at its early adopters' stage. Creomagic is ready to close this gap. As such, Creomagic will introduce its unique broadband MANET technology for the first time at AFCEA-Bonn together with its German partner, ASTUTE GmbH. This demonstrates our long-term commitment to keeping Europe safe and secure through meaningful cooperation.
Boaz Levy, President & CEO of IAI
IAI's growing presence in the European defence market reflects Israel's, as well as our company's, capacity to address the region's evolving military challenges. IAI offers a broad range of technological advanced systems for Europe. We regard our various collaborations in Europe as highly significant, and it is vital that we do all we can to assist with each other's security and economic development.
IAI has led the development of Israel's multi-layered ballistic missile-defence program, as the prime contractor for the Arrow missile defence system and provider of key elements for other widely-deployed air and missile defence systems. We make use of Artificial Intelligence to convert huge amounts of unstructured data into the applicable intelligence needed to inform operational decision-makers in significant matters that can provide a strategic pillar for Europe's defences.
IAI is proud to be part of Europe's strategy for peace, progress, and prosperity, and we are committed to making our considerable array of solutions available to Israel's European allies. IAI will continue to play a vital role in strengthening Europe's defence posture for the 21st century.
Eitan Zucker, CEO at Israel Shipyards Ltd. (ISL)
Israel and Israel Shipyards Ltd (ISL) have been playing a significant role in European security and defence for several years. The country has a unique position in the region as a non-European nation with advanced technology and experience in dealing with regional security threats, making it an important partner for European countries in the area of defence.
Israel has demonstrated its value as a partner in enhancing the security of Europe. The strong partnership between Israel and European countries is likely to continue to grow in the future as security threats evolve and require new solutions.
Israel Shipyards Ltd (ISL) is a leading shipbuilding and repair company based in Israel. The company has played a significant role in European security and defence by supplying advanced naval vessels to several European countries, including Greece, Romania, Cyprus, and others. These vessels have been essential in safeguarding the region's coastlines, intercepting illegal migration, and combating piracy.
Situated on the Mediterranean coast, the company has easy access to the major shipping lanes that connect Europe, Africa, and Asia. This allows the company quickly and efficiently service the needs of its customers, and to respond quickly to any changes in market conditions.
ISL's naval vessels are designed to meet the specific needs of each country, with a focus on manoeuvrability, speed, and endurance. For example, the Sa'ar 4 and Sa'ar 4.5 class corvettes supplied to the Hellenic Navy of Greece and to Cyprus Navy are equipped with advanced Israeli armament and communication systems making them an effective tool in protecting the south European territorial waters and interests.
ISL has also established strong partnerships with European defence companies, which has led to collaborative projects in the development of advanced naval technologies.
The company's expertise, experience, and commitment to ongoing support and training make it a valuable partner in enhancing Europe's naval capabilities.
Dr Kobi Lasri, General Manager, Ophir Optics, MKS Instruments
The ongoing Ukraine war and growing tensions between major international players continue to create tremendous opportunities for our industry, including increased demand for advanced, field-proven Israeli defence systems, especially surveillance, UAV, land, and missile defence solutions.
As an Israel-based business, with research and development and manufacturing in Israel, and additional manufacturing in Romania (a NATO member), MKS' Ophir business is an integral part of the effort to spearhead the systems protecting the security of European nations. Ophir is a proud partner to the most innovative emerging defence and security applications introduced by leading OEMs, and thus plays a significant role in European security and defence.
MKS' Ophir business has expanded our manufacturing capacity and capabilities to address the rapidly increasing demands of the defence-industry. Our team has been designing and manufacturing high-precision Infrared (IR) optics, complex zoom lenses and custom components, for combat-proven night-vision and IR imaging optronic systems for more than four decades. Our infrared optical solutions provide high quality imaging performance, over harsh environmental conditions, required for myriad applications including surveillance, counter drone, border control, hand-held thermal binoculars, advanced aviation systems and missile guidance heads.
In a dynamic world, with technological developments that rapidly change our lives beyond recognition, I believe that the Israeli defence industry has an advantage based on field-proven knowhow, breakthrough technologies, and experienced, high-quality human capital. This positions us as a trustworthy, reliable, experienced partner for the most challenging, highly advanced European security & defence system providers.
Dani Ziv, CEO of Plasan
Taking part in European security and defence efforts is not an obvious role for a non-European nation, however for Israel, a country built on western values, playing part in European defence efforts is not only a business goal but also a moral imperative.
As a country with an advanced defence industry, and having similar values and being close geographically, European countries are a natural choice for collaboration for Israeli companies, just as they are a natural ally for Israel.
Plasan adds significant value to its European OEM and integrator customers, as an Israeli company and an expert in its field, by bringing state-of-the-art survivability technology which was developed based on requirements and experience gained in Israel, to the European end-user community.
Plasan provides state-of-the-art armour and mine protection technologies to European OEMs, as well as solutions for next generation autonomous and semi-autonomous platforms and an out-of-the-box thinking regarding electrification of the tactical edge, and the new generation of battlefield logistic support. With intimate experience both in asymmetrical conflicts and territorial self-defence, the solutions and ethos that Plasan brings to Europe are closely aligned with the developing needs of European countries to protect their own populations at home and carry out peace-keeping missions on foreign soil. Combining traditional and advanced passive armour together with the latest technologies of hardware and software, Plasan's holistic approach and high value on the protecting of innocent lives is contributing to the safety of European forces wherever they are posted and whatever their missions, in vehicles from the lightest patrol vehicles to the heaviest of tanks.
Israel's future is closely entwined with that of Europe, their security and ours are one and the same.
Michal Mor, CEO of SMARTSHOOTER
Today's modern battlefield requires that defence forces prioritize not only on lethality but also the preservation of human life. Defence forces in Europe and Israel are intensely focused on this crucial objective, who endeavour to safeguard their soldiers' lives while also preventing casualties to innocent bystanders and uninvolved parties present at the scene.
SMARTSHOOTER developed the SMASH technology with the intention of reducing the required firepower while ensuring shot accuracy. The SMASH family of Fire Control Systems inject precision-missile targeting algorithms and advanced electro-optical processing capabilities into standard infantry and law-enforcement small arms. With a precise hit capability that is independent of the user's skills, the SMASH Fire Control Systems keeps friendly forces safe and reduces collateral damage. Its ability to be integrated into remotely controlled platforms allow the soldiers to stay at a safe distance while using minimal firepower to hit their target.
The threat of drones is significantly challenging defence forces worldwide, with the recent Ukraine conflict proving how easy it is to use drones and how complicated it is to defend against them. SMASH Fire Control Systems offer a game-changing hard-kill capability against drones and UASs, as they allow soldiers to easily engage and eliminate flying drones using their standard rifle and ammunition. Forces in Europe and worldwide are already using the SMASH systems for C-UAS hard kill and for hitting static and moving targets in more traditional ground force missions.