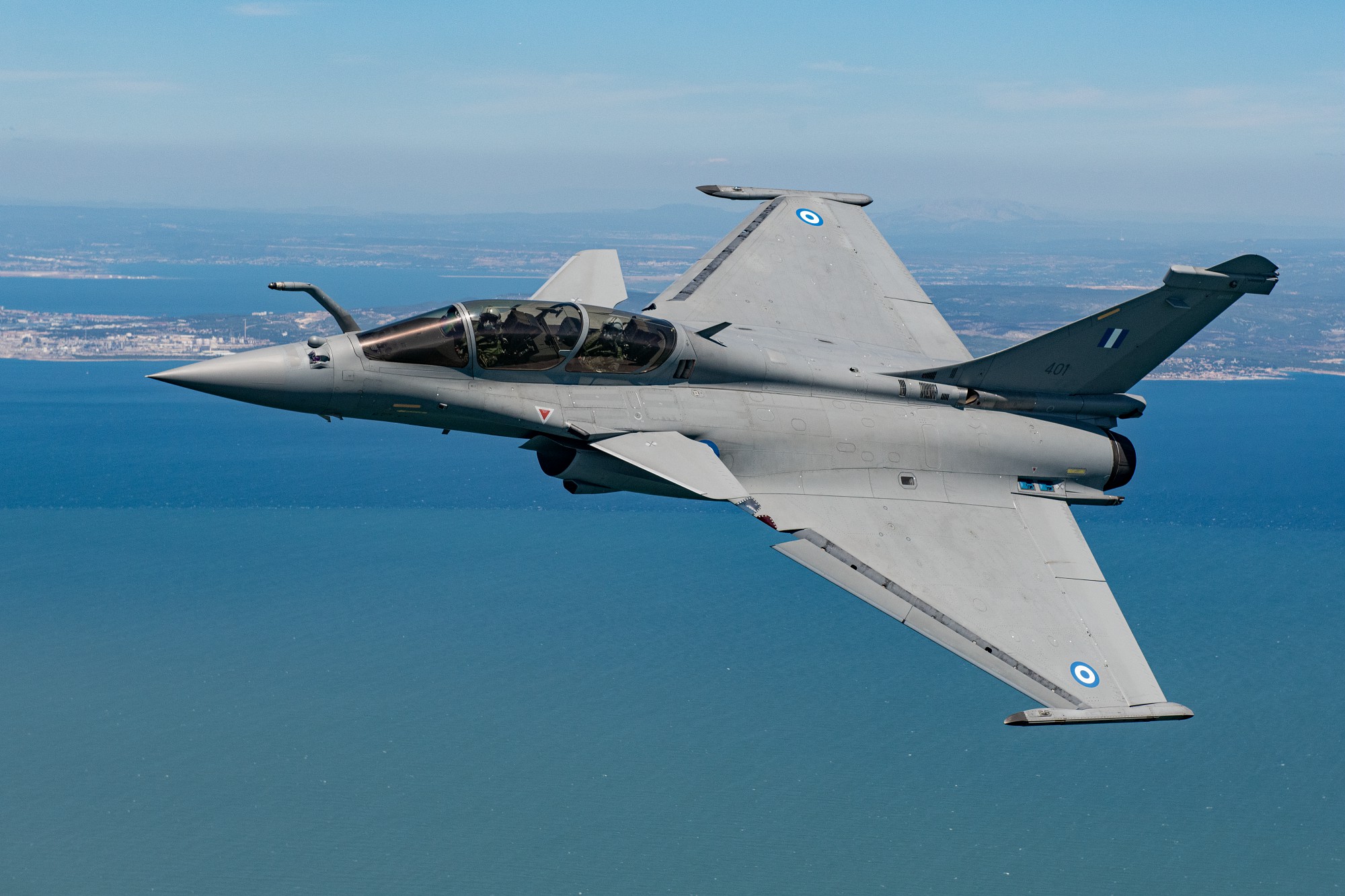 Major Hellenic Defence Acquisition Programmes
Sidney E. Dean
Following a decade of lean budgets, the Greek government has embarked on an ambitious procurement programme to modernise and maintain the combat power of the armed forces.
The Greek financial crisis of 2009-2018 restricted government spending across the board, including defence. This forced a number of acquisition and maintenance programmes to be suspended for a decade. Following fiscal stabilisation, Athens devised a plan to catch up as well as possible. Greek Prime Minister Kyriakos Mitsotakis announced a major acquisition initiative on 9 September 2020.
In late 2022 Finance Minister Christos Staikouros cited a defence procurement budget increase from EUR 515 M in 2020, to EUR 2.5 Bn in 2021, and EUR 3.4 Bn in 2022. Overall, Staikouros forecast that actual deliveries to the armed forces would total EUR 11.5 Bn during the 2022-2028 timeframe.
The procurement surge benefits all three branches of the armed forces, namely the Hellenic Army (HA), Hellenic Air Force (HAF), and Hellenic Navy (HN). Major acquisitions programmes are managed through centralised agencies of the Ministry of National Defence. The General Directorate for Defence Investments and Armaments (GDDIA) is responsible for the planning and implementation of decisions regarding major defence procurements and programmes.
Hellenic Army
The Hellenic Army is systematically upgrading its armoured combat vehicles fleet, primarily with German and American equipment.
The first 44 of 1,200 planned M1117 Guardian Armoured Safety Vehicles were delivered to the HA in February 2022 under a US Foreign Military Sales (FMS) agreement. The M1117 is being phased out by the US Army since 2019 and are classified as Excess Defense Articles (EDA). The MRAP vehicles have primarily been deployed with US Army military police units in conflict zones. The Greek Army plans to use them for reconnaissance and surveillance operations. In mid-2022 the Greek defence minister also confirmed the country's desire to obtain AAV-7 amphibious assault vehicles being phased out by the US Marine Corps. In March 2023 the US State Department approved the transfer of 76 AAVs. The deal would be valued at USD 268 M.
In February 2023, Athens announced plans to purchase 205 KF41 Lynx infantry fighting vehicles (IFV) from Rheinmetall. Additionally, 103 of the HA's Leopard 2A4 main battle tanks (MBT) will be upgraded to the Leopard 2A7 standard by Krauss-Maffei-Wegmann (KMW); another 20 newly-built Leopard 2A7s will also be acquired. The German firms will collaborate with Macedonia-based EODH on the projects, which have a combined worth of EUR 3.5 Bn. Rheinmetall will also supply Greece with 200 Marder 1A3 IFVs which were retired from the German Army; this is in addition to 40 Marder IFVs already delivered in 2022.
The HA is also procuring Spike NLOS (Non-Line-Of-Sight) anti-tank guided missiles (ATGMs) for the AH-64A and AH-64D attack helicopters; the long-range ATGMs could potentially also be placed on ground launch platforms on Greek islands in the Aegean to interdict hostile maritime and amphibious operations. The Army's purchase is valued at EUR 280 M. In addition, the HA is upgrading the outdated electro-optical systems of 19 of Greece's AH-64A attack helicopters to improve operational performance.
Hellenic Air Force
Major ongoing acquisition programmes encompass new and upgraded combat aircraft and high-performance unmanned aerial vehicles (UAVs).
Under a contract initially signed in January 2021 and expanded in March 2022, the HAF is fielding a total of 24 Rafale fighter jets to replace older Mirage 2000s purchased in 1985. The package includes six two-seater Rafale B and 18 single-seater Rafale C variants. The procurement is valued at nearly USD 3 Bn. Half of the Rafales are newly-built and delivered directly by Dassault Aviation. As a cost-reduction measure, the remaining dozen are being taken over from the French Air Force; the latter units represent the F3-O4T variant, and were delivered to the French military between 2012 and 2018. The first six aircraft arrived in Greece in January 2022, with the full complement to be available by summer 2024. The French-made armament package for the Rafale will include the Meteor beyond-visual-range air-to-air missile, the SCALP cruise missile, the MICA multi-mission air-to-air missile, and the AM39 Exocet anti-ship missile.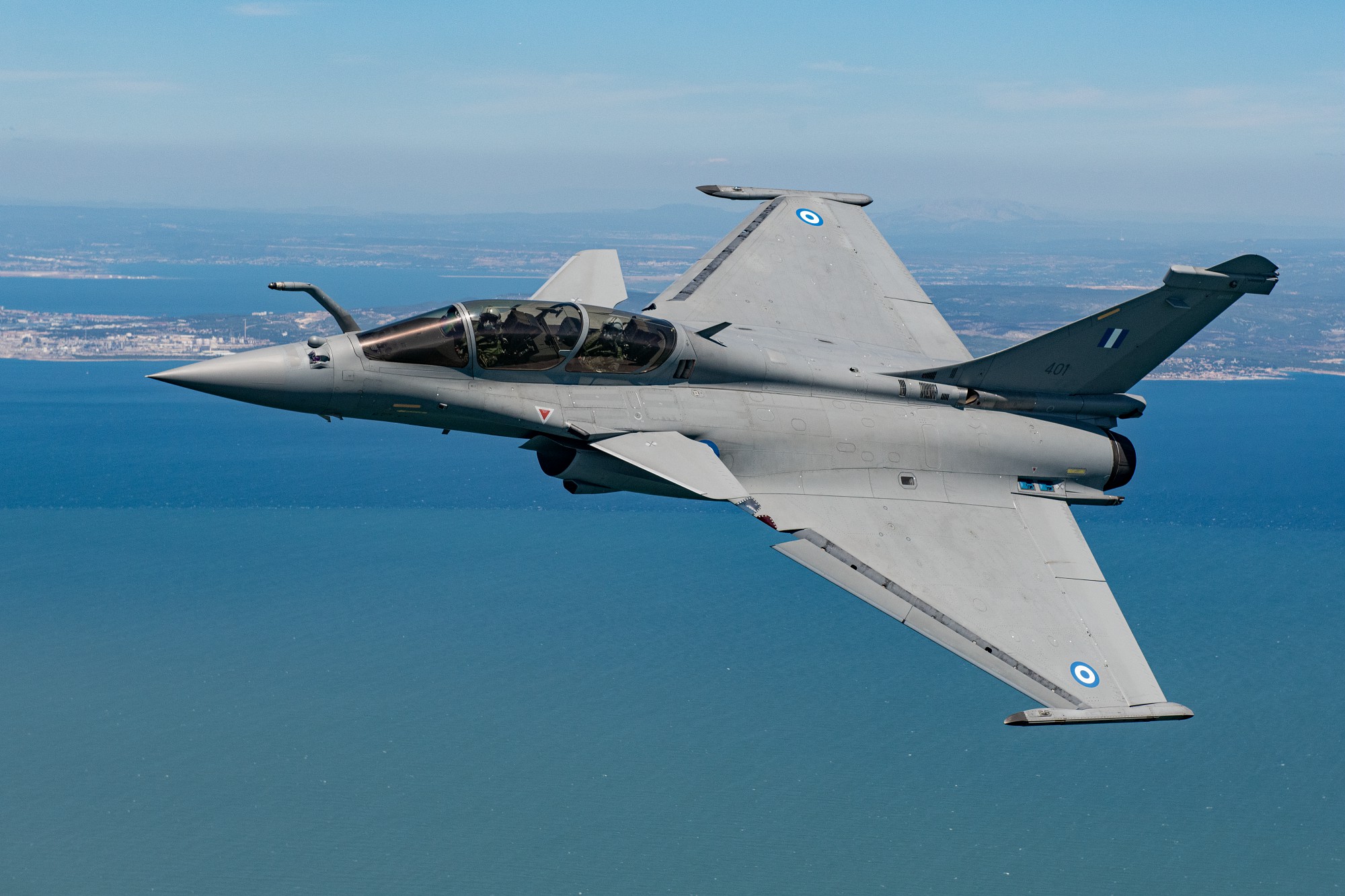 Ten of the HAFs remaining Mirage 2000s will be upgraded to the 2000-5 standard. This will provide the HAF with a total of 35 Mirage 2000-5, following earlier partial upgrades and imports. The HAF is also having 83 of its current F-16 fleet upgraded to the F-16V (Block 70/72) configuration. The F-16V programme is valued at USD 1.5 Bn. Both upgrade contracts are being fulfilled in Greece by Hellenic Aerospace Industry (HAI). The first two F-16Vs were returned to the HAF in September 2022, and the full conversion programme is slated to be completed in 2027. Athens has confirmed its continued interest in acquiring the F-35. However, any such procurement has been postponed until at least 2028 in order to finance other programmes.
The Greek Air Force currently operates leased Heron Medium-Altitude, Long-Endurance (MALE) UAVs, which are primarily tasked with maritime surveillance. Athens aspires to field domestically-produced, high-performance UAVs. Hellenic Aerospace Industries presented the model of the Archytas UAV at the September 2022 International Exhibition of Thessaloniki. Designed in collaboration with three Greek universities, the fixed-wing, vertical take-off and landing UAV is designed for reconnaissance and observation. According to HAI, it has an endurance of 4 hours and a maximum range of 300 km. The firm expects to build the first pre-production version of Archytas in 2023 and complete its maiden flight in 2024. A more advanced, combat-mission-capable UAV named Grypas is planned. HAI hopes to present the armed forces with a scaled aircraft by 2025.
Hellenic Navy
The Hellenic Navy is undergoing its largest modernisation phase in over 20 years. Major naval procurement encompasses new frigates, corvettes, refurbishment of existing MEKO frigates, new support helicopters, and weapon systems.
Following an intense competition by various foreign manufacturers, in September 2021, Athens opted to acquire three Belharra class multi-mission frigates, with an option for a fourth vessel. The class is also known as the FDI (Frégate de Défense et d'Intervention; ENG: Defence and Intervention Frigate). The Greek government signed the formal order contract, valued at EUR 2.26 Bn, with France's Naval Group in March 2022. The ships will be equipped with the Thales Sea Fire digital multi-function radar and the Sentinel digital electronic warfare system. The frigates will be armed with French weapon systems. These include the Aster 30 B1 area defence system, the MM40 Exocet Block 3C anti-ship missile, the MU90 anti-submarine warfare (ASW) lightweight torpedo, and the CANTO torpedo countermeasures system. Construction of the first two vessels is underway. Naval Group plans to deliver these in 2025, followed by the third vessel in 2026. A fourth ship could be delivered in 2027 if the option is exercised.
A parallel procurement competition for a new class of corvettes is ongoing. Defence Minister Panagiotopoulos stated in late February 2023 that a decision was "imminent." He praised both competing industry teams' proposals as meeting the Greek Navy's needs. These proposals, which were formally submitted for review in December 2022, are Naval Group's GoWind and Fincantieri's FCX30 design. For the competition, Naval Group is partnering with Hellenic Shipyards, while Fincantieri is aligned with Greece's ONEX Shipyards & Technologies Group. The corvette contract is valued at EUR 1.5 Bn. Athens is again looking to order three vessels while retaining an option for a fourth. Completion of the first ship is expected three years after contract award.Additionally, the four Hydra class (MEKO 200HN) frigates serving with the fleet since the 1990s will be upgraded, enhancing combat capability and extending service life. Following prolonged discussions, the Defence Ministry announced in April 2022 that EUR 500 M would be allocated to the overdue mid-life upgrade. Several foreign firms are partnering with local entities in bidding for the contract.
In addition to ships, the HN is introducing Harpoon anti-ship missiles (ASM). The Greek parliament approved the purchase of 50 missiles in July 2022, immediately after the sale was approved by the US State Department. The majority of the ASMs will be deployed on Air Force F-16s, with a small number reserved for the HN's five P-3 Orion maritime patrol aircraft which are currently being upgraded by Lockheed Martin.
Rafael's Typhoon MLS-ER missile launch system and Spike NLOS long-range missiles valued at EUR 55 M are being procured for service on Machitis class patrol boats and on the Mk V special operations craft (SOC). The Spike-armed Typhoon system will permit fast, precise engagement of sea and shore targets at ranges up to 10 km. The HN's four Mk V SOC units are themselves new, being donated by the US Special Operations Command in 2021-2022. A fifth SOC joined the fleet in 2022. The Agenor, built by the Phi-Mechaniseas shipbuilding consortium, is Greece's first domestically-designed SOC. Armed with a Shark remote weapon station, the multi-mission boat achieves sprint speeds of 52 knots (96.3 km/h).
Finally, four MH-60R Seahawk helicopters were ordered in 2020 for delivery by 2025; these will serve as anti-submarine assets aboard the new frigates.
Looking Forward
While the majority of acquisitions are still foreign-sourced, Athens is placing great emphasis on strengthening its domestic defence industry and increasing autonomy. Greek partners are being included in all major import programmes. More importantly, as the UAV programmes demonstrate, the ambition is to undertake increasingly sophisticated research, development and construction at home. Already Naval Group has formed a Greek subsidiary (Naval Group Hellas) and is guaranteeing Greek industry a minimum of 30% of all work should the FN choose the GoWind as its new corvette. Future major acquisition programmes are likely to see more assertive domestic industry positions.
Sidney E. Dean