Armed forces rely on Casualty Evacuation (CASEVAC) and Medical Evacuation (MEDEVAC) aircraft to transport wounded (combat), injured (non-combat), and ill personnel. While the borders between both types of mission can be fluid (and the terms are sometimes used interchangeably, even by armed forces), there are some general factors defining each.
CASEVAC is normally an emergency flight, transporting the patient directly from the field to the nearest medical/trauma facility, be it a field clinic or a regional hospital. CASEVAC patients are transported after only basic battlefield care by fellow combat personnel or a combat medic, in hopes of delivering the soldier to a medical facility within one hour of injury (the "golden hour" during which wounded soldiers have the highest chances of survival. While any qualifying aircraft can be used, dedicated CASEVAC aircraft are usually rotary aircraft capable of landing in unprepared terrain. Some helicopters are specifically equipped for the CASEVAC mission. However, since evacuation is time critical, CASEVAC missions are frequently conducted by the nearest general-mission aircraft, with only ad-hoc configuration to accommodate litter patients and (perhaps) a medical attendant. Many military forces not maintain specialised CASEVAC aircraft.
By contrast, MEDEVAC flights normally transport patients in stable condition after they have received care in a medical facility. While CASEVAC flights tend to cover comparatively short distances, MEDEVAC flights tend to cover medium-range to long-distance flights. They can transport patients from field hospitals to regional medical centres, or repatriate them from overseas to major hospitals in their country of origin. While rotary aircraft can conduct shorter range missions within a theatre of operation, longer range MEDEVAC flights must be conducted by fixed wing aircraft. Since MEDEVAC flights are normally pre-planned, there is time to await the availability of aircraft specifically configured for such missions.
This includes dedicated MEDEVAC aircraft as well as general-purpose transports which can be configured with a medical evacuation module. Aircraft dedicated to the medical evacuation missions are marked with the Red Cross symbol as international law prohibits firing at these aircraft. These aircraft are generally designated as MEDEVAC, even when employed in the CASEVAC role.
North America
UH/MH-60
The United States Army is a prime example, utilising both general purpose and dedicated helicopters for CASEVAC missions. The multi-mission Sikorsky UH-60 utility helicopter performs medical missions on demand, while the HH-60M – a variant of the UH-60M introduced in 2007 – is optimised for this role and bears the Red Cross symbol.
The HH60M variant includes a specialised MEDEVAC Medical Equipment Package, consisting of a broad set of optional medical equipment collectively referred to as "Patient Movement Items" (PMI), as well as special configuration of the aircraft itself. The Army lists over 75 pieces of gear under the PMI label. This equipment runs from standard litters and pain-management items to various patient monitoring devices such as a portable EKG. The helicopter does not carry every item at once; the exact loadout is determined according to mission parameters. The aircraft modifications to support the CASEVAC/MEDEVAC role include an externally mounted rescue hoist for retrieving litter patients without landing; the Interim MEDEVAC Patient Support System (MEDEVAC-specific seat pallets, seats, litter supports; a MEDEVAC Mission Sensor, Forward Looking Infra-Red, designed to help pilots and crew locate patients in limited visibility scenarios; and the BLACKHAWK Advanced MEDEVAC (BAM) sliding window designed to improve loadmaster and medical crew visibility.
Additionally, the Medical Hands-free Ultra-wideband Broadcast (MEDHUB) system, currently in development, is expected expected to enter service in 2020. It consists of networked vital signs monitors worn be patients, and data storage/communications devices, such as tablets or smart phones, operated by the medical crew. The patient data gathered in flight is automatically relayed to the receiving hospital. MEDHUB will serve a double purpose: freeing the on-board medic from recordkeeping and reporting so that (s)he can concentrate on patient care; and ensuring that the receiving facility is optimally prepared for the incoming patients.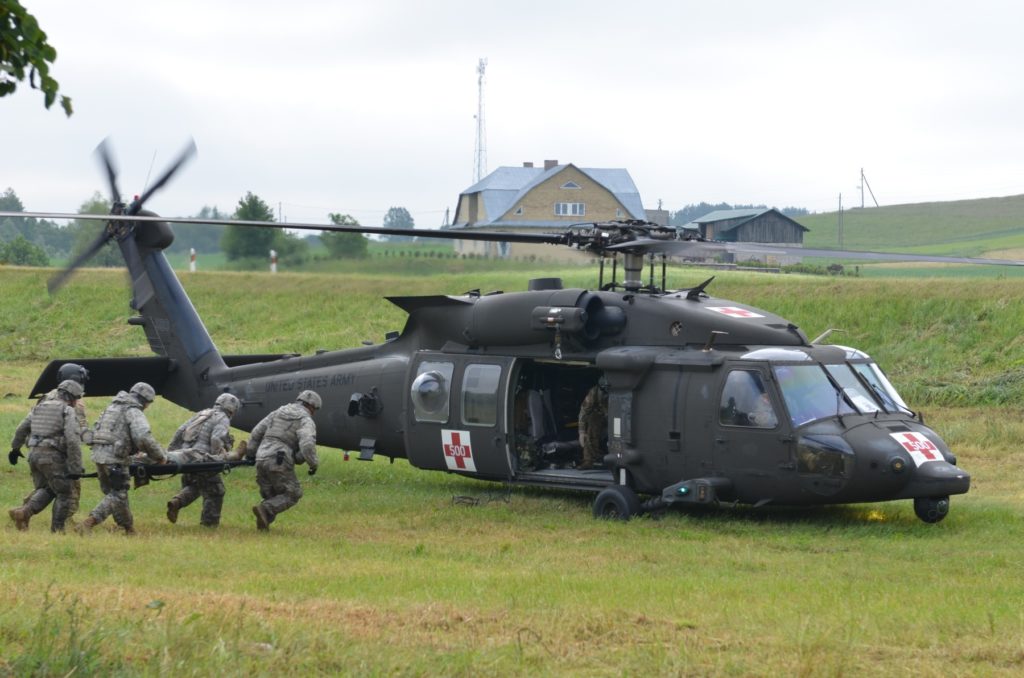 The HH-60M can carry up to six litter patients plus an attending medic over a maximum range of 510 kilometres at a cruising speed of 150 kn. Alternatively, the HH-60M can carry stabilised, ambulatory patients in seats. The medical module includes an integrated oxygen-generating system, an ECG machine, medical suction equipment, and patient monitors. Plastic sealed bubble windows, an infrared system and an environmental control system also ensures a sterile environment. An external rescue hoist (patient litter lift) facilitates CASEVAC when the terrain or operating environment preclude landing. The HH-60M achieves a cruising speed of 150 kn. The unrefueled radius of 275 nautical miles can be extended through use of an external fuel tank. The vertical rate of climb (at 7.600 kg weight) is 478 metres per minute, enabling a rapid departure from a battlefield landing zone.
FLRAA
The US Army and US Marine Corps (USMC) are setting high expectations in the Future Long Range Assault Aircraft FLRAA, whichis expected to enter service in around 2030. The FLRAA will replace the Army's current UH-60 utility helicopter and the USMC's UH-1Y. The FLRAA programme calls for a threshold cruising speed of 250 kn and an objective speed of 295 kn. The unrefuelled combat radius threshold is 200 nautical miles for the Army and 365 miles for the USMC, with objective range of 300 and 450 miles, respectively. Like its predecessors, the multimission FLRAA will perform CASEVAC among other duties. The improved performance parameters could cut CASEVAC response time in half or double the range for evacuating wounded soldiers within the "golden hour." Contenders for the FLRAA contract are the Bell V-280 VALOR tiltrotor and the tandem-rotor Sikorsky SB-1 DEFIANT. A Critical Design Review is scheduled for 2024.
HC/MC-130J
Where available, US Air Force (USAF) and USMC HERCULES transports and tankers can be called upon for ad-hoc CASEVAC. Although not as versatile as helicopters, the Lockheed Martin C-130 can land in unprepared terrain, and has a notably greater range (1,600-2,100 nautical miles) and speed (360 kn) than helicopters. Depending on the terrain, altitude and payload, the take-off roll can be as short as 953 metres.
The HERCULES aircraft can also be equipped with MEDEVAC modules for planned evacuation of wounded, injured or ill personnel. The latest model to enter service (1999) is the C-130J SUPER HERCULES, which comes in two variants, with either a standard hull or with a stretched hull (C-130J-30). The standard C-130J can carry up to 72 litter patients; the C-130J-30 fits 97 litters. When equipped for MEDEVAC missions the aircraft's standard crew is augmented by five medical personnel (two flight nurses and three technicians). MEDEVAC missions can be conducted in-theatre or out-of-theatre.
C-17
The air-refuellable Boeing C-17 GLOBEMASTER has global reach, and is the aircraft of choice for long-range MEDEVAC missions. These wide-body strategic airlifters can be configured as flying intensive care units. It can simultaneously accommodate 54 ambulatory and 36 litter patients in addition to necessary medical equipment. Patients are accompanied by specialised critical care teams. In 2011, at the height of the ongoing conflicts, USAF C-17s were flying eight MEDEVAC missions weekly to transport stabilised US and allied/partner patients from the central regional hospital at Bagram Air Base in Iraq to the US Army Medical Centre at Landstuhl, Germany. From there some were airlifted further, to the US or other home countries.
Europe
H145
Several European-made helicopters are deployed for CASEVAC/MEDEVAC missions, most often through the reconfiguration of multi-mission aircrafts. This includes the militarised version of the Airbus EUROCOPTER EC145 Light Utility Helicopter (LUH). This aircraft is also operated by the US Army, where it was introduced in 2007 under the designation UH-72 LAKOTA LUH. The majority of the LAKOTAs are permanently configured for medical transport and are officially designated as MEDEVAC aircraft bearing the Red Cross symbol. The aircraft can accommodate two NATO standard litters in addition to one medical escort. The helicopter has a sprint speed of 145 kn and a cruising speed of 133 kn (268 kph), with a mission range of 370 nautical miles or 685 kilometres.
As the US Army considers the aircraft too light for combat theatre, the LAKOTA is deployed within US territory as well as under benign conditions overseas. Other users are less restrictive. The German armed forces, for example, use the special operations variant of the EC145 (under the designation H145M LUH). The mission profile includes combat search and rescue and CASEVAC flights. The SOF variant is suitable for covert CASEVAC in contested regions because of its reduced-visibility grey paint job and its acoustic-dampening shrouded tail rotor. The 11-meter diameter main rotor and 13 metre overall length makes the LUH suitable for urban CASEVAC as well.
A169
The Leonardo/Agusta Westland Next Generation Multirole helicopter, designated the AW169M, is another light-to-medium aircraft, which includes CASEVAC and MEDEVAC among its mission portfolio. The militarised version of the AW169 introduced in 2015, it features advanced avionics and a state-of-the-art digital cockpit which provides enhanced situational awareness as well as improved workload management under high-stress conditions. The AW169M achieves a cruising speed of 145 kn and a range of 440 nautical miles (820 kilometres). The 10-person cabin – the largest in its size class – can be converted to accommodate two litters plus attendant personnel. The external hoist and 1.6 metre-wide cabin doors facilitate loading the wounded, either on the ground or while hovering. The five-bladed rotor provides enhanced hover performance under adverse conditions including "hot and high" operational environments.
NH90
While the A169 is a new development still being evaluated by European armed forces, the Airbus NH90 introduced in 2007 is currently in service in 14 nations worldwide. Considerably heavier than Leonardo's new aircraft, the NH90 Tactical Transport Helicopter (TTH) variant features a capacity of 12 litters when deployed in the CASEVAC/MEDEVAC role. Performance parameters include a top speed of 160 kn or 300 kph, an operational range of 800 kilometres and a rate-of-climb of eight metres per second. Germany, in particular, has favoured the deployment of the NH90 in the forward air medical evacuation (FAME) role, including in Afghanistan and Mali.
Eurocopter first presented the FAME conversion kit at the 2010 international aviation exhibit (ILA) in Berlin in response to a German MoD initiative for protected evacuation of wounded personnel under combat conditions, from all terrains and under all environmental conditions. The kit can be installed within 30 minutes. Elements include two intensive care stations equipped with defibrillators, respiratory ventilators, diagnostic equipment such as ultrasound systems, heart monitors and blood-gas spectrometers. Additional ambulatory patients can be transported at the same time. Patients are attended in flight by a physician and one or two medical technicians. Normal operating procedures call for one CASEVAC helicopter to be escorted by another, combat-ready NH-90.
C295
The bridge between CASEVAC helicopters and longer-range MEDEVAC aircraft are light-to-medium tactical aircrafts such as the Airbus/CASA C295M military transport. The newest variant is the C295W introduced in 2013. Compared to previous C295 versions, it comes with a more powerful PW127 turboprop engines and with winglets, which improve lift and manoeuvrability, especially in "high and hot" terrain. The state-of-the-art avionics suite permits all-weather, day and night operations even in extreme environments. Operational range is 2,000 nautical miles. The self-defence suite for hostile operating zones includes radar-, missile- and laser warning systems as well as flare and chaff dispensers. In the CASEVAC/MEDEVAC configuration the C295 can carry up to 24 litter patients plus seven medical attendants. An intensive care module with life support equipment can also be installed.
A400M
The Airbus A400M multirole transport aircraft can deploy for tactical and strategic airlift. The maximum range is 4.800 nautical miles (8.900 kilometres); the four turboprop engines provide a top speed of Mach 0.72. The large cargo hold can easily be configured for MEDEVAC missions. Eight stretchers are permanently stored onboard, enabling the plane to conduct ad hoc evacuation missions that might arise during its regular transport flights. However, the hold can accommodate up to 66 standard NATO stretchers arranged in triple-bunk formation on both sides of the plane. This leaves seating for 25 attending medical personnel on pre-planned MEDEVAC missions.
Since 2018, the Airbus A400M can also deploy in in Intensive Care Aeromedical Evacuation (ICEA) configurations. The key is the ICEA module, which can be installed aboard the standard A400M transport aircraft. The German MoD has procured four ICEA modules. Each module can accommodate six patients, including two seriously wounded persons requiring intensive care, two patients requiring intermediate care, and two with lower-priority injuries. Depending on the number of patients and the severity of injuries, each intensive care airlifter is accompanied by a six- to 11-person medical team. The aircraft are ready to deploy on 12 hours notice. The air-refuellable A400M has a global reach, and can operate from unprepared grass or dirt landing fields without ground support. In most cases, the plane requires no more than 1,000 meters for take-off and landing. These characteristics make it suitable for direct CASEVAC missions in remote areas.
A310
The wide-body A310 transport jet based on the civilian Airbus A310 can also be equipped with an intensive care module with a capacity for six patients. Litters are placed directly onto each patient bay to avoid additional trauma when transferring the wounded. Medical equipment integrated into to each patient bay is fed from the aircraft's electric grid, but each station also has a four-hour emergency battery as backup as well. A total of 38 standard litters can be transported in addition to the intensive care module. 16 of these 38 litters can be provided with intermediate-care-level monitors. Up to 25 medical personnel escort the patients.
Configuring the A310 for MEDEVAC missions requires considerable restructuring of the passenger bay, including removal of internal dividers, overhead bulkheads, and seating. The work takes approximately one week, and is commonly performed on aircraft designated for prolonged standby MEDEVAC duties. Planes can be ready for take-off within three hours of receiving a mission order. The A310 has an 11.000 kilometre operational range and a cruising speed of 464 kn
or 860 kph.
A330 MRT
Many tanker aircraft perform double duty as transporters, and include a MEDEVAC capacity. This is true of the Airbus A330MRTT (Multi-Role Tanker Transport). In the "light MEDEVAC" role, up to 130 standard litters can be rapidly installed over folded down seating. This permits the plane to carry personnel into a theatre of operation, then immediately take on wounded to be evacuated to their home country or another safe nation. Alternatively, the plane the plane can be pre-configured in advance for the "Intensive MEDEVAC" mission. This involves the installation of a six-patient intensive care module as well as carriage for an additional 28 stretchers and up to 20 medical staff. A third configuration option calls for 40 litters, 20 medical attendants, and 100 ambulatory or healthy passengers, but no intensive care unit. The MEDEVAC mission does not impair the plane's ability to perform the primary tanker mission.
Unmanned CASEVAC
Over the past decade, there has there has been increasing interest in the potential of unmanned aerial systems (UAS) for the CASEVAC role. Benefits would be: no risk for human flight crews; some (but not all) UAS would be smaller than manned aircraft, making them less detectable and permitting landing in a smaller space; potentially faster response times as dispersed field units could keep their own smaller CASEVAC UAS on call.
United States
In 2015, Lockheed Kaman Aerospace and Neya Systems jointly tested a collaborative CASEVAC using an unmanned ground vehicle to locate the wounded target, who was successfully evacuated by an unmanned K-MAX heavy-lift helicopter. The K-MAX was previously tested for battlefield logistic support from 2011-2014 in Afghanistan by the US Marine Corps.
The US Army's Telemedicine and Advanced Technology Research Center's (TATRC) is systematically pursuing research into unmanned aerial and ground systems to perform CASEVAC, MEDEVAC and medical logistics missions. TATRC repeated the CASEVAC experiment with Kaman in 2016; the interaction between the ground and aerial platforms was controlled through the Vertical Take-off and Landing (VTOL) Evacuation and Resupply Tactical Interface, or VERTI. TATRC has also evaluated the DP-14 HAWK for CASEVAC suitability. Developed by DPI UAV Systems in Pennsylvania, the HAWK resembles a miniature CH-47 CHINOOK. The twin-rotor UAS can be transported in a van or other utility vehicle, and reaches a top speed of 105 kn and a cruise speed of 70 kn. The 180×50 centimetre cargo bay can fit one person lying prone. The service ceiling is 4,600 metres. The aircraft can hot start within five minutes or cold start – including flight plan input – within 15 minutes.
Israel
Perhaps better known is the CORMORANT VTOL UAS (initially introduced under the designation AIRMULE) developed by Israel's Tactical Robotics. The first full-scale untethered autonomous flight was conducted in 2016. In May 2018, CORMORANT performed a mission representative CASEVAC demonstration for the Israeli military. The aircraft navigates via on board laser and radar altimeters, inertial sensors, and electro-optical sensors. The CORMORANT uses ducted fans rather than conventional rotors for lift. This enables a much smaller footprint than even a small helicopter. Including the ducted fans the aircraft measures 6.2×2.15 metres, making the UAS suitable for urban and wooded settings. In its CASEVAC role, the the CORMORANT can carry two wounded internally. The CORMORANT is the first UAS certified by NATO for both cargo and CASEVAC missions. Tactical Robotics has been working closely with the Israeli Defense Forces (IDF) for nine years to refine the design and capabilities. If acquired by the IDF, the CORMORANT will be the first serial UAS to deploy (among other functions) in its CASEVAC role. It will certainly not be the last.
Sidney E. Dean is President of Transatlantic Euro-American Multimedia LLC. and a regular contributor to ESD.