Collins Aerospace: Technologies for the New EUROFIGHTER and FCAS
Interview with Mike Mohren, Account Director EuMEA and Avionics at Collins Aerospace
Modernisation of the Eurofighter and the FCAS relies on other industries and companies apart from the main actors (Dassault, Airbus DS, BAE Systems or Leonardo). This is the case of Collins Aerospace in Germany where it has been operating for more than 50 years.
Avionics for fighters is one of its key capabilities. "Collins also provides integrated navigation and communication systems for a wide range of military applications", said Mike Mohren, Account Director EuMEA and Avionics at Collins Aerospace in an interview with ESD. They are involved in new technologies to provide the Long-Term Evolution (LTE) of the EUROFIGHTER. "We are a core supplier for EUROFIGHTER mission computers and we have a product line that uses a common core concept to cover a wide range of platforms and applications, from low cost up to high reliability", Mohren said. One of those technological examples Collins introduces in the new EUROFIGHTER is the MFD-4820 Large Area Display that can be used with bare hands, gloved fingers or a stylus. The System Prototyping Integration Demonstration Rig (SPIDR) with two MFD-4820 displays and three AFD-3200 or the Helmet Mounted Display System (HMDS) are other possibilities. "The HMDS provides pilots with intuitive access to vast quantities of flight, tactical, and sensor information for advanced situational awareness, precision and safety. It also enables the pilot to target weapons by looking at and designating targets, and target verification when receiving steering cues from on board sensors or via datalink".
For the SAAB GRIPEN aircraft, Collins in Heidelberg has been selected for the Next Generation upgrade programme, delivering three 6-by-8 inch smart head-down displays as well as a smart digital head-up display. Airbus Helicopters awarded Collins in Germany a contract to develop the German Avionics Management System (GAMS) for the life extension upgrade of the German Forces' CH-53 helicopter fleet.
ESD: What are you already providing?
Mohren: Collins Aerospace already provides various products and services from across our different business units to the Eurofighter. Some examples are Mission Computers, MIDS-LVT, Lighting Systems, On-board Oxygen Generating System, various kinds of different sensors and more. Not to forget our local service support centres to keep the products in healthy condition and to guarantee short turnaround time if something breaks or needs overhaul. We also provide Performance-Based Logistics (PBL) services to our EUROFIGHTER customers.
ESD: How do you envision the future and modernisation of the EUROFIGHTER regarding your services?
Mohren: Considering that the EUROFIGHTER has been operational for some time now and and is planned to remain in operation until the 2060s, we are currently in obsolescence removal discussions with the EUROFIGHTER operators. But we also envision the EUROFIGHTER LTE (Long Term Evolution) mid-life update programme which is under discussion between the EUROFIGHTER core nations, Germany, the UK, Spain and Italy. We see a lot of potential to modernise the cockpit, for example, with a large area display or state-of-the-art helmet system. To elevate the EUROFIGHTER to the next level and to stay competitive with its peers on the international market over the next decades we believe there will be a need for – but not limited to – a more robust and faster internal data management provided, for example, via a full digital backbone and more powerful computer processing. Whatever eventually will be decided concerning the EUROFIGHTER LTE programme, Collins Aerospace is well prepared to support our partners and the operators to make it a success in utilising our local capabilities.
ESD: How is Collins Aerospace getting prepared for the FCAS project?
Mohren: Collins Aerospace is closely monitoring the advancements of current 6th generation programmes as well as the 5th generation programmes. Part of this process is to collaborate closely with real life and experienced flight operators to feed their operational experience into our developments. We believe computing power and the respective digital backbone will be key for any future 5th and 6th generation programmes due to the increased processing demand. The key technology here is to provide assured multi core processing to the OEM which will also be flight certifiable – not to mention hardened against cyber threats. Collins Aerospace is already investing in technologies which enable pilots to reduce their operator workload such as higher autonomy to be ready for Manned-Unmanned Teaming (M-UMT)missions along with Remote Carriers, aka LOYAL WINGMEN. Based on our proven and unprecedented Collins Aerospace 5th Gen HMDS we are looking into advanced flight deck technologies to dramatically increase the situational awareness for the operator alongside reduced workload. One very recent example of this is our investment in our latest large area display, the MFD-4820. As it is very likely that those future 5th and 6th generation assets will be very costly and limited in availability, reliable pilot health monitoring systems will become more important.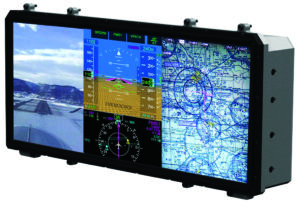 ESD: What is next in military field of the aerospace?
Mohren: Upcoming airborne assets, manned or unmanned, will become more and more complex and must be prepared to operate in high dynamic A2/AD operations against technologically advanced adversaries. We at Collins Aerospace believe that more flight and mission execution automation as well as AI (Artificial Intelligence) to support the operator will be an important part of any 6th generation fighter programme. For this reason, Collins Aerospace is investing not only its own, but also third party funding in those areas. Collins Aerospace is one of a few major aerospace companies that is touching all current western 6th generation fighter programmes which have similarities in their operational requirements. This puts Collins Aerospace in a position where we are able to focus our efforts and strength to develop technologies applicable to those programmes.
ESD: What are the main challenges for the next few years?
Mohren: Today's certification and approval authorities rely pretty much on deterministic principles. However, self learning software or AI are not deterministic, which will lead to an enormous challenge to certification, verification and validation processes. We believe today's approval regulations are not fit for 6th generation demands and need to be reconsidered to become more adaptive to new technologies.
ESD: Thank you.
The interview was conducted by Esteban Villarejo.