While most members of NATO have standardised on 120mm smooth bore tank guns and their suites of ammunition for their Main Battle Tanks (MBTs), there has been a complete lack of standardisation of medium calibre weapons for their infantry fighting vehicles (IFV) with currently deployed vehicles in Europe being armed with 20mm, 25mm, 30mm, 35mm and 40mm calibre cannon.
The clear trend in Europe is to mount larger calibre fully stabilised weapons in one or two person turrets, remote controlled turrets (RCT) or remote controlled weapon stations (RCWS), coupled to a computerised fire control system (FCS) with stabilised day/thermal sights incorporating a laser rangefinder for the commander and gunner. This enables the platform to rapidly engage targets, including threat IFV and armoured personnel carriers (APC), under almost all environmental conditions, at longer ranges and with increased target effect.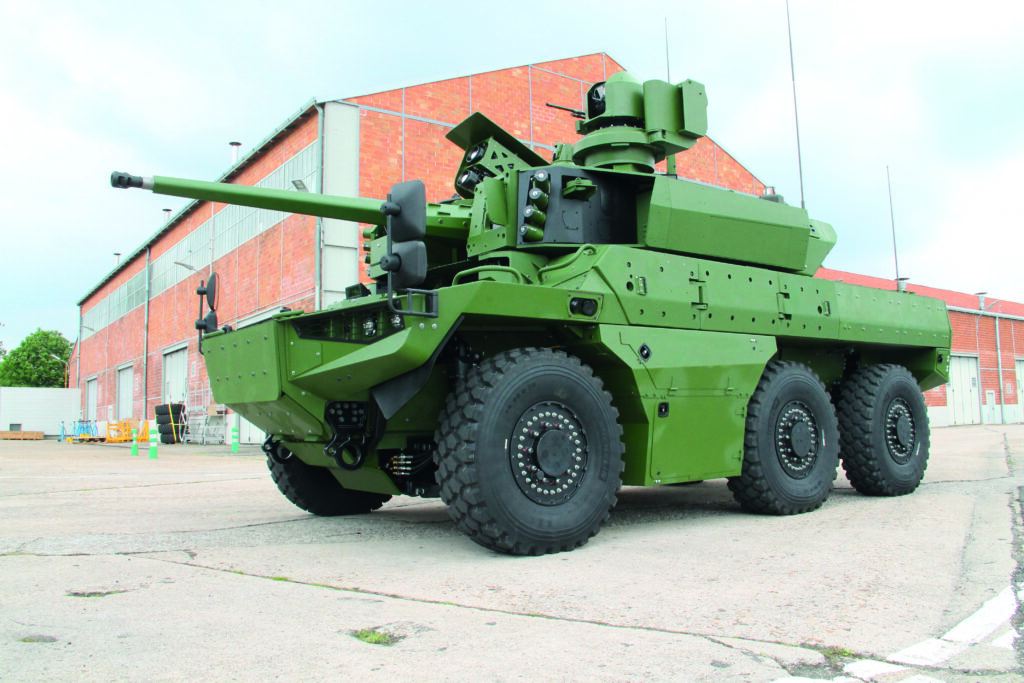 Older types of medium calibre ammunition such as armour piercing (AP) and high-explosive (HE) natures have given way in some countries to armour piercing fin-stabilised discarding sabot (APFSDS) and air-bursting muntion (ABM) rounds. These are more effective than earlier generation rounds but are more expensive and not fired in significant numbers in normal peacetime training. While this article concentrates on European AFV armament, most contractors listen very carefully to their potential export customer's specific operational requirements, which may well differ for the home customer.
WARRIOR
A good example is the WARRIOR IFV deployed by the British Army that is currently fitted with a two person turret armed with an un-stabilised and slow firing 30mm RARDEN cannon and L94A1 7.62mm co-axial mm machine gun (MG). Kuwait deploys the DESERT WARRIOR IFV which has a Delco (today General Dynamics Land Systems) two person turret armed with a now Northrop Grumman (previously ATK Armament) stabilised 25mm M242 dual feed cannon, 7.62mm co-axial MG and a Raytheon TOW anti-tank guided weapon (ATGW) mounted externally either side of the turret enabling targets to be engaged out to a range of 3,750 m.
Currently, the largest medium calibre programme in Europe is the CTAI 40mm Case Telescoped Armament System (CTAS) which has been mandated by the French and British armies for their future armoured fighting vehicles (AFV). CTAI is joint venture company formed between Nexter of France and BAE Systems of the UK with its headquarters and main 40mm weapon production facility in Bourges, France, but with ammunition production in both countries. The 40mm CTAS is also installed in the Nexter T40 armed turret with this being marketed in manned and unmanned configurations and with the option of an ATGW either side.
Nexter VBCI
The French Army has already replaced its tracked AMX-10P IFV armed with a M693 20mm dual feed cannon and 7.62mm co-axial MG with the Nexter Vehicule Blinde de Combat d'Infanteri (VBCI) 8×8 fitted with a one person turret armed with a Nexter M811 25mm dual feed cannon and 7.62mm co-axial MG, operated by the gunner. The commander is seated in the hull on the left side to the rear of the driver and also has the ability to aim and fire the weapons if required as a panoramic sight for the commander is installed on the roof of the turret.
The Nexter 25mm M811 dual feed cannon is also in service with a number of other countries including installed in a one person turret fitted to the FNSS Savunma Sistemleri Turkish Land Forces Command (TLFC) Turkish Infantry Fighting Vehicle (TIFV) with a 7.62 mm co-axial MG. Early TIFV have a turret armed with a now Rheinmetall Air Defence, Oerlikon 25mm cannon and 7.62mm co-axial MG. For the export market, the TIFV is referred to as the Armoured Combat Vehicle – 15 (ACV-15) with the latter figure indicating a typical gross-vehicle weight (GVW) of 15 tonnes. Export customers often prefer different weapons and the Malaysian ACV-15 are fitted with a one person turret armed with a Northrop Grumman stabilised 25mm M242 dual feed cannon and 7.62mm co-axial MG.
MARDER
MARDER 1 IFV entered service with the German Army as far back as 1971 and has been constantly upgraded in a number of areas including night vision equipment and additional armour. All are armed with a Rheinmetall 20mm MK 20 Rh 202 dual feed cannon and 7.62mm co-axial MG with provision for a pintle mounted MILAN ATGW mounted externally on the turret which is now being replaced on remaining MARDER 1 by a Eurospike LR ATGW.
PUMA
The PSM PUMA Armoured Infantry Fighting Vehicle (AIFV) is now in service in increasing numbers with the German Army with the first contract for 350 units, including eight driver training vehicles with the second contract for 210 units. PUMA is fitted with a RCT armed with Mauser 30mm MK 30-2 dual feed cannon with a 5.56mm co-axial MG but this will be replaced by a 7.62mm MG. The Mauser 30mm MK 30-2 cannon can fire Rheinmetall 30mm ABM rounds as well as other natures including APFSDS. The PUMA AIFV is being upgraded with a pod of two EUROSPIKE LR ATGW on the left side of the turret to enable targets to be engaged well beyond the range of the 30mm cannon. The original Mauser 30mm MK 30 cannon was not capable of firing 30mm ABM ammunition and this is installed in the General Dynamics European Land Systems (GD-ELS) Santa Barbara Sistemas Pizarro IFV used by the Spanish Army and the GD-ELS – Steyr Ulan IFV deployed by the Austrian Army. The original MK 30-1 fired ammunition with an aluminium case while the MK 30-2 fires ammunition with a steel case. For the international market the vehicle is also called the ASCOD for Austrian Spanish Co-operative Development.
Rheinmetall has also developed the WOTAN 30 and WOTAN 35 electrically operated cannon with the latter firing 35 x 228mm ammunition.
CV90
The Swedish Army BAE Systems Hägglunds CV9040 IFV is fitted with a two-person turret armed with a BAE Systems Bofors 40mm cannon which is a development of their towed 40mm L70 anti-aircraft gun. This is designated the 40mm 40/70Ba and is fed with clips of 40mm ammunition from below with the empty cartridge cases being ejected out of the turret roof. A total of 24 rounds of ready use 40mm ammunition are carried including APFSDS-T, Pre-Fragmented Programmable Proximity (3P), Pre-Fragmented HE, Multi-purpose Tracer and associated training rounds.
None of the export customers have opted for the Bofors 40mm 40/70Ba cannon for their CV90 IFV and all have opted for various types of the now Northrop Grumman, Chain Gun, or BUSHMASTER, family of electrically operated weapons which have been built in larger numbers than any other Western medium cannon in recent years.
The first export customer for the CV 90 was Norway with their CV9030N being armed with the original 30mm BUSHMASTER II dual feed cannon, although these have now been replaced in the upgraded CV9030N by the more recent 30mm MK44 dual feed cannon.
The 30mm MK44 is used by other NATO countries including Poland which has a version of the Leonardo HITFIST armed with this weapon and 7.62mm co-axial MG installed on their locally built Patria Armoured Modular Vehicle (AMV) called the ROSOMAK. The Czech Republic has a fleet of PANDUR II (8×8) with some of these fitted with RAFAEL RCWS armed armed with a 30mm MK44 cannon, 7.62mm MG and SPIKE missiles. A key feature of the MK44 is that it can be rapidly converted to fire 40mm ammunition by changing the barrel assembly, feed sprockets, forward feeder assembly the recoil spring set.
Denmark (CV9035DK) and the Netherlands (CV9035NL) are both armed with the 35/50 mm BUSHMASTER III cannon although at present only has the 35mm ammunition nature.
Estonia has taken delivery of some surplus Netherlands CV9035NL. Finland (CV9030F) and Switzerland (CV9030CH) also have the 30mm MK44 dual feed cannon which in addition to firing conventional natures of ammunition can also fire an ABM round.
The Rheinmetall Air Defence, Oerlikon 25mm KBA cannon is installed in a Leonardo HITFIST two person turret installed on the Italian Army Dardo tracked IFV and their wheeled Freccia (8×8) IFV. It fires 25 x 137mm ammunition and has been ordered by non-NATO countries, with over 5,000 manufactured for all applications.
Russian IFV are Well Armed
A number of countries in Europe, including members of NATO, still operate Russian IFVs including the BMP-1 and BMP-2 IFV. The BMP-1 IFV has a one-person turret armed with a 73mm 2A28 gun and a 7.62mm co-axial MG with a wire guided 9M14 MALYUTKA (US AT-3 and NATO SAGGER) wire-guided ATGW mounted above the 73mm gun, although most users have now removed the ATGW capability. One drawback of the BMP-1 was that the commander was seated in the hull on the left side to the rear of the driver with the one-person turret being operated by the gunner.
The follow-on BMP-2 IFV has a new two person turret armed with a 30mm 2A42 dual feed cannon and a 7.62mm co-axial MG plus a roof mounted ATGW which is typically a 9M113 KONKURS (US AT-5 and NATO SPANDREL).
Prime contractor for the BMP-1/BMP-2 is Kurganmashzavod Joint Stock Company (JSC) which is part of the Machinery and Industrial Group who is now offering a number of upgrades for the BMP-2 including the BMP-2M which has a host of modifications including installation of new stabilised thermal sight for gunner incorporating a laser rangefinder and installation of a 9M120-1 ATACA ATGW externally on either side of the turret.
BMP-1/BMP-2 IFVs were followed by the BMP-3 IFV which is a totally new design and although introduced into service as far back as 1990 is still the most well-armed IFV in the world and is also fully amphibious. The BMP-3 IFV has a two person turret armed with a 100mm 2A70 rifled gun, 30mm 2A72 co-axial dual feed cannon and a 7.62mm co-axial MG and mounted either side of the driver at the front of the hull is a gunner with another 7.62mm MG firing over the frontal arc. In addition to firing conventional natures of ammunition including high-explosive fragmentation (HE-FRAG), the 100mm gun can also fire a 9M117 BASNYA (US AT-10 and NATO STABBER) laser guided projectile (LGP) with the latest model being fitted with a tandem HEAT warhead and having a range of 5,500 m.
All the operator has to do is to keep his sight locked onto the target. The BMP-3 can also be fitted with a remote controlled turret armed with a 57mm cannon which is also being used for an increasing number of applications including air defence/anti-unmanned aerial vehicles. The BMP-3 turret has also been shown on other platforms and has been fitted to the RABDAN (8×8) developed by Al Jasoor/Otokar and now deployed by the United Arab Emirates.
Russia has also built the prototype of the T-15 heavy infantry fighting vehicle (HIFV) which is fitted with a new advanced RCT called the EPOCH ALMATY. This is armed with a 30mm 2A42 dual feed cannon and a 7.62mm co-axial MG and a pod of two KORNET EM laser-guided ATGW mounted either side which are being marketed with different warheads including tandem HEAT and thermobaric. The turret is also installed on the Russian KURGANETS 25 tracked IFV and the BUMERANG (8×8) which is the replacement for the BTR-80 (8×8) and earlier Russian 8×8 IFVs. This RCT features a computerised FCS and stabilised day/thermal sights for commander and gunner which also have an integrated laser rangefinder allowing hunter/killer target engagements to take place. By having a common RCT for at least three platforms offers the Russian Army significant through life savings as well as training advantages, but the high cost of these capable turrets could limit their fielding.
Russia has developed and tested the AU-220M RCT which is armed with a 57mm dual feed cannon and a 7.62mm co-axial MG which has been developed for installation on new built platforms as well as older platforms to enhance their firepower. It has been shown installed on a number of platforms including the recent T-15 HIFV while mock-ups have been shown on other platforms including the South African MBOMBE (8×8) and was offered as a potential weapon for the ENIGMA (8×8) platform first shown in 2015.
Christopher F. Foss has been writing on armoured fighting vehicles and artillery systems since 1970. He has also lectured on these subjects in many countries as well as chairing conferences all over the world. He has also driven over 50 tracked and wheeled AFVs.