Air defence has returned to the centre of the scene since Russia's invasion of Ukraine. This article focuses on ground-based air defence (GBAD) systems, political initiatives in this area, European capabilities and cooperation, and a review of key acquisition programmes.
Since February 2022, with Russia's invasion of Ukraine, Europe has become acutely aware of its shortcomings in air defence and has launched multiple initiatives to replenish stocks after deliveries of various systems to Ukraine. In October 2022, at the NATO defence ministers meeting in Brussels, plans were unveiled to bolster Europe's air defences, as Russian missiles and drones have continued to strike Ukrainian cities. The European Sky Shield initiative (ESSI) aims to set up an anti-missile shield combining types of equipment such as the IRIS-T, the PATRIOT system, and the Arrow 3, designed to destroy ballistic missiles. Seventeen countries participated in the initiative after Denmark and Sweden joined the programme in February 2023. Austria is also considering participating in the ESSI, even if Poland, Spain, France, and Portugal have remained outside the project. For Paris, this initiative is seen as a significant breach of European sovereignty and, from an industrial point of view, an opportunity to relaunch the IRIS-T.
European capabilities
Europe's defence industry has a number of champions in the field of anti-aircraft missiles. First and foremost is MBDA, a joint subsidiary of Airbus (37.5%), BAE Systems (37.5%) and Leonardo (25%), resulting from the merger of Matra BAe Dynamics, Aerospatiale Matra Missiles and Alenia Marconi Systems.
After winning a large contract from France and Italy for missiles of the Aster family signed at the end of the year (approximately EUR 2 Bn), MBDA signed for the supply of CAMM medium-range missiles to Poland. The European missile builder has already secured more orders amounting to EUR 4 Bn in four months.
Thales produces high-quality radars and Command and Control (C2) capabilities for air defence systems, in addition to well-known missiles such as StarStreak and LMM. Germany has the support of Diehl, which produces the IRIS-T missile and its land-based version, in both short- and medium-range variants. Added to this, in April 2022, Diehl and Hensoldt decided to intensify their cooperation. Swedish manufacturer Saab produces the RBS70, which includes its NG version. The company also offers radar such as the Giraffe 1X multi-mission 3D. In partnership with Raytheon, Norway's Kongsberg has been developing the National Advanced Surface-to-Air Missile System (NASAMS) whose model 3 is already fully operational.
Lower layers of air defence
The return of the threat of so-called high-intensity conflicts has revived very short-range air defence (VSHORAD) programmes, a good example of which is the Skyranger 30, produced by Germany's Rheinmetall Air Defence. Denmark announced on 16 May 2023 that they had selected this piece of equipment. The turret is equipped with a radar, infrared sensors, and a laser rangefinder. The armament is an Oerlikon KCE 30 × 173 mm automatic cannon that fires Advanced Hit Efficiency and Destruction (AHEAD) air bursting munitions, each of which releases 160 tungsten projectiles. The 1,200 rpm gun is extremely precise, allowing it to engage small aerial targets such as drones. The Thales rapid fire cannon is also a solution to counter armed drones and loitering ammunition. The system results from a Thales partnership with Nexter. Its 40 mm Case Telescoped Armament (CTA) cannon has the compactness of a 25 mm cannon and provides heavy firepower up to 4,000 m, with a reduced logistics footprint compared to a conventional cannon of the same calibre.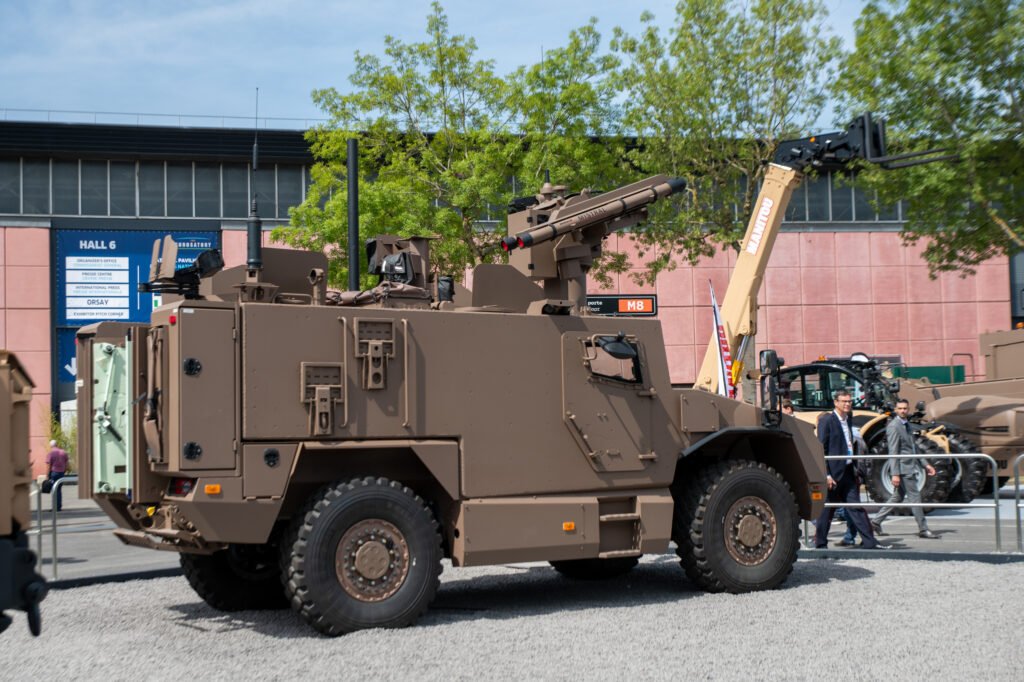 MBDA's Mistral 3 is still in production, and the company announced in March 2023 months ago that production of the armament would increase from 20 to 30 units per month. After Serbia and Croatia, Spain is the third country to order the latest version. The Spanish Ministry of Defence placed a EUR 330 M order to upgrade its MISTRAL fleet to standard 3 between 2023 and 2032. During the next Military Programming Law, the French Army will also receive 24 Serval armoured vehicles equipped with a MISTRAL 3 turret. The Serval Atlas RC uses the MBDA remotely operated turret armed with two missiles and a 7.62 mm machine gun for self-defence. The turret should also be installed on the TITUS mine-resistant ambush-protected vehicle (MRAP) produced by Nexter. Norway and France have provided Ukraine with hundreds of missiles and firing units. The demand for Saab's RBS 70 NG man-portable air defence system (MANPAD) is rising, with the company receiving fresh orders from several countries. In December 2022, Saab received an order from Finland for this system with the order valued at approximately SEK 800 M, and deliveries due to take place between 2023 and 2026. This order includes the latest version of Saab's missile for the RBS 70 system, BOLIDE, which can engage armoured airborne targets and drones. The RBS 70 NG has an effective range of over 9 km and can hit targets up to a height of 5 km with a maximum velocity of Mach 2.
Air defence units are combining VSHORAD systems with ultra-mobile radars such as the Giraffe 1X. The RBS 70 New Generation (NG) is fitted with an advanced sighting system, capable of operating at night with advanced training functions and systems allowing re-visualisation of the firing sequence. This equipment weighs less than 150 kg with a topside weight of 100 kg. The system can be operated remotely or locally. The Ground Master 60 is also an ultra-tactical air defence radar system with a detection range of 80 km (150 km optional) able to detect all types of targets from a moving carrier. The radar is deployable in less than two minutes and easily integrated into a C2 system. The Stinger surface-to-air missile remains essential in Europe with three main variants: the Stinger Basic, Stinger-Passive Optical Seeker Technique (POST), and the Reprogrammable Microprocessor (RMP). The United States and its allies have shipped 2,800 Stingers to Ukraine according to the Pentagon. The Stinger production line was due to close in 2020, but Raytheon Missiles & Defense has since been awarded several US Army contracts.
Medium-range GBAD
For medium-range systems, European companies produce several different missiles. In this regard, there are recent developments regarding the Aster missile. At the beginning of the year, Italy and France signed a new contract with Eurosam to produce 700 Aster missiles. This order includes Aster 15 and Aster 30 B1 missiles for both navies, the Aster 30 B1NT (New Technology) missile for the French Air Force, and Italy's three Army branches. Royal Navy ships, the Italian Horizon class frigates and future Greek FDI frigates are also equipped with the Aster B1NT. The Aster 30B1NT will have a capability against missiles with a range of 1,500 km. Thales has designed a new Ka-band seeker for the missile and the system will also receive the new multifunction radar Ground Fire 300.
In 2018, MBDA launched the technological development of the VL MICA NG. The Missile d'Interception de Combat Aérien (MICA) uses an infrared or electromagnetic seeker, depending on the threat. MICA NG offers improved capabilities to engage atypical targets such as drones and small aircraft. The missile is capable of intercepting targets beyond 40 km. Fifteen countries use naval and land versions, which is an alternative to the Aster 15 and is less expensive. Existing ground systems can combine missiles of both generations due to their compatibility. The latest version will be available in series from 2026.
CAMM and CAMM-ER form the basis for MBDA's Enhanced Modular Air Defence Solutions (EMADS) range. The Sky Sabre or Land Ceptor (operationally BMC4I Sky Sabre) is the land-based version of the British Armed Force's CAMM (Common Anti-Air Modular Missile). CAMM has similar characteristics to ASRAAM, with the main differences being the use of an active electromagnetic seeker and a two-way data link. CAMM weighs 99 kg, provides an operational range of up to 25 km, and can achieve a speed of 1,028 m/s (3,702 km/h) and engage threats such as fighter aircraft, laser-guided smart bombs, and drones. The MIC4AD is a unified, integrated command, control, communications, computers, and intelligence (C4I) developed by Rafael for a different air and missile defence system. Italy and the UK developed the CAMM extended range version.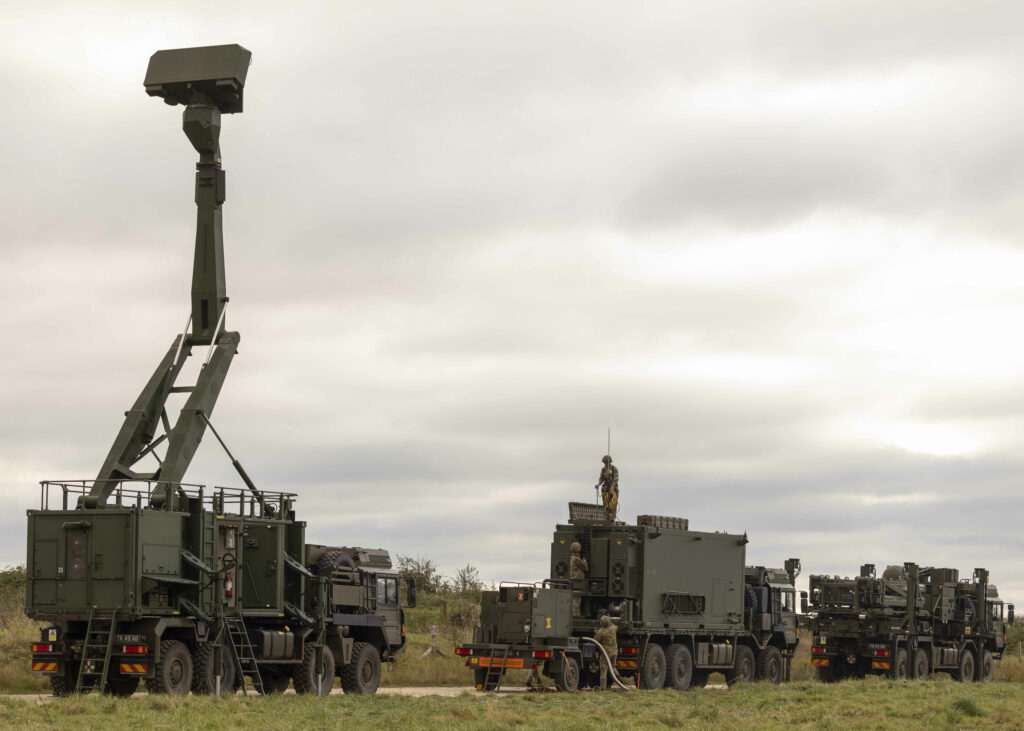 Another popular system is the NASAMS, a surface-to-air missile designed for medium- and long-range warfare, utilising the American AIM-120 AMRAAM missile. The project started in 1994, initiated by Kongsberg and supported by Raytheon. The customer base comprises 12 countries, but 15 have acquired the command-and-control solution. NASAMS-3 is the latest upgrade and has been operational since 2019. It has the capability to fire the AIM-9X-2 Sidewinder, IRIS-T SLS and AMRAAM-ER missiles and introduces mobile air-liftable launchers. The AIM-9X variant includes an internal cooling system, eliminating the need for the launch-rail nitrogen supply required by older missile variants. A NASAMS unit has a modular design comprising a fire distribution centre (FDC), an active 3D Radar AN/MPQ-64F1 Sentinel, a passive electro-optical and infrared sensor, and several missile canister launchers. As NASAMS uses existing air-to-air missiles such as the AIM-9 Sidewinder, AMRAAM, and AMRAAM-ER, there may be thousands of older missiles in NATO's arsenal that can be used without change. The NASAMS system is also able to integrate the GhostEye MR, a medium-range S-band AESA radar based on GhostEye (formerly LTAMDS) technology developed for the PATRIOT system. In April 2023, the Ukrainian Air Force reported that NASAMS had shot down more than 100 missiles and drones since the system became operational.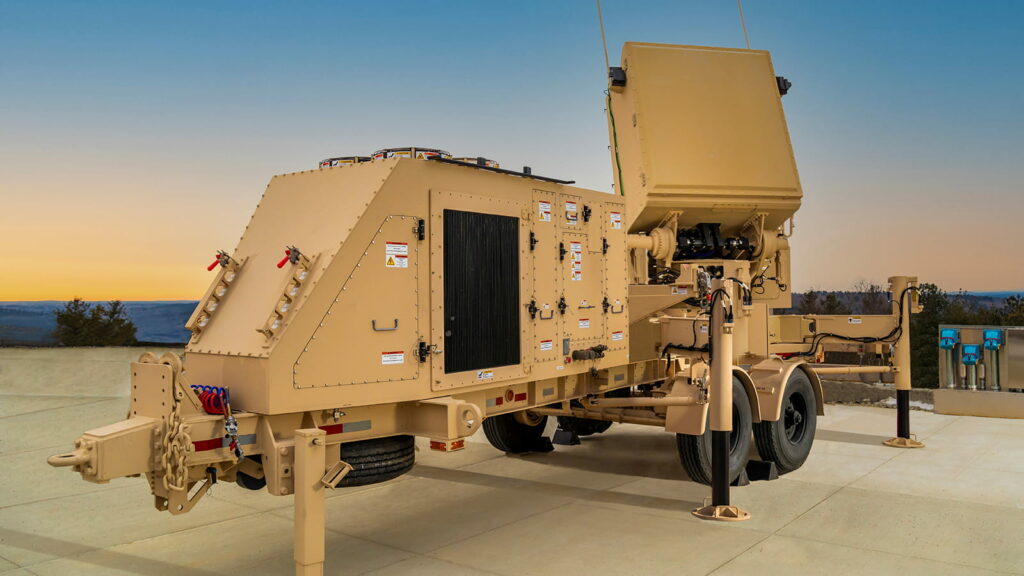 Diehl Defence developed the surface-launched IRIS-T SL, an upgraded version of the IRIS-T missile equipping fighter aircraft for the Bundeswehr's Tactical Air Defence System (TLVS). The first version was the short-range IRIS-T SLS fielded in 2015. The company has launched a version with a higher extension, which entered service in 2022. The IRIS-T-SLM (Surface-Launched Medium-range) consists of a Multi-Functional Air Surveillance and Target Acquisition Radar System TRS-4D/TRML-4D developed by Hensoldt, a tactical operations centre and a vertical launch vehicle with eight missiles. The radar can track 1,500 targets up to a range of 250 km. It supports IFF Mode 5, and Mode S. A first battery was handed over to Ukraine in October 2022, and another in April 2023.
On the US side, the MIM-104 PATRIOT continues its career on the European continent. Over the years, the system has established itself as the backbone of NATO's air defence. Different system versions are in service in Germany, Greece, the Netherlands, Romania, Spain, and also in Sweden. In December 2022, the US provided a battery of PATRIOT to the Ukrainian Army to combat Russian strikes. At the beginning of January 2023, Germany announced it would supply a battery to Ukraine, as did the Netherlands. The PATRIOT PAC-3 CRI is currently operational in Ukraine. This version, specialised in anti-missile defence, represents the most advanced variant of the PAC-3 version. This variant is surpassed only by PAC-3 Missile Segment Enhancement (MSE). Raytheon intends to establish a European regional PATRIOT centre for maintenance, repair, and overhaul in Switzerland with RUAG and Rheinmetall Air Defence AG.
Latest European orders and tenders
Switzerland has chosen to equip itself with the PATRIOT system after a long period of deliberation. The country will spend USD 1.2 Bn to acquire five firing units by 2030, each consisting of a command post, a multifunction radar sensor, and one or more launchers. The system ordered by Switzerland should make it possible to defend an area of 15,000 km², a little more than the Swiss plateau and its most densely populated cities. Switzerland is adding a ballistic missile defence capability to its future PATRIOT batteries by purchasing PAC-3 MSE interceptors. The first missiles should arrive in 2023. Austria is also looking for a mid-range air defence system with a range of up to 40 km, such as the IRIS-SLM or NASAMS.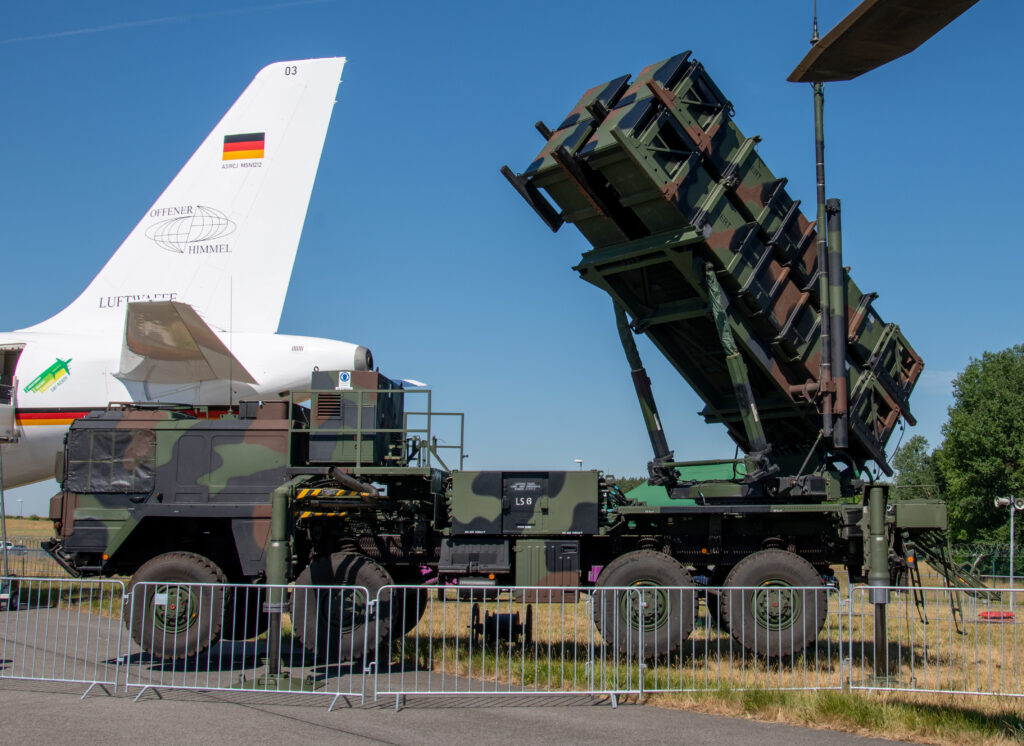 Poland, which shares a border with Russia (Kaliningrad exclave) and with Belarus and Ukraine, has been trying for years to reinforce its air defence. On 28 April 2023, the Polish MoD turned to MBDA UK to procure 44 iLaunchers and around 750 CAMM missiles in a contract valued at USD 2.4 Bn. This order is part of the Pilica+ programme, which aims to provide 22 air defence batteries with a range of up to 25 km. Deliveries of launchers and CAMM missiles will take place between 2025 and 2029. Poland is already a user of the CAMM missile after receiving its first battery in 2022 in response to an urgent need under the Narew programme. The Narew system is based on the iLauncher platform mounted on the Jelcz 8×8 truck. The Narew is the result of cooperation between MBDA and PGZ and its subsidiaries JELCZ (responsible for the truck platform), PIT-RADWAR and WZU.
Poland is also waiting for the PATRIOT to expand its defence system and integrate them into NATO's NATINAMDS system. The purchase includes Northrop Grumman's Integrated Air and Missile Defence Battle Command System (IBCS) and four fire units equipped with four AN/MPQ-65 radars, sixteen launchers, four engagement control stations, six engagement operation centres, twelve integrated fire control network (IFCN) Relays and 208 PAC-3 MSE missiles. Raytheon will deliver two batteries in 2023-2024, and then four batteries in 2026-2028. In December 2022, the first equipment reached Poland.
Finland has used NASAMS-2 since 2009 but launched an RFI to procure a long-range air defence system. In April 2023, the Ministry of Defence authorised the Finnish Defence Forces to procure the David's Sling system. Rafael Advanced Defense Systems (Israel) will deliver the system for EUR 316 M. The weapon system has been designed to intercept or counter long-range rockets and slow-flying cruise missiles at ranges of 40-300 km. Both Finland and Latvia ordered the RBS-70 NG. The Finnish order also includes the Giraffe 1X radar, to be delivered between 2023 and 2026.
In 2017, Lithuania ordered the NASAMS-3 to improve its air defence capabilities and received two batteries in 2020. Estonia and Latvia started joint negotiations to acquire the IRIS-T SLM in May. Their goal is to have an operational system in 2025.
In Germany, the Luftwaffe possessed all ground-to-air defence capabilities of the Bundeswehr for ten years. The Army now wants to restore an accompanying protection capability. On 3 January 2023, German media reported on consultations between Washington and Berlin regarding the Bundeswehr's acquisition of the Arrow 3 system. The two countries are accelerating negotiations and formulating the contract for the sale of the Arrow 3.
In 2019, the Czech Republic prepared for the acquisition of Israeli MADR (Mobile Air Defence Radar) radars, eight sets of medium-range mobile 3D radars and in 2021, a contract for the purchase of Israeli SPYDER (Surface-to-air PYthon and DERby missiles) on the TATRA truck platform. A total of five MADR radars are currently in the Czech Republic's inventory. Military testing on the 3D MADR mobile radar ended in April 2023 and the contractor, ELTA Systems Ltd, has until the end of July to resolve the remaining minor defects.
The French Armed Forces are also involved in the accelerated modernisation of its air defence capabilities. There are a number of ongoing concerns, despite the new military programming law.
The 16 NC1-30 and 14 NC1-40 systems, carrying the Army's MISTRAL command posts and radars, will no longer be logistically supported in 2025 and 2030, and will need replacing. The MISTRAL's mid-life renovation (RMV) concerns only 850 missiles out of an initial target of 2,050. The purchase of 24 Serval armoured vehicles with air-defence capabilities appears to be limited, taking into account the requirements of two Army divisions. The Crotale NG's VT1 missile will be withdrawn from service on the French Air Force side in 2026. The Directorate General of Armament (DGA) chose the VL MICA solution (munition and its launcher) as the interim effector to replace the Crotale missile pending the arrival of a future low-level ground-air system.
In the UK, the Sky Sabre has been in service since 2022, and the British Army deployed the new system to Poland as part of NATO's build-up in 2022. The UK Ministry of Defence published a "Prior Information Notice" detailing their intention to purchase a new, fully integrated air defence system. Babcock and Rafael will jointly develop a C2 solution for a GBAD programme in the UK.
Future developments
Hypersonic threats are an important subject for air defence. The ability of these vectors to move and manoeuvre at extremely high speeds and to remain in endo-atmospheric or low exo-atmospheric space complicates their detection and reduces reaction times, thereby increasing their ability to penetrate defended spaces.
The leading players in the air defence industry are taking part in a reflection on the fight against this type of threat. Specific projects are already in progress. For example, the modernisation of the systems should contribute to an initial capability with the development of the SAMP/T NG radars or an ultra-high-frequency radar (UHF). In addition, the Timely Warning and Interception with Space-based TheatER surveillance (TWISTER) project of the Permanent Structured Cooperation (PSC) is based on two pillars: the endo-atmospheric interceptor and early space warning. Regarding endo-atmospheric interceptors, the EU HYDEF (European Hypersonic Defence Interceptor) project was selected for the European Defence Fund (EDF) under the Spanish group SENER Aeroespacial against MBDA's HYDIS project.
Russia's 2022 war against Ukraine has highlighted the effectiveness of air defence as a battlefield enabler, with a concentration of VSHORAD and short-range, medium and long-range systems, thus ensuring a multi-layered bubble protecting the land forces. This layout has hampered the ability of both air forces to conduct air-to-ground support, air combat, and airborne operations.
The French parliament recently issued a report regarding air defence in Europe. One of the report's conclusions was that the proposition to acquire the Arrow 3 was inconsistent in that this system does not respond to any current or developing threat in the strategic environment of Germany and Europe. Having been designed by, and for Israel in response to a specific threat, it is not in compliance with NATO doctrine and is not interoperable with the chain of command.
Jean Auran