The UK has a new ship dedicated to underwater surveillance, Proteus, that will be operated by the Royal Fleet Auxiliary (RFA) as the first vessel of the UK's Multi-Role Ocean Surveillance Ship (MROSS) programme.
The ship was formally dedicated at a ceremony in London on 10 October 2023 in the presence of Prince Edward, The Duke of Edinburgh, who is the RFA's commodore-in chief, and businesswoman Akshata Murty, who is the wife of UK Prime Minister Rishi Sunak and will have the honorary position of being the ship's sponsor throughout its service life.
RFA Proteus will serve as a testbed for advancing the technological development of remotely operated vehicles that, among other missions, will be used to help protect the UK's critical underwater infrastructure (CUI). A second MROSS ship is planned as a new-build vessel.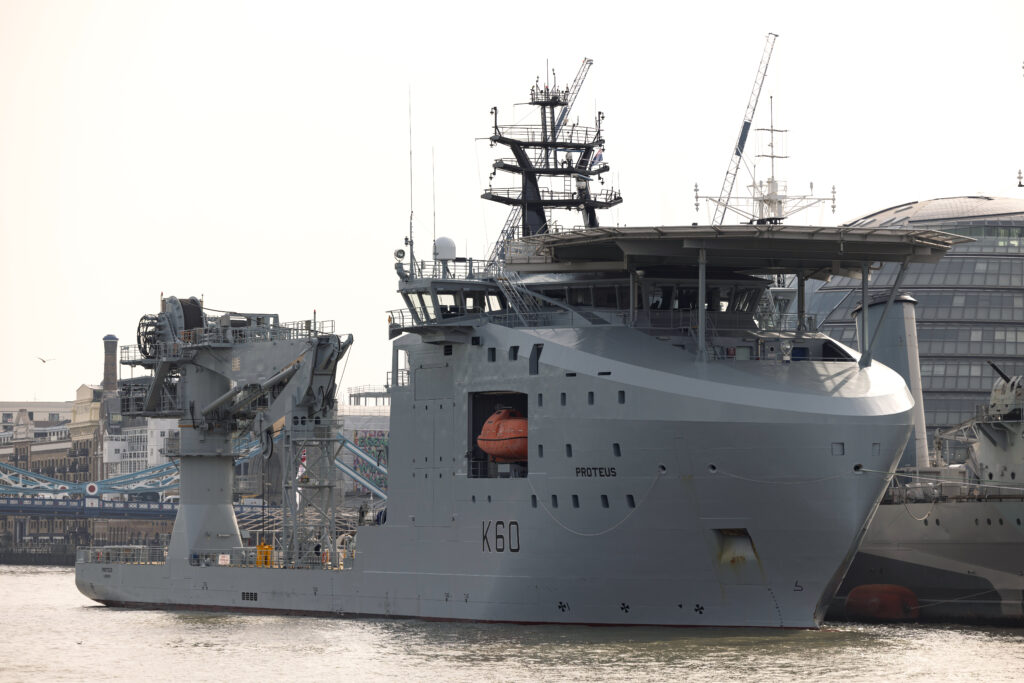 RFA Proteus, which was originally built in Norway in 2019, was purchased by the UK Ministry of Defence for GBP 70 M (EUR 81.1 M) in January 2023 from Topaz Marine, which had operated the ship as the offshore oil rig support vessel MV Topaz Tangaroa.
The ship then underwent a conversion process at the Cammell Laird yard in Birkenhead in Merseyside to be adapted to its new mission. The ship left Merseyside on 16 September to undergo trials and training off Portland before heading up the Thames to berth alongside iconic Second World War cruiser HMS Belfast for its service of dedication on 10 October.
RFA Proteus, which is 98.1 m long and displaces 6,133 tonnes, will be operated by a core RFA core crew of 26, augmented by around 50 Royal Navy specialists responsible for the ships undersea surveillance, survey and warfare systems.
Although not especially fast, with a top speed of only 14 kts, RFA Proteus is designed to be a very stable platform at sea whether moving or stationary; the ship has azimuth thrusters at the stern, twin bow tunnel thrusters, a drop-down azimuth bow thruster and roll-reduction tanks with pumps that move ballast water between them to counter horizontal motions.
The ship also features a 7.2 x 7.2 m moonpool at the forward end of its working deck that allows the launch or recovery of submersibles in high sea states that would not be possible with over-the-side systems. The working deck itself can accommodate loads totalling up to 1,400 tonnes.