Swedish Defence-Industrial Capabilities Shine Bright
Robert Limmergård and Jonathan Lindqvist
The Swedish Security and Defence Industry Association (SOFF) represents enterprises with security and defence equipment and services in Sweden. SOFF currently has 180 member companies of which 100 SME's – ranging from one-man businesses to major national defence contractors. Whereas the enterprises have approximately 30,000 employees, the subcontractor level employs even more people.
The SOFF cooperates with corresponding organisations in other countries and are a member of ASD (AeroSpace and Defence Association in Europe), NIAG/PfP (NATO Industrial Advisory Group/Partnership for Peace) while having several collaboration agreements with associations in other countries.
The purpose of the SOFF is to create the best possible preconditions for member companies to operate in Sweden and enhance their market accessibility and capacity to trade. In essence this entails two courses of action: long-term effort in addressing market access and trading conditions; working with upcoming promotional processes and activities.
In the short run, the SOFF's most important issue is ensuring a level playing field for enterprises in Sweden to export and collaborate on the international market. Included is reinforcing the understanding of the contribution made and importance the enterprises have for Sweden's defence capability, whilst enhancing research and innovation activities.
Introduction
For several years, Europe has experienced a deteriorating security situation in its eastern neighbourhood. Russian aggression towards Ukraine and the Western states has increased dramatically, reaching its culmination when launching a full-scale military invasion of Ukraine in February 2022. Europe is once again experiencing war within its vicinity and states are drastically ramping up their defence expenditure. Sweden, with its proximity to the conflict, is responding with rapid decisions for increasing its defence expenditure and applying for NATO membership. Consequently, the defence-industrial base constitutes an increasingly important component of Sweden's – and its international allies' – defensive capability against aggressors.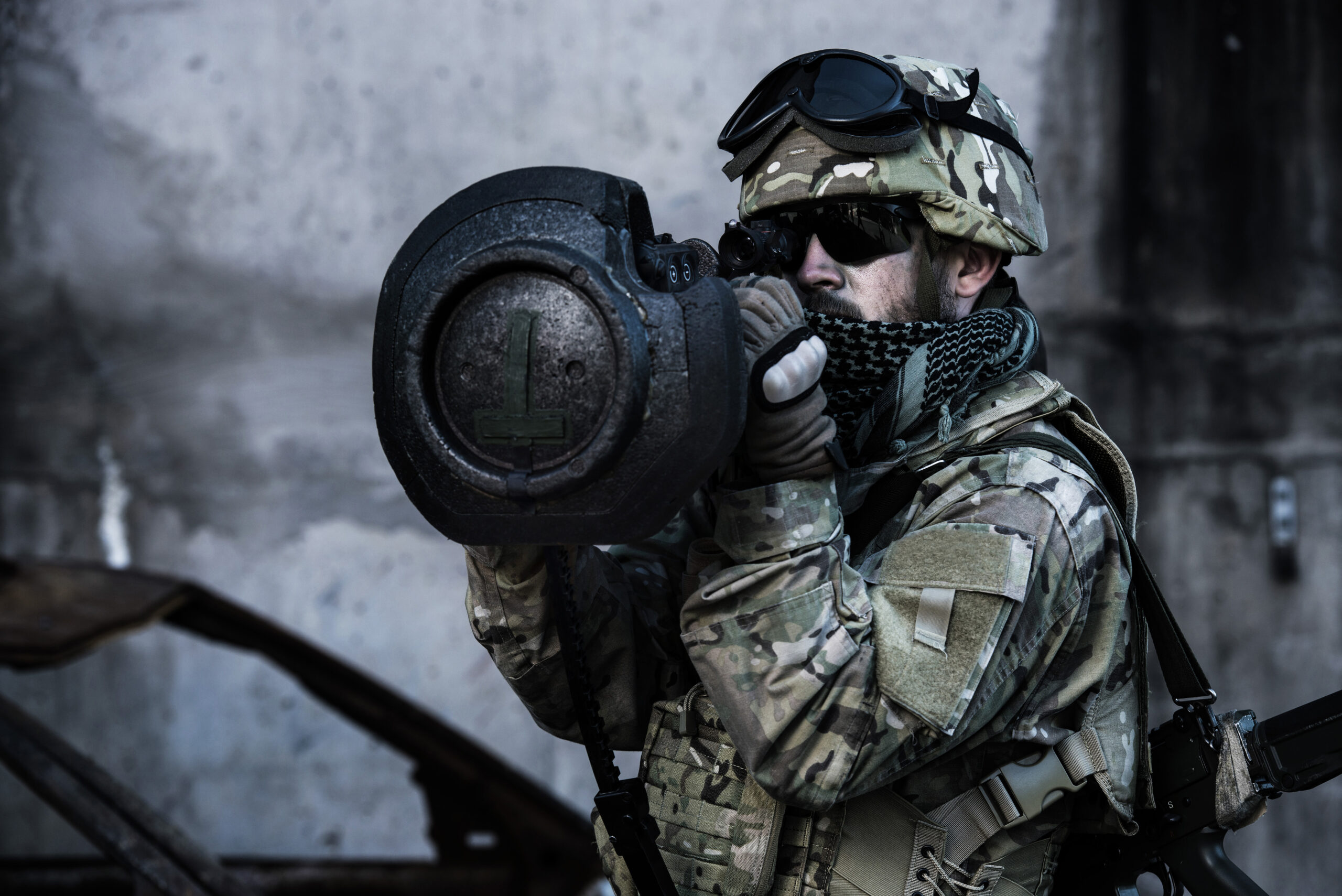 In the context of Sweden's political interests and exports, Sweden has since the outbreak of the Ukrainian war in 2022, assisted Ukraine with various forms of military material support. The Swedish defence industrial base shows its widespread support through exporting systems and capabilities that have great operational impact. With world-class defence equipment, the Swedish defence industry is a key player in the international arena, as well as something one can count on in demanding times. Moreover, in comparison to other countries, another central aspect that makes the Swedish defence-industrial base stand out is the lack of government-owned companies. Thus, advanced military equipment is developed through competent and competitive domestic market. Accordingly, this article continues with delving into Sweden's defence industrial base.
Export
The fundamental aspects of the Swedish defence industry emerged during the Cold War with the ambition to be independent from foreign suppliers, making domestic defence industry vital for national defence policy. After its end, there has been an increased need for material cooperation with like-minded allies. Contemporary perspectives on export of defence products are different, and Sweden is nowadays dependent on deliveries of components and systems from other countries.
Furthermore, exports within the defence industry are separated and different from the civilian market for goods. Exports of defence equipment have a close political connection while being qualitatively controlled and regulated. Moreover, there is also a close connection to Sweden's defence, foreign, and security policy. In that sense, it acts as a focal point between politics, law, trade, and industry.
While exporting has a direct effect on Sweden's defence capability, it simultaneously creates trading partners that ensure security of supply, and enterprises develop new competence and skills through international cooperative projects.
As a token of its importance, the latest data indicates that invoiced and delivered military equipment within and outside Sweden has steadily increased over the years between 2017-2021. Despite the large number of supplying and manufacturing enterprises, only a handful account for most sales. The Saab group being the largest enterprise, with its export of fighter jets (JAS 39 Gripen), missiles, and ground combat weapons (NLAW, AT4, Carl-Gustaf M4), and naval surface/underwater vessels (Submarines, Visby-class corvette, Combat boat CB90). BAE Systems Hägglunds with armoured vehicles (CV90) and Bofors with artillery systems (Archer) are also key enterprises for Swedish exports.
The major export market is within the Nordic countries. This is followed by other parts of Europe, however Asia and the Middle East, as well as north America are becoming increasingly important. Accordingly, the Swedish defence industry possess and manufactures advanced technological capabilities that are internationally recognised and highly coveted.
Research and Development
Innovation starts with ideas and knowledge. To support it, Sweden has the most PhDs in the world per capita, in technical and natural-science subjects and the second -most who work in this area. Sweden also tends to score well in international comparative surveys on innovation. For the defence industry, this emphasises the importance of engagement with the commercial sector. In this regard, Sweden has a rather unique industrial landscape.
No other country of a similar size, possibly with the exceptions of Switzerland and Israel, has so many large high-tech multinational companies. ABB, Atlas Copco, Electrolux, Ericsson, Saab, Scania, Securitas, SKF and Volvo are cases in point. The resource limitations that come from being a small country has led us to work very closely within the Triple Helix model where industry, academia and government agencies work hand in hand on cost-efficient innovation models. Within this Triple Helix, there is intensive collaboration on the technologies connected to artificial intelligence, robotics, Big Data and the Internet of Things.
The Swedish defence industry covers multifaceted system platforms in all domains. Besides providing technological advanced capabilities of fighter jets, naval vessels, submarines, and land platforms, numerous subsystems are also provided. This entails IT systems, intelligent ammunition, sensors, cryptography, as well as niche products and services. Consequently, the defence-industrial base is exceptionally research-intensive, with Sweden a world leader in certain areas. Some of the aforementioned areas – such as fighter jets, naval underwater vessels, sensors, and cryptography – are of particular importance in relation to vital national security interests for Sweden. The purpose of this is ultimately to maintain freedom of action in its security policy and avoid dependence on other countries in strategically important areas for Sweden.
Furthermore, aligned with the year 2021 statistics, 15.4% of the combined annual turnover of SEK 48 Bn is reinvested into R&D, qualifying the defence-industrial base as one of the most research-intensive technology sectors.
Through having a research-intensive defence-industrial approach, Sweden not only has state-of-the-art advanced technological capabilities within its Armed Forces, but also has a competitive technological level on the international arena. Therefore, Sweden continuously remains an interesting and highly skilled country for bilateral and multilateral cooperation on various projects. Simultaneously, it provides better opportunities for Sweden to influence international export control cooperation.
International Cooperation
After a gradual departure from a closed domestic focus during the Cold War, to utilising an open and international approach as of today, large part of Sweden's defence capability rests upon bilateral and multilateral cooperation with like-minded partners. This is one reason why the defence industry market is highly internationalised with a great scope of internationally-owned enterprises.
Moreover, cost-efficiency has been a critical mission from the very start for the Swedish security and defence industrial base. It has for many decades been used to working with a relatively small client in the Swedish Armed Forces. This has created a system with exceptionally integrated project teams from industry, government agencies and academia which have strived to find efficient and cost-effective solutions. Innovative thinking, highly skilled engineers, a strong science and technology base, as well as expanding international cooperation have assured the accomplishment of Sweden's industrial base.
Furthermore, Sweden has long-lasting bilateral defence cooperation with Finland, but also through the Nordic cooperation, NORDEFCO. Other close partners are the Baltic states, the US, the UK, France, and Germany.
Multilateral cooperation is grounded in various initiatives within the EU, such as EDF (European Defence Fund), CARD (Coordinated Annual Review on Defence), and PESCO (Permanent Structured Cooperation). Other cooperations includes JEF (Joint Expeditionary Force), NATO/PfP, and OSCE (Organization for Security and Co-operation in Europe). Going forward, cooperation within NATO is expected to further increase since Sweden applied for NATO membership in May 2022.
Technology Contributions
The Swedish defence industry excels in multiple domains and offers advanced technological contributions. What follows are some examples of prominent products provided by the major enterprises of the defence industrial base.
In the air domain, the Gripen series of fighter jets excels in various roles, with its latest model being the Gripen E. With emphasis on advanced Human Machine Collaboration and AI, Gripen E is designed to achieve air superiority in highly contested environments and defeat any adversary. Besides having a key part in Sweden's Airforce, Brazil; Thailand; Hungary; and Czech Republic are partners who have adopted the Gripen series into their armed forces. Moreover, GlobalEye AEW&C (Airborne Early Warning & Control) is a prominent air surveillance system and the only one on the market providing real time long-range air, sea, and land surveillance from a single platform.
In the naval domain, Sweden stands out with its Visby class corvettes that are world leading in signature reduction across the whole spectrum, while having both speed and fighting power. Submarines are also a leading technology on the market whereof seven classes have been delivered across three continents.
In the land domain, prominent weapon systems provided are RBS 70 NG (ground-based air defence missile system), AT4, NLAW, and Carl-Gustaf system. Moreover, recognised ground vehicles include the CV90 infantry fighting vehicle, and the Archer, a mobile artillery system that can fire six rounds, displace, and move 500 m in less than two minutes.
Sweden also has key competences in fields such as 5G/6G; artificial intelligence and machine learning (technologies can be used for predictive analytics, autonomous systems, and data processing); cybersecurity; autonomous systems (such as for drones or unmanned ground vehicles); hypersonic propulsion; directed energy (lasers and high-powered microwaves); quantum computing (for decrypting codes and modelling complex systems); graphene (for decreased signature, visual information). In addition to all the above, the Swedish defence industry also consists of high-tech SMEs that produce and delivers highly-specialised products across various domains.
Looking Ahead
The security situation today has deteriorated dramatically internationally. From Sweden's perspective, Russia's willingness to use military force is of great concern. Consequently, focusing on national defence capabilities is once again a major priority, and thus increasing its defence expenditures while applying for NATO membership. The Swedish defence industry has always been, and will continue to be, a key actor to provide highly advanced defence systems and capabilities that can withstand any aggressor. This is enabled by having an internationalised, competitive, and cooperative market, allowing enterprises to develop state-of-the art military equipment, while being a reliable partner and supplier for customers around the world.
Robert Limmergård and Jonathan Lindqvist