Poland will imminently order more than a thousand Borsuk ('Badger') infantry fighting vehicles (IFVs) from Polish AFV builder Hutę Stalowa Wola (HSW), Deputy Prime Minister and Defence Minister Mariusz Błaszczak announced on 24 February 2023. Analysts estimate that the value of the procurement will exceed EUR 10 Bn, with series production possibly beginning at the turn of the year 2023/2024.
After eight years of development the Borsuk New Amphibious Infantry Fighting Vehicle (Nowego Pływającego Bojowego Wozu Piechoty, or NBWP) is currently undergoing final qualification tests with the Polish armed forces, which should be completed later this year.
The 28-tonne Borsuk is powered by a 530 kW MTU 8V199 TE20 diesel engine mated to a Perkins X300 automatic transmission and has a top speed of 65 km/h on the road. In the water it can achieve 8 km/h using two swivelling jet nozzles. The six-roller undercarriage has hydro-pneumatic suspension.
According to unofficial information, the hull is protected with layered armour against ballistic threats up to Level 4 in the front according to STANAG 4569 and up to Level 3 on the sides and to the rear. Protection against mines has been realised up to Level 3 or 3a. The unmanned turret and external equipment are passively protected according to Level 2 or 3 as well as by the Obra-3 active laser detection system, which can automatically fire smoke grenades. In addition to the three-man crew (commander, gunner and driver), the vehicle can accommodate up to six soldiers with their equipment.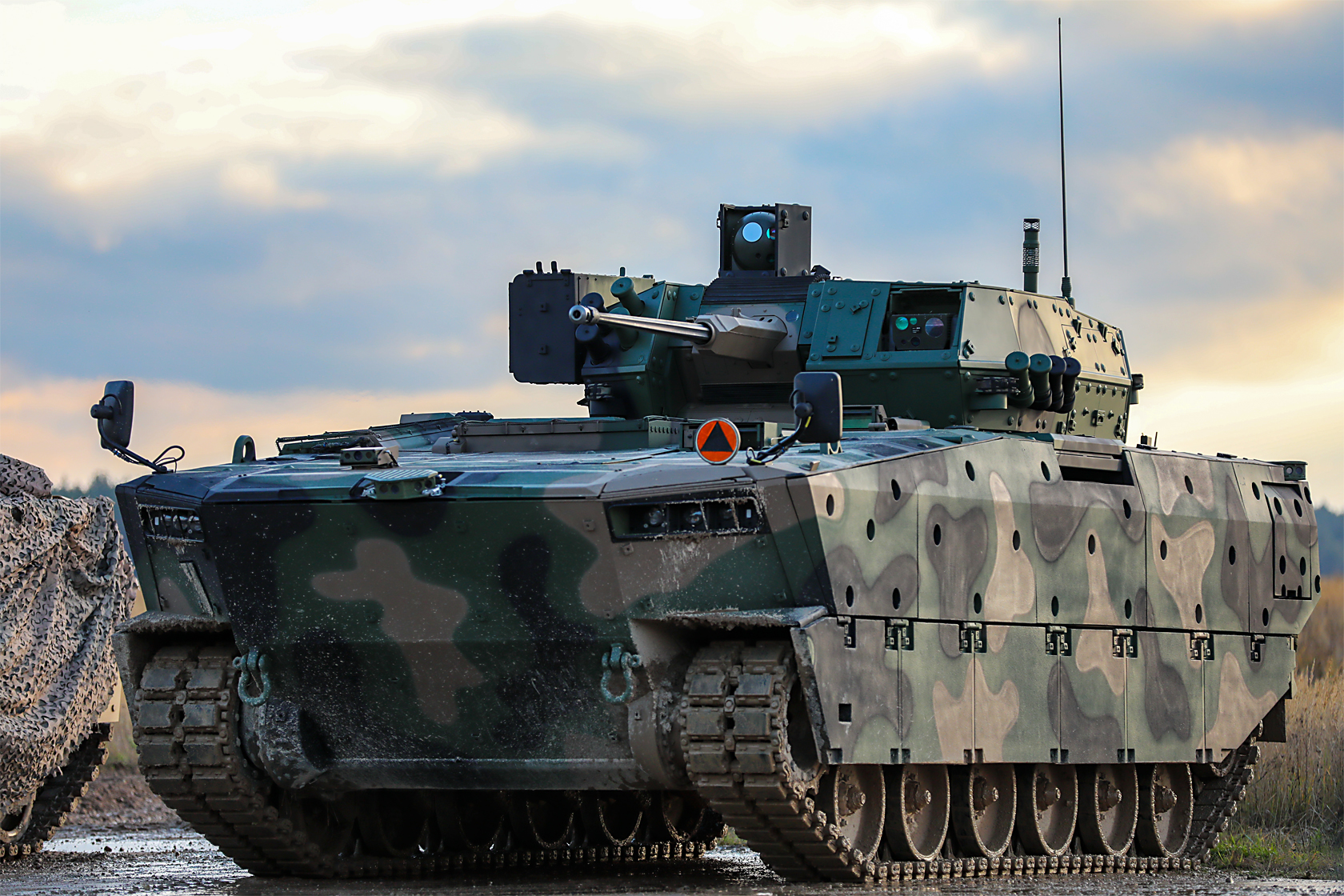 The Borsuk's main weapon in its remote-controlled ZSSW-30 turret is a 30 mm Mk44S Bushmaster II chain gun supplemented by a coaxial 7.62mm machine gun. With an elevation range of -9 to +60°, both ground and air targets can be engaged. A launcher for two Spike LR anti-tank guided missiles is mounted on the right side of the turret. These have a range of up to 4 km, or up to 4.5 km in automatic mode.
The commander and gunner have latest-generation day and night optics for reconnaissance, with target detection at a range of up to 5 km. With laser rangefinders, both can measure targets up to 10 km away with an accuracy to within at least 5 km. The fire control system offers hunter-killer as well as killer-killer capabilities, while an autotracker can be used to automate the firing process. The turret is equipped with an optical emergency sight that functions independently of the fire control system.
HSW will soon have four close-to-production prototypes ready for delivery: three IFV variants and one command vehicle.
The total demand for IFVs for the Polish Land Forces is estimated at over 1,500 vehicles. This includes other variants such as reconnaissance, support and recovery vehicles.
While no information is available yet about the delivery schedule, the Borsuks are first to be deployed with Poland's K2 Black Panther main battle tanks in the 15th Mechanised Brigade, the first of which were delivered by December 2022.
In the past Poland has always attached importance to a high procurement tempo. It can therefore be assumed that the delivery of the Borsuk IFVs will begin in 2024, provided that the procurement contract is concluded imminently, as announced.
Gerhard Heiming