Armoured Engineer Vehicles (AEVs), or Combat Engineer Vehicles (CEVs) as they are also referred to, play a key role not only on the battlefield, but also have a role to play in disaster relief as they are well equipped to rapidly clear roads and other obstacles using their specialised front end equipment (FEE).
The traditional role of the AEV has been clear obstacles that are hindering the advance using their front mounted dozer blade, preparing firing positions or using their on board crane which can be fitted with various attachments such as a bucket, auger or pincer. AEVs have a flexible design as the dozer blade can rapidly be replaced by plough or roller type mine clearing devices as well as installing a clear lane marking system either side at the hull rear.
MBT-Based AEVs
The majority of heavy AEVs are based on a Main Battle Tank (MBT) platform, or use components from an MBT for fleet commonality. To ensure that AEV can support MBTs during ground manoeuvre operations, the ideal solution is to field the AEV at the same time as other specialist vehicles such an Armoured Vehicle Launched Bridges (AVLBs) and Armoured Recovery Vehicles (ARVs). However, all too often AEVs are procured many years after the introduction of the MBT, with the German Army's experience being a good example of this.
The Krauss-Maffei Wegmann (KMW) Leopard 2 MBT entered service with the German Army as far back as 1979/80 but ever since then the standard AEV of the German Army has been based on the Leopard 1 ARV hull (Bergepanzer 2), with the final version being the Pionierpanzer 2A1 Dachs. Much later, the first Leopard 2 based AEV was developed as a private venture (PV) between Rheinmetall (Germany) and RUAG (Switzerland) called Kodiak. The first version of Kodiak was based on a surplus Leopard 2 hull with a brand new welded superstructure, it was provided with a hydraulically operated dozer blade and a hydraulic arm which can be fitted with various attachments such as a bucket.
The first customer was Switzerland who took delivery of 12 units based on surplus Leopard 2 MBT hull and since then additional sales have been made to Netherlands (10), Singapore (18) and Sweden (six). The latest customer was Germany, who placed a contract in May 2021 covering the supply of 44 units for delivery from 2023 through to 2029 under the designation 'AEV3'.
The German company Flensburger Fahezeugbau GmbH (FFG) has considerable experience in the overhaul and upgrade of tracked Armoured Fighting Vehicles (AFV) for the German Army and various export customers. Using PV funding, FFG developed the Wisent 2 Armoured Support Platform (ASP) which is based on a Leopard 2 platform, with the turret removed and replaced by a new armoured superstructure housing the crew of three. A unique feature of the Wisent 2 ASP is the flexibility of the modular design, which according to the company allows it to be re-roled from the ARV configuration to the AEV configuration in just five hours. Standard equipment for the AEV includes a front mounted dozer blade, winches and a hydraulic excavator arm on the right side that can be fitted with various tool attachments such as a bucket or gripper. In addition to AEV, ARV and Minefield Breaching (MB) kits, FFG has also completed a concept for carrying and deploying an MLC 80 tactical short bridge by the Wisent 2 AEV model.
The vehicle has been sold to Canada (18), Norway (12), Qatar (6), United Arab Emirates (4) and Hungary (5) with some of these being direct sales while others are part of a package. Qatar's contract was through KMW and also included 11 mission kits, of which four were AEV, three ARV and four Minefield Breaching (MB).
To meet the requirements of Finland, the local company of Patria developed the Heavy Mine Breaching Vehicle (HMBV) and completed 10 production vehicles. This was also based on the Leopard 2 platform, with turret removed and fitted with a new welded superstructure. The hull front has been designed to accept the Pearson Engineering Combat Dozer Blade (CDB), Full Width Mine Plough (FWMP) or Surface Mine Plough (SMP) with a Pearson Engineering Clear Lane Marking System (CLMS) either side at the rear which dispenses marker pennants into the ground as the vehicle moves forward clearing the mines.
Most of the Leopard 2 based AEVs were based on surplus hulls, but as these have all now been used up, new Leopard 2 based AEVs are based on new-build hulls, so have a comparatively longer life than their predecessors.
To support their large fleet on Hyundai Rotem K1/K2 MBTs deployed by the Republic of Korea Army, a family of support vehicles have been deployed including an AEV which is based on the K1 ARV. This can be fitted with various front end equipment, and a hydraulic crane is fitted at the front left side of the hull which can be fitted with various attachments.
The British Army had a competition for the Engineer Tank System (ETS) which was won by Vickers Defence Systems who developed the Trojan breacher and the Titan AVLB with a total of 33 production systems of each completed. Trojan breacher is based on Challenger 2 components and can be fitted with a front mounted Pearson Engineering CDB or a FWMP.
On the right side of the hull is the hydraulic arm which can be fitted with various attachments. It can also tow a trailer fitted with a Python rocket-propelled mine-clearing line charge (MCLC), as well as carrying pipe fascines to drop into ditches, allowing other vehicles to cross.
For many years the standard AEV of the US Army was the M728 based on the M60A1 series MBT and fitted with a dozer blade, A-frame crane boom, and a turret mounted 165 mm demolition gun. This was due to have been replaced by the General Dynamics Land Systems (GDLS) Grizzly AEV, based on the M1 Abrams MBT platform, but this was cancelled. However, the US Army later procured the M1150 Assault Breacher Vehicle (ABV), which was also based on the Abrams platform.
The ABV was originally developed to meet the requirements of the US Marine Corps (USMC) but subsequently adopted by the US Army. As part of the process of modifying the Abrams platform to its new role, the vehicle's turret was removed and fitted with a superstructure, with mounting points for explosive reactive armour (ERA) added over the frontal arc for higher survivability.
The M1150 ABV can be fitted with the Pearson Engineer FWMP or CDB, and mounted on the hull rear are two launchers for the Linear Demolition Charge System (LDCS) which fires a solid propellant rocket attached to a line charge containing high-explosive which is launched, trailing the line charge behind it. Once the line charge has landed on the ground, the charge is then initiated, with the resulting explosion detonating the mines by subjecting them to overpressure.
Lighter Tracked AEVs
In addition to AEV based on a heavy MBT chassis, a smaller number of dedicated AEV have been developed and placed in service.
For many years the British Royal Engineers (RE) deployed the Royal Ordnance Factory FV180 Combat Engineer Tractor (CET) and took delivery of 143 with export sales made to India (15) and Singapore (54). In British Army service this has now been replaced by the Vickers Defence Systems Terrier CEV with a total of 60 production vehicles being delivered from the Newcastle-upon-Tyne production line by 2014, after which the factory was closed and sold to Pearson Engineering.
Unlike the CET, the Terrier CEV is not amphibious and is fitted with a front mounted bucket which can be replaced by Pearson Engineering mine clearing equipment, ripper attachment or forks. It is also fitted with a scissor-type hydraulic arm which can be fitted with various attachments such as a bucket, earth auger or lifting hook. Terrier can also carry pipe fascines to drop into trenches or tow a trailer carrying mine clearing or other engineering equipment.
Elsewhere, Turkish company FNSS Savunma Sistemleri developed the Armoured Amphibious Combat Earthmover (AACE), also referred to as the 'Kunduz,' to meet the requirements of the Turkish Army and a total of 12 were delivered by early 2013, although the system is still being marketed. The vehicle is operated by a crew of two and is fully amphibious, being propelled in the water by two water jets at a maximum speed of up to 8.6 km/h. In addition to clearing battlefield obstacles AACE is also used to prepare bridge crossing points, has a recovery winch and can tow a trailer.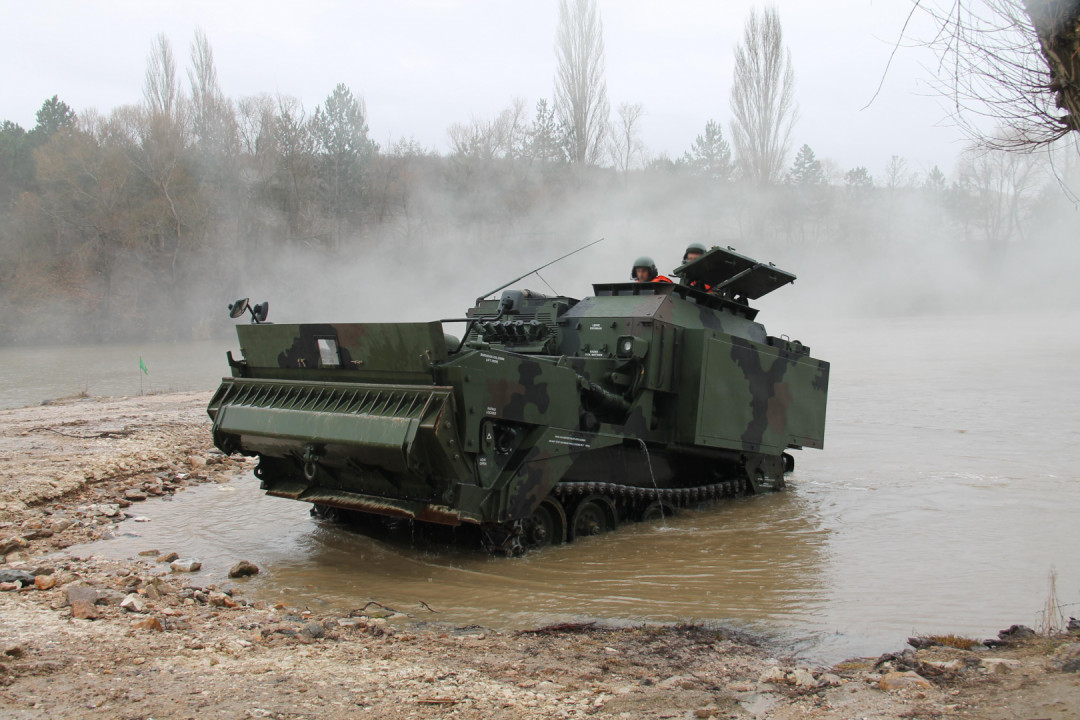 In many respects the FNSS AACE is similar to the US BAE System M9 Armored Combat Earthmover (ACE) which has been built in large numbers for the US Army as well as some export customers, but production of this was completed some time ago.
Wheeled AEVs
An increasing number of countries are now deploying wheeled AFVs, especially and some of these countries have already fielded dedicated AEV, which is normally based on a modified armoured personnel carrier (APC).
A good example is the US Army who has developed a large number of variants of its Stryker Infantry Carrier Vehicle (ICV), with the baseline model being the M1126. The US Army has also fielded a dedicated Engineer Squad Vehicle (ESV) designated the M1132 which can be fitted with Pearson Engineering plough or roller type mine clearing devices.
Oman placed a contract with FNSS of Turkey for 172 of the latest PARS III wheeled AFVs, which consisted of 13 variants, of which 145 were in 8×8 configuration and 27 in 6×6 configuration. Included in the batch of 127 8×8s were a batch of six AEVs which could be fitted with a variety of front end equipment from Pearson Engineering, including a hydraulic crane, dozer blade and mine clearing ploughs.
The Swiss Army has a large fleet of General Dynamics European Land Systems (GDELS) Mowag Piranha (8×8) vehicles and in May 2021 the Swiss Army placed a contract for 60 Engineer Vehicles based on the Piranha IV (8×8) platform, with deliveries to run from 2026 onwards.
To further expand its range of counter-mobility and mine clearing systems, Pearson Engineering have developed a new self-protection mine plough called 'Vector,' which has already been demonstrated on a GDELS Santa Bárbara Sistemas VCR Dragón (8×8) vehicle. Vector consists of two plough blades with each of these covering at least the width of the vehicles wheels. Each plough blade brings buried mines to the surface and moves them into 'spoil heaps' either side of the vehicle.
The standard AEV of the French Army today is the Nexter Engin Blinde du Genie (EBG) (Combat Engineer Tractor) based on the AMX-30D ARV. A total of 71 were built and 54 of these were subsequently upgraded at Roanne, which included the removal of the 142 mm demolition gun and the capability to lay anti-tank mines. The French Army has now moved to almost a complete wheeled fleet, apart from the Leclerc MBT, and in the future will replace the EBG with a wheeled solution which is referred to as the Engineer Combat Support Vehicle (ECSV), and will probably in an 8×8 configuration.
The Future
Developing an AEV from the ground up is a very expensive and time-consuming process, so the trend is to base the vehicle on an existing platform, modified for its new mission with the ability to be rapidly fitted with front end equipment to meet specific operational requirements. Using an existing platform not only reduces costs but and makes training and logistic support that much easier. Recent AEVs have been developed for world-wide operations rather than operations in Europe, and so an air conditioning system is now fairly standard.
They will also be fitted with a battle management system (BMS) to exchange information with other platforms. Some AEVs, for example the British Terrier, are already fitted with a system for remote control from a safe distance. Unmanned Ground Vehicles (UGV) have a potential use and at AUSA 2022, General Dynamics Land Systems showed their 'Tracked Robot 10-ton' (TRX) unmanned technology demonstrator. This uses a flatbed design to accommodate different mission payloads, and has already been demonstrated to the US Army. At AUSA 2022 it was shown fitted with the Pearson Engineering obstacle clearance mission pack and was called the RCV-Pioneer in this configuration. The mission pack included a front-mounted V-shaped obstacle clearing blade as well as a robotic arm to pick-up, drag and move items that hinder the advance.
Christopher F Foss